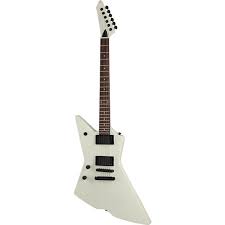 Harley Benton EX-84 Modern EMG Electric Guitar Review
When it comes to affordable, high-quality guitars, Harley Benton has always been a name that stands out. Their range of products offers something for every musician, from beginners to experienced professionals. In this review, we take an in-depth look at one of their latest offerings – the Harley Benton EX-84 Modern EMG electric guitar. With its sleek design, impressive features, and excellent playability, this model is sure to turn heads and leave a lasting impression on any guitarist.
Design and Build Quality
The Harley Benton EX-84 Modern EMG electric guitar features a unique and aggressive body shape that is reminiscent of the classic Explorer design. The body is made from solid mahogany, which provides a warm and resonant tone, while the bolt-on maple neck ensures stability and durability. The neck features a C-shaped profile with a 24.75-inch scale length, making it comfortable to play for long periods. The fretboard is made of Indian laurel and boasts 22 medium jumbo frets, ensuring smooth and precise playing across the entire range.
The guitar is available in two stunning finishes – Black and White. Both options feature a gloss finish that accentuates the guitar's curves and lines, giving it a modern and stylish look. The black hardware adds to the overall aesthetic, making the EX-84 a visually striking instrument that will stand out on any stage.
Electronics and Hardware
One of the standout features of the Harley Benton EX-84 Modern EMG electric guitar is its powerful pickup set. This model comes equipped with a pair of active EMG pickups – an EMG 81 in the bridge position and an EMG 60 in the neck position. These pickups are renowned for their high output and clarity, making them perfect for heavy rock and metal styles. The EMG 81 is known for its tight and focused tone, while the EMG 60 offers a rich and warm sound that is ideal for clean passages or bluesy leads.
The control layout on the EX-84 is straightforward and easy to use, featuring a single master volume and tone control, along with a three-way pickup selector switch. This simplicity allows for quick and smooth adjustments on the fly, ensuring that you can always achieve the perfect sound for your playing style.
The hardware on the Harley Benton EX-84 Modern EMG electric guitar is both reliable and functional. The Tune-O-Matic bridge and stopbar tailpiece provide excellent intonation and sustain, while the Grover-style tuners ensure precise and stable tuning. The guitar also features a Graph Tech TUSQ nut, which is self-lubricating and contributes to improved tuning stability and tonal consistency.
Playability and Sound
The Harley Benton EX-84 Modern EMG electric guitar is an incredibly playable instrument that caters to a wide range of styles and techniques. The neck profile and fretboard radius make it comfortable to play, whether you're shredding solos or laying down heavy riffs. The medium jumbo frets allow for accurate and effortless bends, while the smooth fretboard ensures fast and fluid playing across the entire range.
In terms of sound, the EMG pickups deliver a powerful and versatile tone that can easily handle anything from heavy metal to blues and jazz. The EMG 81 provides a tight and aggressive sound that is perfect for palm-muted riffs and searing lead lines, while the EMG 60 offers a warm and round tone that is ideal for clean playing or bluesy solos. The combination of these two pickups gives the EX-84 a wide tonal range that can be tailored to suit any genre or playing style.
Conclusion
In conclusion, the Harley Benton EX-84 Modern EMG electric guitar is an exceptional instrument that offers incredible value for money. With its striking design, high-quality components, and versatile sound, this guitar is perfect for musicians who want a reliable and stylish instrument without breaking the bank. Whether you're a beginner looking to upgrade or an experienced player in search of a new workhorse, the EX-84 is definitely worth considering.
So, if you're in the market for an affordable electric guitar that doesn't compromise on quality or performance, the Harley Benton EX-84 Modern EMG should be at the top of your list. With its impressive features, excellent playability, and stunning looks, this guitar is sure to impress even the most discerning guitarist.