The online education market is now developed like never before. It offers a huge variety of courses, video lessons, apps, guides and more for learning to play the guitar. On the one hand, now it has become as easy as possible to master this or that skill, however, on the other hand, in all this diversity it is quite difficult to find a suitable resource that will meet your desires and needs.
If you have dreamed all your life of learning to play the guitar, or developing your existing skills, you are most likely looking for the best quality, most convenient and profitable platform on the market. It is today that we will give you an overview of a site like Guitar Gate and help you understand if it lives up to expectations and whether you should purchase a subscription.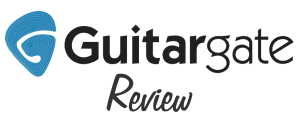 Guitar Gate Quick Review
There are now a huge number of websites and online resources that skip music theory and focus on song learning. Many professional musicians are opposed to this concept and believe that it cannot give you the opportunity to fully master the guitar. That is why we recommend that you choose Guitar Gate – a site that concentrates on practice without forgetting the theory and basic knowledge that you should have. This resource is one of the most efficient combinations of guitar and theory we have ever used, despite the fact that it is somewhat smaller and younger than some of the competition. At the moment it has 10 courses with over 195 lessons.
The site's founder, Michael Parmisano, is himself a professional musician who is well versed in music theory. He is a graduate of the Musicians Institute in Hollywood and teaches much of the material on the site himself. As such, his program does an excellent job of gathering and teaching the information that guitarists need. So, if you not only want to learn how to play a few songs, but also get a solid musical base, Guitar Gate is a great solution for you.
Guitar Gate Structure
After you enter the site through a free trial or subscription, you will see that all the content is on one page. Of course, this means that Guitar Gate has fewer lessons than its competitors, but it makes it much easier to navigate and use. Thus, if you don't want to deal with a complex site and dream of the simplest possible platform, then Guitar Gate is exactly what you need. Just as said, the site has 10 courses at the moment and all of them are featured on the main dashboard and include the following:
Level 1
Level 2
Level 3
Level 4
Level 5
Level 6
Blues Guitar Fundamentals
Country Guitar Fundamentals
Allman Brothers Roots and Techniques (taught by Scott Sharrard)
Making Money in a Cover Band (taught by Maynard Edwards)
It is also important to note that all courses are displayed in ascending order with large video frames. That is why it will be easy for you to decide exactly where you want to go and which course to take.
Remember that each element is a complete course with many video lessons in each, so you won't be returning to the home page until you want to switch to another course.
When it comes to the quality of Guitar Gate's content, we have to say that it lags behind other programs in many ways, as it has much less content. Thus, it simply has far fewer lessons than other major competitor sites.
Guitar Gate Course Interior
This section of our review will be of interest to those people who want to know exactly how the courses on the Guitar Gate website are arranged. First of all, we would like to mention that the courses provide a clear list of goals, as well as a progress tracker and a bright orange "start course" button that you can't miss. You can either start the course here, or scroll down the site to the Curriculum section, where all the lessons will be listed in ascending order. It is also important to note that each lesson builds on the previous one, so we would recommend that you take each course in chronological order from top to bottom.
Once you decide to start learning, you click on the lesson and you will be taken to the video player and all additional materials. They include jam tracks, a downloadable PDF version of the lesson and a discussion section so that students can get feedback. You also have the opportunity to send feedback in a video format to which the course instructor himself will respond.
We would like to pay special attention to the design of the lesson page, which is as simple and easy to navigate as possible. It is also worth mentioning that the video tutorials themselves are filmed in HD format from several camera angles. Thus, you can see what the teacher is doing and repeat after him. The sound on the video is also as clear as possible and does not contain additional noise. Also, all Michael's video tutorials are as simple and clear as possible. If you want to get some insight into his teaching methods, you can visit his YouTube channel for free content that will help you decide whether or not to buy a subscription.
The quality of a course's education is generally determined by the value you get from the program. In other words, we evaluated how effective Guitar Gate is and how much it can teach you. Since the site offers a strong element of personal interaction, as well as feedback and a strong focus on music theory, we can safely say that Guitar Gate is worth every dollar spent.
How Much Does Guitar Gate Cost?
Of course, the cost of training is important for both beginners and professional guitarists, so we advise you to pay attention to these points:
Price is $9.99 per month
Price of standalone lessons is $25 (non-membership downloads)
It's also worth noting that Guitar Gate also has a three-day free trial that will allow you to test out the features of the resource and see if it suits your wants and needs. We'd like to mention that most similar sites offer at least a seven day or even two week trial, which is definitely an advantage over Guitar Gate.
Guitar Gate Cost And Value
Once you've looked at Guitar Gate pricing, it's also important to pay attention to whether the resource is worth the investment or not. First of all, we would like to note that compared to other large resources, this site has a much smaller volume of lessons. However, it's also worth remembering that Guitar Gate compensates for this by having a large number of music theory lessons, which most of the competitors do not offer. So, if you don't just want to learn a couple of songs, but are serious about getting a quality guitar base, this site will definitely be worth the money.
In terms of pricing in general, we think that $9.99 per month is a fairly fair price for getting a quality education. We would also like to give credit to the fact that Guitar Gate offers you to purchase individual courses for around $25 if you don't want to buy a monthly membership. It should also be noted that even though Guitar Gate has fewer lessons than its competitors, they are all quite long which will give you a lot more content (despite the limited number of courses).
And, of course, as we have already mentioned, it should be taken into account that the site is really strong in incorporating music theory into its curriculum. A huge number of resources and sites can teach you how to play your favorite songs, but not every teacher has the necessary amount of knowledge to teach music theory. So, summing up the conclusion regarding the cost and value of the Guitar Gate courses, we are more than sure that it is worth the money, as you will receive a quality musical education that will give you not only practice, but also theory.
Benefits of Guitar Gate
Of course, before giving preference to one or another resource, it is very important to study the advantages of this offer and make sure that this is exactly what you need. Below you can explore the strengths of Guitar Gate:
Opportunity to receive feedback directly from the instructor.
There are livestreams every week for the whole community with a pre-announced theme, followed by a Q&A for subscribers.
An explanation of the history of music that you will not find on most similar platforms.
A deep explanation of music theory, which is very important if you want to master the guitar at a professional level.
The videos are usually long, allowing you to cover a large amount of material in one go and start practicing immediately.
The site and interface are as simple as possible to navigate, so even if you have not dealt with online lessons before, Guitar Gate will be as simple and clear as possible.
10 different quality courses for you to choose from.