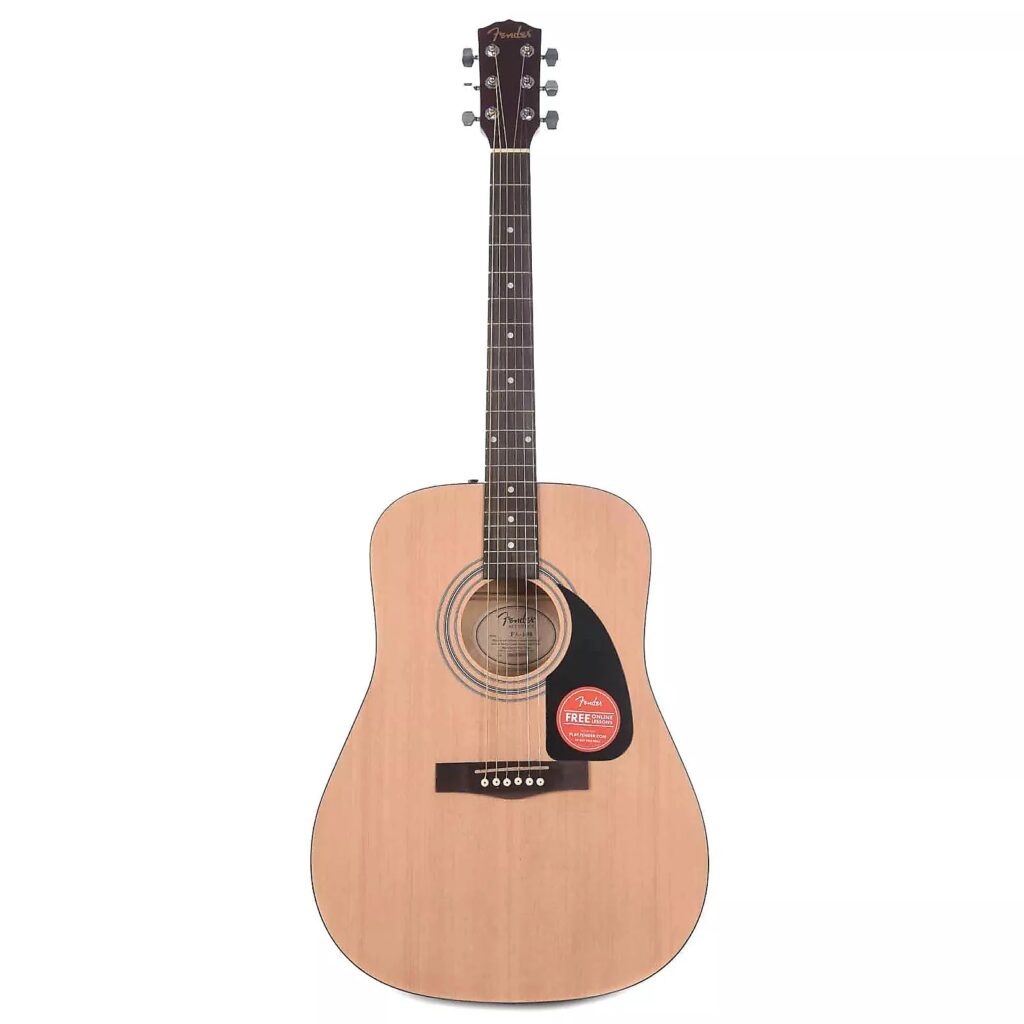 The Fender FA-100 is a well made, decent sounding guitar for the price. It has the traditional dreadnought body style with a laminate spruce top and laminated nato back & sides. With it you get chrome die cast tuners that are accurate enough but not as smooth or precise as geared pegs – this is something to keep in mind if your experience playing has been mostly on high end instruments. The FA-100 also features an easy to use single coil magnetic pickup for plugging into your amp and comes with a very basic 15 watt amp and digital chromatic tuner.
The fit and finish on our particular example was pretty good: nice glossy solid looking varnish over the whole instrument, no noticeable gaps between the back and sides, bridge and top. The neck is glued in but it looks like a butt join as opposed to a scarf joint (a cleaner looking joining method used by some manufacturers).
The laminated top on this instrument shows. If you look closely at the first picture you can see that there are actually 3 lines of glue on the edge of the soundboard: under and around each side of the pick guard and along the bottom inside edge where it meets the binding. We've also seen people writing about these guitars who find them not very resonant which we can confirm – though they do have pretty good projection for what you'd expect from a smaller body acoustically.
Our main problem with this guitar was its action out of the box. Being a budget instrument it uses lower grade materials and so the tolerances on the nut etc are much higher than what you'd see on a high end guitar, as such you can't expect it to play as well as those. On our example we were getting 2-3mm of fret buzz along the first 5 frets and quite loud string rattle/slap sounds when palm muting – this was quite disappointing considering how quiet the front pickup is (see below). Of course this could be down to any number of factors including positioning of the mics in relation to each other on the front of the soundboard which would affect volume balance between strings – but it still shouldn't happen right out of the box with no setup done.
Once we'd lowered the action to a more playable level (by shimming the saddle) the guitar was much nicer to play. The tone is quite good for a budget instrument and it projects well, especially for its size. The single coil pickup gives a reasonably clear sound with good bass response for an acoustic – though obviously it's no match for a good quality under saddle pickup system. All in all, it's a decent starter guitar that will keep you going until you can afford something better.