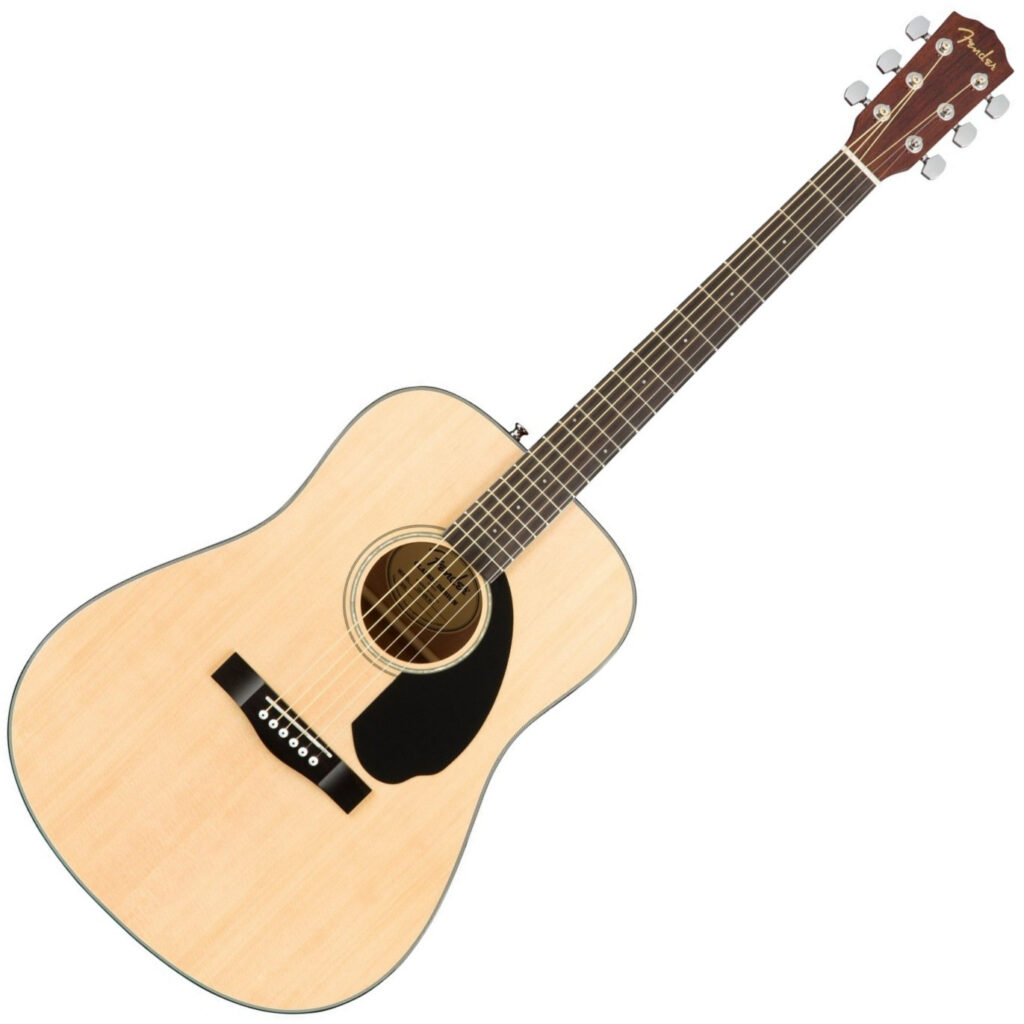 This is a review of the Fender CD-60S acoustic guitar. This guitar is basically identical to the dreadnought-sized Fender CD-140SCE model that I reviewed last year, except the body wood on the CD-60S uses laminate sides rather than solid mahogany. The specs are otherwise virtually identical—it has 20 frets, a thinner 1 11/16″ nut width for easier chord formation for smaller hands, rosewood fingerboard, and bridge, die-cast tuners with Pearloid buttons, tortoiseshell pickguard, white binding around the top edge of body and headstock edge facing along with a white/black body and neck binding, and satin finish.
On the plus side: The Fender CD-60S is very inexpensive when compared to other popular acoustics with laminate bodies such as the $200 Yamaha FSX 140C. It has an attractive appearance when adorned with cream-colored plastic rosette and pickguard trim, Pearloid button tuners—which look nice in contrast with the satin matte color of the rest of the guitar's hardware—and pearloid dot fret markers adding more bling; but they can be tough to see under certain lighting conditions. Most importantly, it sounds pretty good for such an inexpensive guitar (see below for my subjective evaluation).
On the minus: The maple back and sides, while less resonant than the mahogany backs and sides on higher-priced guitars, do add some tone to the instrument. But in order to keep costs down, Fender has built the body of the CD-60S laminate rather than solid wood. While not as attractive (in appearance) as most other models in this price range with its all-laminate construction, the bright satin finish allows for a high degree of water resistance when compared to even most mid-level acoustics with glossy finishes—such as the Yamaha FSX 140C which is vulnerable to nicks and scratches due to its a high gloss finish.
The guitar comes with a pretty good quality padded gig bag that includes an accessory pocket along with a sturdy handle and a shoulder strap.
What is it good for?
The Fender CD-60S comes with both a truss rod adjustment screwdriver and a string action height adjustment tool which can be used to raise or lower the height of the strings as needed, as well as a spare set of guitar strings that you will need before too long. It is highly recommended that anyone who purchases acoustics either new or second hand have these tools on hand in order to adjust the height of the action from time to time—even if none of your other acoustics requires adjustment, eventually one might need adjusting due to changes in humidity levels, etc. Also, I would recommend purchasing an electronic chromatic strobe tuner such as those made by Snark. I have been using a Snark tuner for over 30 years and it is one of the most useful tools an acoustic guitarist can have in maintaining proper tuning while performing live or recording.
As far as playability goes, the Fender CD-60S is pretty playable—with its 1 11/16″ nut width, thin neck profile and 20 frets there should be no problems playing this guitar with smaller hands without going through frustrating trial and error while trying to adjust string action height, etc. The satin finish on a guitar's neck provides a nice grip for players who tend to perspire while playing—this satin type of surface allows you to glide your hand along the neck comfortably without resistance from having to grasp a glossy finish.
I'm not too impressed with the tuners. The guitar is shipped with cheap pearloid button tuners which are okay for newbies or beginning students, but eventually, I recommend replacing them with better quality die-cast geared tuners—especially on instruments in this price range where they are likely to break very quickly if used hard by larger players who have stronger hands/fingers. It's just an issue of durability along with being able to keep strings held firmly in place while playing acoustically under adverse conditions such as bumping into things, etc., especially on stage during live performances when it matters most that your instrument doesn't go out of tune or have its strap fall off its lock while performing on stage.
On the plus side, the satin finish of the neck provides a degree of water resistance—especially if you are playing in outdoor conditions or near large bodies of water. Also, there is very little wood protruding from underneath the strings at the nut end, making it that much easier to avoid snagging your new Martin Marquis 80/20 bronze acoustic guitar strings on something accidentally.