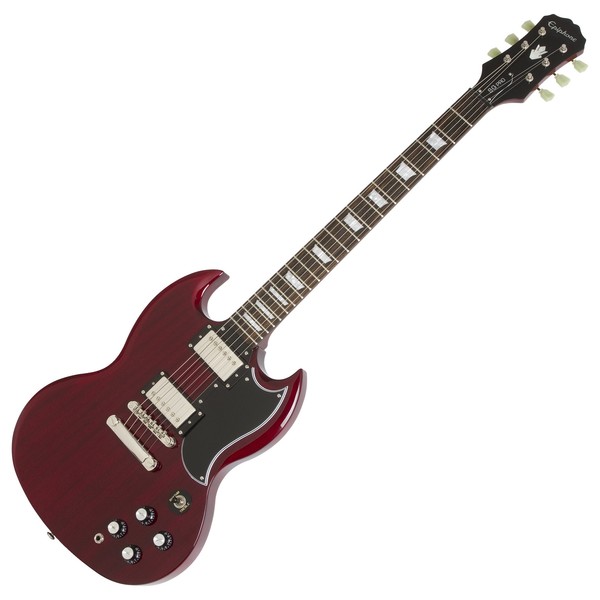 The Epiphone G-400 PRO is a knockoff of Gibson's SG Special from the mid-'60s. It's basic features include two AlNiCo V humbucking pickups, tune-o-matic style bridge, single tone and volume controls, and a 3-way toggle switch. Out of the box it comes with a factory set up that was decent, but after adjusting the truss rod and giving it a quick setup at home I have been very happy with how well this guitar plays – especially for the price.
Epiphone G-400 Pro features The guitar has a very sharp appearance to it as soon as you take it out of the box. With an Ebony finish on and chrome hardware there is no doubt this is a guitar that looks just as good as it plays. It comes with black "speed" knobs which are very easy to turn and have a real nice look to them. It also has black top hat style knobs for volume/tone control which work well but are not nearly as stylish. The only complaint I have about how the guitar looks is the pick guard. On most guitars, including this one, there is no point to the pick guard other than decoration so even though I knew it would be easy to remove it didn't really bother me much…until I saw what was underneath of it. Underneath you'll find two little slits cut in the finish of the guitar – which give you an up-close view of the unfinished wood. This is something that really should have been covered up in the manufacturing process and wasn't, but it's a very small complaint in the grand scheme of things.
Epiphone G-400 Pro sound When it comes to sound, the Epiphone G-400 PRO doesn't disappoint. With two AlNiCo V humbuckers you can get some great tones – from deep and rich bluesy sounds to sharp and edgy metal tones. The pickups are also very responsive which helps when playing clean or distorted tones. One thing I will say about this guitar is that it can be a bit noisy when not being played cleanly – specifically when using distortion pedals…but that's to be expected with any high output pickup.
All in all, the Epiphone G-400 PRO is a great guitar for the price. It's well built, looks amazing, and sounds great. If you're looking for an SG style guitar that won't break the bank, I would highly recommend giving this one a try.
Epiphone G-400 PRO review – Conclusion
The Epiphone G-400 PRO is a great guitar for anyone on a budget. With its beautiful finish, chrome hardware, and two AlNiCo V humbuckers it has a look and sound that rivals guitars twice its price. The only complaints I could find were about the unfinished wood underneath the pick guard and the noise it makes when not being played cleanly – but neither of those are big problems. Overall, I would highly recommend this guitar to anyone looking for an affordable SG style guitar.