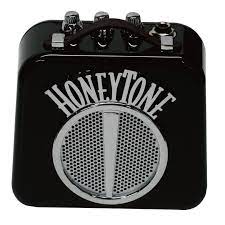 Unleash Your Inner Musician with Danelectro N-10 Honeytone Amp Review
Danelectro is a renowned brand for making stylish, affordable, and cool-sounding guitar gear. Designed to cater to those who are seeking an affordable and portable guitar amp, the Danelectro N-10 Honeytone is a perfect choice. The amp is a great combination of analog and digital features, giving you a crisp and balanced sound. Whether you are a traveling street musician, practicing in your bedroom, or jamming with friends, this little amp is versatile enough to meet all your needs. In this review, we'll take a closer look at the pros and cons of the Danelectro N-10 Honeytone amp.

Design and Features
One of the first things that catches your eye about the Danelectro N-10 Honeytone is its retro and nostalgic design. This little amp comes in a 1950s-style leatherette and sports an endearing backlit radio dial. For such a classy look and feel, the amp has a surprisingly uncomplicated set of features. It has a single volume control knob and a three-way EQ switch (treble, middle, and bass) to give you a broad range of tones. The mini-jack headphone output enables you to practice in private, while the 9V battery or an adapter that comes with the amp ensures you can power up anytime, anywhere.

Sound Quality
As a guitar player, you want a guitar amp that will complement your sound rather than overshadow it. Here's where the Danelectro N-10 Honeytone stands out. It's endowed with a powerful 1-watt RMS power output and a 2-inch speaker that offers a clear, vibrant, and vintage tone that fills the room. The amp's analog circuitry produces a smooth overdrive that enhances your playing, making it perfect for rock, blues, jazz, punk, and other genres. The 3-band EQ switch notably enhances the guitar's tonal output, providing added bass, mid, or treble, according to your preferences.

Portability
The Danelectro N-10 Honeytone is a product of thoughtful engineering that doesn't compromise on quality or portability. This mini-amp can comfortably fit into your backpack or guitar case, and it only weighs 14 ounces. With the battery feature, the amp is powered to kick out a loud punch anywhere, anytime. Its compact design and simple control allow you to set it up quickly and move around efficiently. You can carry it to gigs, jam sessions, or just use it for home practice.

Cons:
The Danelectro N-10 Honeytone is a great little amp, but it has a few downsides. One of these is that it is relatively low on volume and can hardly compete with larger amps when it comes to volume. This is not surprising given its small size and 1-watt power rating, but it's worth noting that if you need something loud, you might need to look for other amps. Another downside is that this mini-amp doesn't come with any onboard effects. You may need to find other gadgets to blend in reverb, chorus, or delay effects.


Conclusion:

In conclusion, Danelectro N-10 Honeytone is a fantastic product for those looking to get a cheap, stylish, and portable guitar amp. It offers a sound that is bigger than its size, and it's surprisingly versatile in terms of styles and genres. If you are a beginner guitarist, a street musician, or a seasoned professional looking for a travel amp, this is definitely an incredible choice. However, if you want a guitar amp with high volume or onboard effects, you may need to look elsewhere. Overall, this little amp is a value-for-money product that delivers on quality and versatility, making it a must-have for any guitar player.