What size of guitar does my child need? Should I get an acoustic, classical, bass or electric? How much should I spend on their first instrument? If you're asking yourself these questions, this article will make selecting the best kids beginner guitar as easy as pie!
Buying a guitar for a child isn't too complicated, but it's super important to make sure to get the right one! Purchasing a guitar which is too large, or isn't fit for purpose, or is even the wrong color can potentially put the brakes on your kid's motivation to learn. So let's get it right from the start!
We'll begin by looking at the best guitar sizes for kids – sound good?
What Size Guitar Does My Kid Need?
The image below will give you a rough idea of what size kids beginner guitar is best for your child.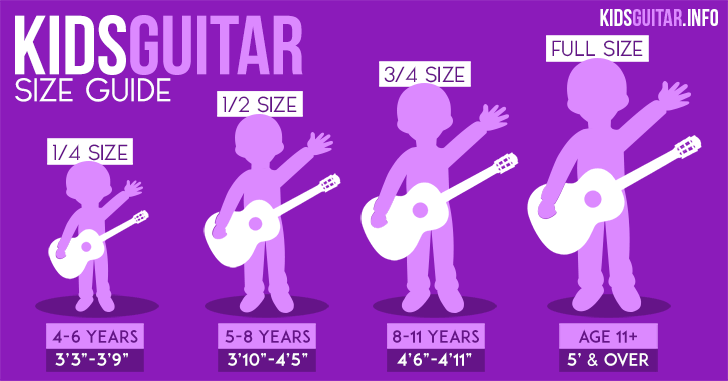 The most important thing to avoid is buying a guitar that is way too large for your child to handle. An oversized guitar will make playing uncomfortable, difficult and even painful. And even worse, the tension and poor posture introduced by playing a large guitar will become ingrained into their play-style. Not good! Let them enjoy learning by equipping them with the correct sized kids beginner guitar.
1/4 Size Guitars – Best for 4-6 year olds, or a height of between 3'3″ and 3'9″
1/2 Size Guitars – Best for 5-8 year olds, or a height of between 3'10" and 4'5″
3/4 Size Guitars – Best for 8-11 year olds, or a height of between 4'6″ and 4'11"
Full Size Guitars – Best for children over age 11, or heights of over 5′
Obviously everyone is different, so if your child is shorter or taller than is average for their age, height is going to be a better indicator of which guitar will suit them. If you feel that they fall somewhere in between two different brackets, go for the larger size. It might be slightly too big for them initially, but it's unlikely to be large to the point of causing any discomfort. Plus they're likely going to grow into it very quickly!
Electric, Acoustic, Classical or Bass?
After you've figured out what size of guitar is best for your kid, you'll also need to know what type of instrument they'll need. Here is your answer…
Buy the instrument that they want to learn.
A common thought is that new players should begin with a classical guitar because the nylon strings are easier on the fingers. I don't necessarily agree with this. If your child wants to be the next Ed Sheeran get them a steel-string acoustic, or if they want to learn some Steve Vai licks an electric guitar is what you need. All guitars will cause sore fingers at first (less so with classicals), but it doesn't take long for callouses to form and sort that pesky problem out.
The wrong type of guitar for the job is only going to cause discouragement.
You wouldn't buy them running shoes for a class trip to the mountains. So don't offer them a classical if they want to learn Metallica riffs! That thing will be collecting dust in the closet shortly after the first failed powerchord.
How Much Should I Spend on a Kids Beginner Guitar?
Whenever I get asked by a new player about how much they should spend on their first guitar, my reply is always – "as much as you can afford!". A cheaper guitar may sound like a good idea when you consider that it will probably be outgrown within a couple of years, but I'd advise against it if possible. Just as the wrong sized guitar will cause discouragement, a budget guitar could have the same effect.
My folks bought me an ultra-affordable electric guitar package when I was ten years old. The amp buzzed constantly, the guitar could barely hold its tuning, and the neck was thicker than a baseball bat. I remember the hassle of having to rotate the cable to that one perfect sweet spot where the sound wouldn't cut out. Urgh! Needless to say, I became frustrated with this nightmare rig and it sat under the bed, collecting dust for years. It wasn't until I was sixteen and bought myself a Squier Affinity Stratocaster that things finally started moving forwards. That Squier felt like a Fender Custom Shop compared to my previous guitar! And unlike my original cheapo setup, 15 years later I still have (and use!) the Squier.
Keep in mind that getting your child into electric or bass guitar is generally going to cost a little more. This is because in addition to buying a guitar, you'll also need an amp and a cable at minimum. You can choose to buy these separately, or pre-bundled packages are available for convenience. You might also want to factor in the price of a pair of headphones for when you need a little peace and quiet!
Let Them Pick Their Own Instrument!
Unless the guitar is going to be a surprise gift, it would be a great idea to let your kid select their own instrument. This will ensure that the guitar at the very least has plenty of visual appeal, which will hopefully help in getting them to stick with learning to play.
And that's pretty much it folks. Hopefully you've now got a good handle on how to choose the best kids beginner guitar!
Buyer Guides
Check out our in-depth buyer guides to find the best guitar for your budding young musician! Use the menu bar at the top of the site, or the links below.