TOP BEST THIN NECK GUITAR
Each musician is guided by his own criteria when choosing a guitar, and the most important of them are the size and shape. While some guitarists have a preference for thick necked guitars, most people lean towards the opposite. Thin neck guitars continue to gain popularity not only among beginners, but also professionals who love guitar solos and complex musical compositions.
Top Best Electric Guitars With Thin Necks
Since the choice of a guitar with a thin neck depends on a large number of factors, we have compiled a guide that is suitable for both beginners and professionals. Moreover, here you will find musical instruments for any budget – from the most affordable options to premium models.
Here are our top picks:
1) Fender Mustang
The Fender Mustang is already something of a legend and is suitable for players with any type of hand. A distinctive feature of this model is its slick neck finish, which makes playing very comfortable and easy, which is an advantage for both experienced musicians and beginners. The Fender Player Mustang 90 also features one of the most famous offset body styles that continues to be popular with today's guitarists looking for the best thin-neck electric guitars.
The guitar body is made of alder and the neck is maple. This model has two single-coil pickups, which gives the guitar a significant sonic advantage. The Fender Mustang has several colors, the most popular of which is olive green.
Pros:
Great for players with small hands
Comfortable Slick neck finish
Pleasant firm tone
2) Gibson SG Melody Maker
Since not every beginner or experienced musician can afford expensive electric guitars, the Gibson SG Melody Maker can be a great choice.
The thin neck also allows people to practice playing before they decide to purchase a more expensive instrument. Reactive tone is a significant advantage of this model as it is ideal for classic rock. The light body also makes games easier and allows you to practice more and experience less stress.
The guitar body and neck are made from mahogany and also this model has 2 humbucker pickups.
Pros:
Affordable price
Reactive tone
Light body
3) Ibanez Steve Vai Signature Jem Jr
Fans of Steve Vai know how legendary his signature guitars are, but not everyone could afford such an expensive purchase. However, with the Ibanez Steve Vai Signature Jem Jr, a dream can come true!
The Jem Jr is a great example of a good and affordable slim neck guitar that allows virtuosos and beginners alike to reach their playing potential and develop speed and performance. Most of all, this model is suitable for those musicians who are interested in advanced guitar playing styles.
Body is made of meranti and the neck is maple. A little-known fact: these lesser-known woods were chosen by Vai himself. This model also has neck, middle and bridge quantum pickups.
Pros:
Ideal for musician's followers
Affordable price
Playability and speed
4) ESP LTD EC-1000
For Les Paul lovers, we have also selected a good and affordable option with a good price and good quality. The ESP LTD EC-1000 has not only a thinner neck, but also active EMG pickups. This option is not only inexpensive, but also reliable, especially if you are a hard rock fan and you need a full tone instrument. Vintage Black color will also appeal not only to rockers and metalheads, but also to musicians of any style.
The neck is made of mahogany and the fingerboard is from ebony, which makes the neck very smooth and comfortable to play. Also ESP LTD EC-1000 has a thin U-shaped profile.
Pros:
Affordable price
Aggressive sound for hard rock fans
Sustain and full tone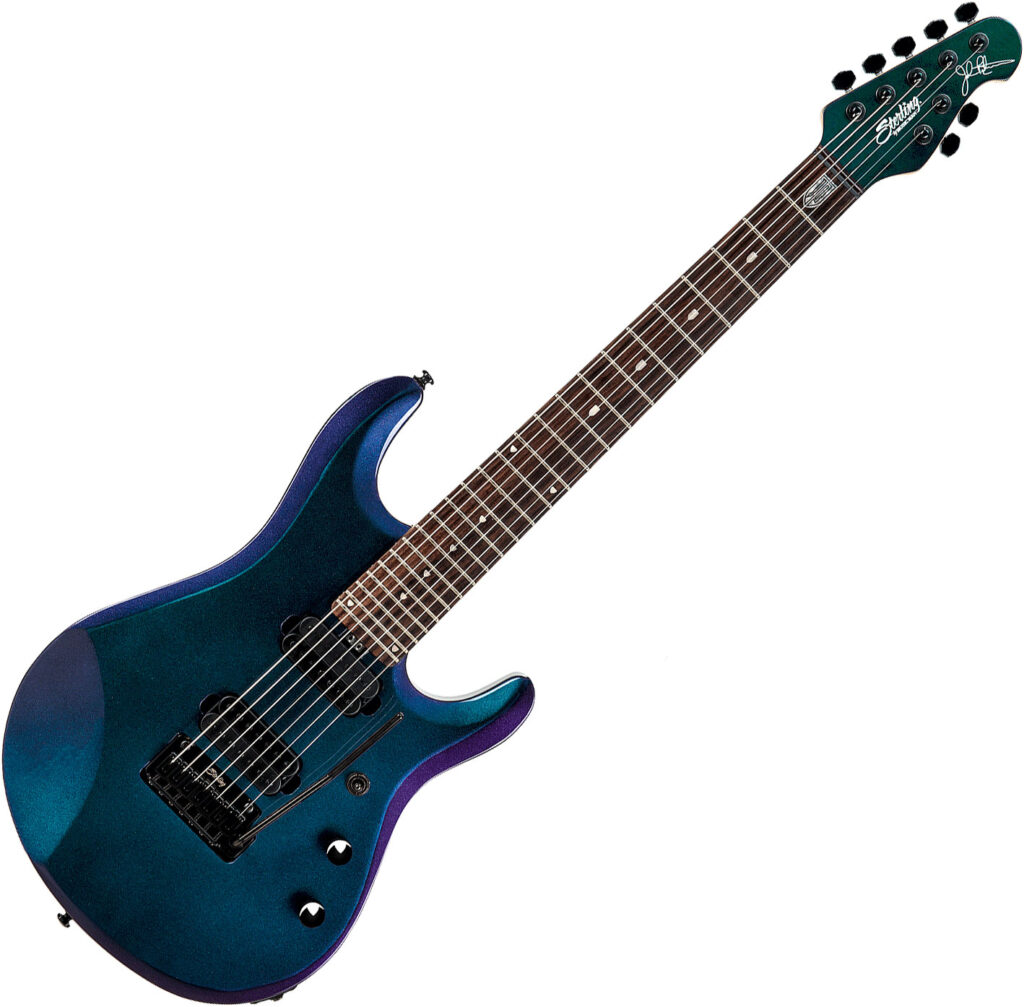 5) Music Man JP70 Sterling
If you're the kind of player looking for a good, affordable seven-string guitar, then the Music Man JP70 Sterling is the one for you. For those who don't know, JP stands for John Petrucci, whose band has set the standard for progressive heavy rock over the past few decades. He teamed up with Music Man and saw the light of day for an inexpensive guitar that suits most intermediate to professional level players.
JP70 has a basswood body and a maple neck with rosewood fingerboard. This is what ensures the smoothness of the game on this neck. It's also important to note that the JP70 also features a contoured forearm scoop which makes it comfortable to play whether you're sitting or standing. Other than that, you should note that the guitar has dual Music Man humbucking pickups which provide excellent range with clarity.
Pros:
Full floating tremolo bridge
Wide dynamic range
Affordable price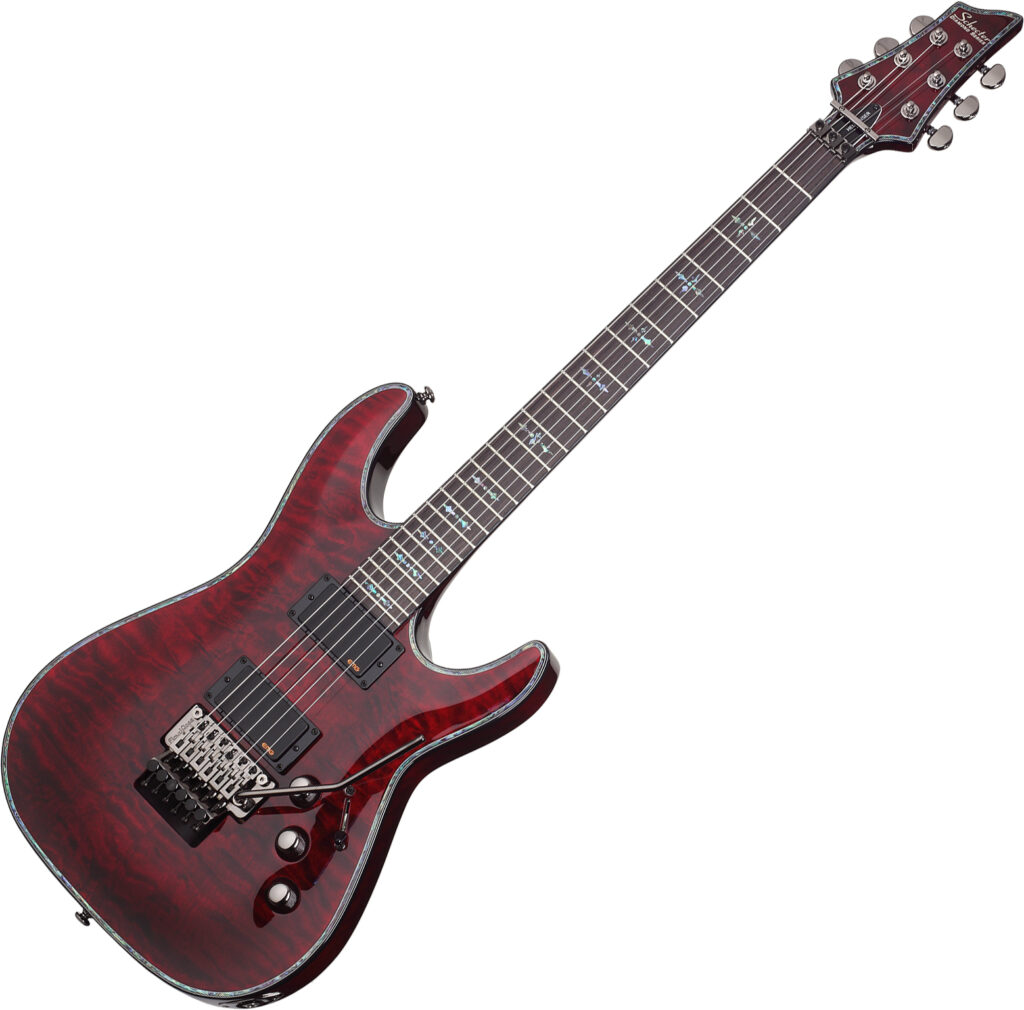 6) Schecter Hellraiser C-1FR
If you are a heavy metal fan, then this model will be an indispensable option for you, especially if you are looking for the best slim neck electric guitars.
It is important to note that the design of the Schecter Hellraiser C-1 FR was based entirely on player feedback, so it is optimized for maximum performance. This model has a wide range of tonal control, so it's hard to find a guitar that's better than this one in terms of price and features. What's more, its slim neck is just perfect for kids, teenagers or people with small hands.
This model is known for its slim sls profile neck with a compound radius fretboard that makes the game as comfortable and convenient as possible. Also unique to the Schecter Hellraiser C-1 FR is its hot-rodded pickups (an active EMG 57 humbucker and Sustaniac in the neck).
Pros:
Slim neck for fast play
Tonal options
Optimized for maximum performance
7) Ernie Ball Music Man Majesty
If you are ready to buy a premium musical instrument, then the Music Man Majesty guitar is probably your best bet. This is a signature guitar that was designed in collaboration with the legendary John Petrucci and designed for ultimate playability. It is made from premium woods such as the maple-capped African mahogany body, which was essential for the perfect tone of the guitar.
The maximum comfort of the guitar is provided by the mahogany neck-through design. This model is ideal for smooth and easy playing and provides comfortable access to all frets (made of stainless steel).
It doesn't matter which style you prefer, because Majestry's pickups are ready for anything. Moreover, they come with an active preamp and gain boost. Thus, this model fully justifies its price.
Pros:
Variety of tones
Great materials
Suitable for any musical style
Premium class
Think VS Thick Neck
Of course, many buyers who do not have much experience in choosing musical instruments do not see the difference between a thick and thin guitar neck. So, which of these options is right for you?
Of course, the main difference is the size. A thick neck will not be the best choice for beginners, and a thin neck will not be suitable for players with large hands. That is why the choice of a guitar neck directly depends on your anatomical features and preferences.
Many people claim that a thin neck is more comfortable and easier to play. Other guitarists who are accustomed to the thick neck disagree with this statement, but the thin neck is still considered a more versatile option for any type of player.
Why Choose Thin Neck Guitars?
Basically, a thin neck guitar is designed to be accessed by the fretboard freely. Thus, the thin neck not only makes it easier to get up and down the fretboard, but also works well for people with small hands or short fingers. A guitar with a thin neck allows people with any physiological features to take even chords with long stretches. While regular guitars can be a little too wide, slim necks provide more comfort.
That is why experts recommend that children and women at least start with a guitar with a thin neck. This also includes any musician who will experience additional difficulties when playing a regular guitar, so a thin neck guitar can be a lifesaver.
So, if you have come to the conclusion that you need a guitar with a thin neck, and you do not know where to start, then this guide will be just what you need. Wondering which electric guitars have the best necks? Below you can explore the top electric guitars with best thin neck and choose the option that suits you.
Conclusion
Choosing a thin neck guitar comes down to a huge number of factors, such as the style of the instrument, the smoothness of the neck, the number of pickups, availability, price, and more. It is also important to pay attention to personal preferences, as they, like nothing else, will help you choose the most suitable guitar for you. This guide will help musicians of all levels pick up a guitar and enjoy playing it.