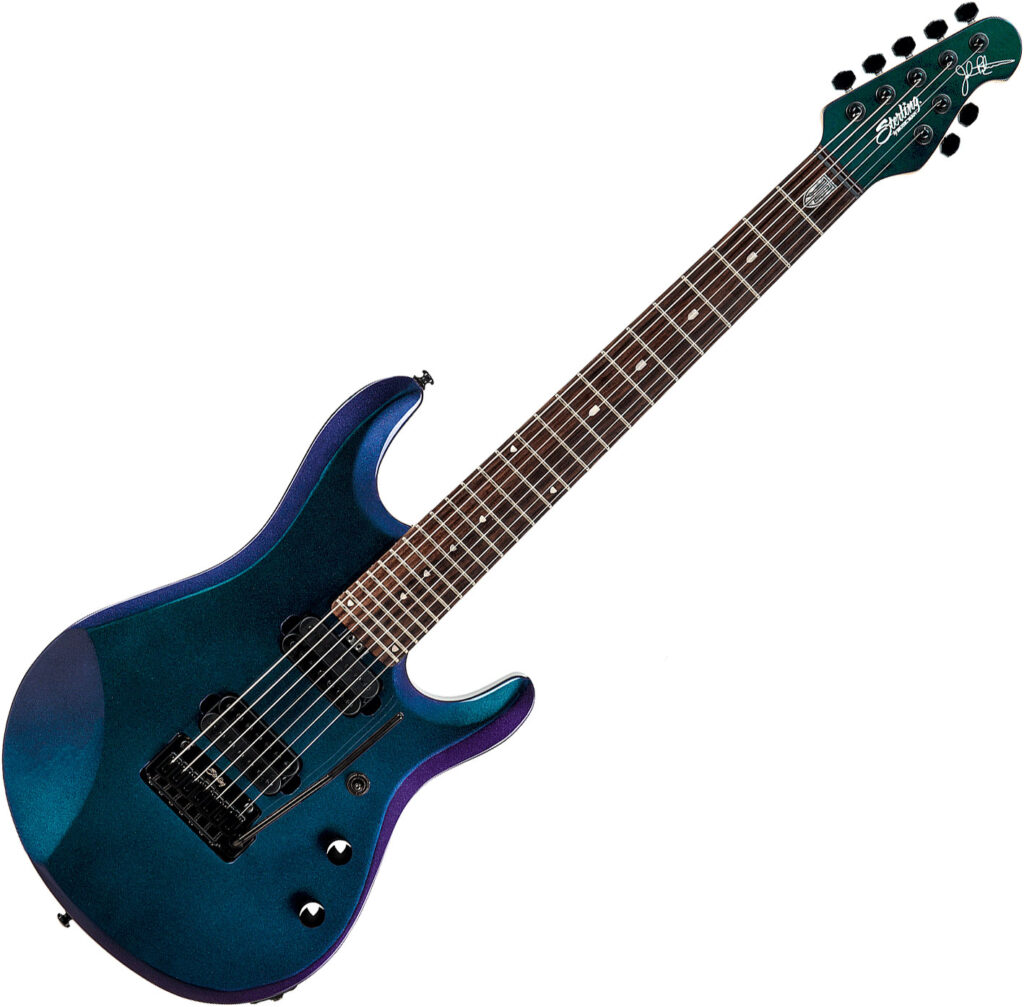 Music Man JP70 Sterling Guitar: A Comprehensive Review
The world of electric guitars is vast and ever-growing, with countless models and brands competing for the attention of musicians worldwide. Among these, the Music Man JP70 Sterling stands out as a high-quality, versatile instrument that has captured the hearts of many guitar enthusiasts. This article provides an in-depth review of this exceptional guitar, delving into its design, features, sound quality, and overall performance.
Design and Construction
Music Man is renowned for producing top-notch instruments, and the JP70 Sterling is no exception. This seven-string guitar was designed in collaboration with Dream Theater's legendary guitarist John Petrucci, making it a highly sought-after model among progressive metal players. The sleek, stylish design of the JP70 Sterling is both visually appealing and functional, allowing for comfortable playability.
The body of the JP70 Sterling is made from basswood, a lightweight and resonant tonewood that provides a balanced sound. The guitar features a deep cutaway that allows for easy access to the upper frets, essential for shredders and technical players. The neck is constructed from maple, with a smooth satin finish that feels great in your hands. The fingerboard is crafted from rosewood, sporting 24 medium jumbo frets and custom JP shield inlays.
One notable aspect of the JP70 Sterling's design is its unique forearm scoop, which provides added comfort during long practice sessions or performances. The guitar also includes John Petrucci's signature "JP Shield" logo on the headstock, further solidifying its connection to the iconic musician.
Hardware and Electronics
When it comes to hardware, the JP70 Sterling boasts an impressive array of components that contribute to its outstanding performance. The guitar is equipped with a Modern Tremolo bridge, offering excellent tuning stability and smooth tremolo action. The locking tuners ensure that your strings stay in tune, even during aggressive playing and heavy bends.
The JP70 Sterling features two custom Sterling by Music Man humbucker pickups, designed to provide a wide range of tones suitable for various genres. The bridge pickup delivers a powerful, tight sound with plenty of bite, while the neck pickup offers a warm, smooth tone perfect for clean passages and solos. The guitar also includes a 3-way pickup selector switch and master volume and tone controls, allowing you to fine-tune your sound with ease.
One unique feature of the JP70 Sterling is its 12 dB gain boost, activated by a push/push volume pot. This boost can be used to add extra power and sustain to your solos or to provide a thicker, more aggressive sound when playing rhythm parts.
Playability and Sound Quality
The playability of the JP70 Sterling is truly exceptional, thanks in part to its slim neck profile and comfortable body contours. With a 16-inch fingerboard radius and medium jumbo frets, navigating the fretboard feels effortless, making it an ideal choice for players who require precision and speed. The seven-string design expands your tonal range, allowing you to explore new creative possibilities in your playing.
In terms of sound quality, the JP70 Sterling shines with its versatile tonal palette. The basswood body and maple neck combine to produce a balanced, resonant sound with a pronounced midrange. The custom humbuckers deliver a variety of tones, from crisp cleans to searing leads, making the guitar suitable for various styles, including rock, metal, jazz, and fusion.
The 12 dB gain boost is a game-changer, providing an extra layer of versatility to your sound. When engaged, it adds extra power and sustain, making your solos stand out and giving your rhythm playing a fuller, more aggressive tone.
Pros and Cons
Pros:
Exceptional build quality and attention to detail
Comfortable design with a slim neck profile and forearm scoop
Versatile sound with custom humbuckers and 12 dB gain boost
Locking tuners and Modern Tremolo bridge for tuning stability
Seven-string design expands your creative possibilities
Cons:
May not be suitable for players who prefer a thicker neck profile
The price may be prohibitive for some budget-conscious musicians
Conclusion
The Music Man JP70 Sterling is an outstanding guitar that offers exceptional performance, playability, and versatility. Designed in collaboration with John Petrucci, this seven-string guitar caters to the needs of progressive metal players but is equally at home in various genres. With its sleek design, impressive hardware, and versatile tonal options, the JP70 Sterling is a worthy investment for any serious guitarist looking to expand their sonic horizons.