Top Best Schecter Bass Guitars
Now the market for bass guitars is brimming with a variety of options from popular brands, as well as from new ones that appeared just a couple of years ago. If you are asked about the best bass guitars of today, you will most likely name Yamaha or Ibanez, but what about Schecter? These basses are truly unique and if you have never heard of this brand, then it will win your heart without a doubt.
Long story short, Schecter is a fantastic brand that makes premium guitars as well as designs unique models that tend to appeal to metalheads and heavy music players alike. At the moment, this company produces an incredible number of different models for any need. If you are also interested in this brand or have already decided to buy a guitar from Schecter, but do not know which one, keep reading to find out the details.
Why Choose Schecter?
At the moment, there are an incredible number of different brands that surprise with their uniqueness, incredible sound, interesting design, and more. Why should you choose Schecter? We would like to answer this question in a rather banal way – because this company produces really high-quality electric bass guitars that can serve you for many years.
Also, we should definitely note that this brand makes premium guitars, which means you will get a good build as well as a great sound. The design of Schecter is also unique and is remembered by all musicians who have ever paid attention to this brand. Schecter is uniqueness, reliability, quality and incredible appearance. Yes, their models may be pricey for some players, but the quality of the instruments they produce is definitely worth it.
What to Know About Schecter Guitars?
Schecter is a company that has been on the market for many years and during this time has managed to earn an excellent reputation for making good, quality and durable electric basses. The company is also famous for their rich tones and tonal profiles, as well as metal-ready tremolo mechanisms and reinforced necks. The price can be high for a beginner who just wants to try bass guitar, but for an experienced musician or professional bass player, Schecter's instrument will be worth it.
Another reason to choose Schecter is that they really specialize in basses and make a huge variety of different types of basses. Their guitars not only look fantastic, they sound fantastic. So, no matter your skill level, if you're on a budget and want to pick a company that really knows what they're doing, we'd strongly recommend that you look into Schecter models that are as good as Ibanez or Squier guitars.
Top Best Schecter Bass Guitars
At the moment, there is an incredible amount of Schecter bass guitars that you can pay attention to and which will be not only beautiful, but also of high quality. However, if you're just starting out on your musical journey and have no idea where to start, then you're probably feeling a bit overwhelmed.
However, this is exactly why we created our top – in order to introduce you to the best Schechter models at the moment.
Here are our top picks: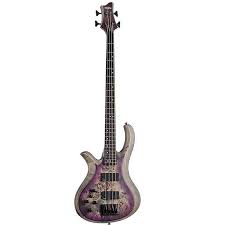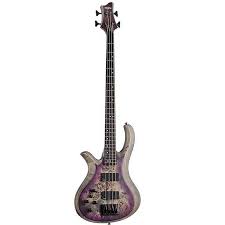 1)Riot-4 Bass LH
If you're a left-handed guitarist, it's likely that you'll have a hard time finding the right model, although the market is still teeming with plenty of options. However, today we decided to start our top Schecter bass guitars with a model for left-handed people.
We also immediately want to draw your attention to the fact that Schecter has an incredible collection of left-handed basses of many types, especially if you compare this company with others. However, the model with which we will introduce you today, we considered the best – the Riot-4 Bass LH.
The first thing that catches your eye when looking at this model is its incredible design, which will not leave indifferent both the beginner and the professional musician. This model features a Swamp Ash body with an Aurora Burst finish and a fancy scratchplate.
The luscious feature of this model is that it belongs to the middle price category, so many bassists will most likely be able to afford it. So, if you're a left-handed bassist and you're thinking about getting a good quality Schecter guitars bass, then by all means check out the Riot-4 Bass LH.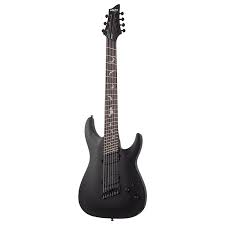 2)Damien-7 Multiscale
Another of Schecter's incredible models that we recommend you consider purchasing is the Damien-7 Multiscale. This electric bass guitar is an incredible instrument, the sound of which will amaze even the most experienced guitarist.
What's more, as with the previous model, we've chosen a mid-range guitar, so you can get the Damien-7 Multiscale for as little as $750. Yes, it may not sound cheap either, but trust me, this model is worth every dollar spent. Moreover, its distinctive feature is that it has as many as 7 strings!
Of course, if you're looking for a traditional 4-string bass, this probably won't be the best option for you. However, if you have always been looking for a unique bass that will surprise you and those around you, then this model may be a worthy option.
Despite the low price of this model, it is still made of mahogany and also has a maple neck and rosewood fretboard. The only downside of the Damien-7 Multiscale (besides the fact that it has 7 strings – for some this is still a downside) is that the guitar doesn't have a tremolo mechanism.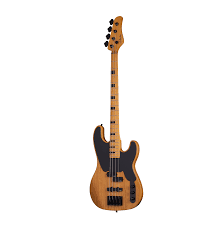 3) Model-T session
Are you a fan of minimalism and looking for a simple yet high quality guitar that will meet all your musical needs? In this case, you obviously will not find anything better than the Model-T Session – a minimalistic model with 4 strings.
Most of Schecter's designs are innovative and even somewhat aggressive and metal-inclined, which is why many musicians think that this brand is not suitable for them, but this is not at all the case. The Model-T Session is an incredibly aesthetic guitar with an Aged Natural Satin finish on Swamp Ash wood.
Speaking about this bass, it should be noted that both the fretboard inlays and pickups have unorthodox designs, with one set of dual pickups alternating inside and with the inlays being aligned to the left of the fretboard.
Even if you have been interested in guitars for a long time, we doubt that you have ever come across something like this. Of course, this guitar isn't for everyone, especially if you're looking for a traditional Schecter style, but if you're into that simple yet aesthetic style, the Model-T Session might be the way to go.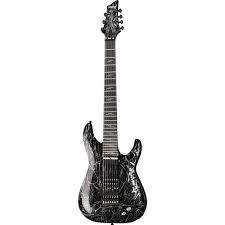 4) C-7 FR S Silver Mountain
Another Schecter bass that you should definitely check out, combines incredible design with just stunning sound. The C-7 FR S Silver Mountain is a model that will not leave anyone indifferent, except perhaps lefties.
We would also like to start by saying that this monster has as many as 7 strings, which are not so easy to master, especially when it comes to bass guitar. On top of that, it features a tremolo mechanism, which means you get complete sonic freedom.
What's more, if you're a professional bass player, you'll be incredibly pleased to know that this model also features the tremolo-equipped Floyd Rose 1500 Series bridge.
Speaking about the configuration of this model, it is worth noting that this bass is made of mahogany (like most other Schecter bass guitars), and also has an Ebony fretboard with a stylish overlay.
Of course, we also wanted to mention the Silver Mountain finish, which on the one hand is somewhat extravagant, and on the other hand, gray and black colors make it as stylish as possible. Another distinguishing feature of the C-7 FR S Silver Mountain is the unbelievable harmonic sustain switches.
Schecter really deserves attention and recognition for this model as we have never seen this kind of electronics before on a prebuilt guitar.
However, before considering this model for purchase, we would like to point out that it is one of the most expensive on our list. Moreover, not everyone needs a seven-string guitar, so you need to weigh all the advantages and disadvantages before purchasing this model.
However, if you have the money and want to buy a seven-string guitar, you won't find anything better than the C-7 FR S Silver Mountain.
Conclusion
Schecter is an incredible brand that makes quality tools and really takes pride in their products. Whether you are looking for Schecter diamond series bass guitars, Schecter pj bass guitars or even Schecter bass guitars for sale, you can be sure that you are getting a good durable instrument with an incredible sound. We hope our top was useful to you and you have chosen a model from Schecter that meets all your requirements.