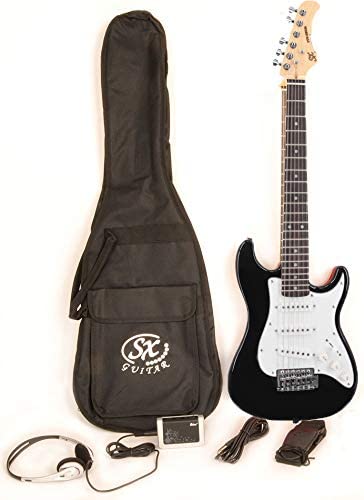 SX RST Electric Guitar Review: A Beginners' Dream Come True
Introduction
The electric guitar market is flooded with options, making it a challenging task for beginners to choose the perfect instrument to start their musical journey. In this review, we delve deep into the world of the SX RST electric guitar, a beginner-friendly and affordable option that has been making waves in the industry. From its design and playability to its sound quality and overall value, we will leave no stone unturned in our quest to discover whether this guitar has what it takes to satisfy the needs of aspiring guitarists.
Design and Build Quality
At first glance, the SX RST electric guitar boasts a classic Stratocaster design, which has been a popular choice among musicians for decades. The body is made from solid basswood, a lightweight wood that offers excellent resonance and tonal balance. This makes it an ideal option for beginners who may struggle with heavier guitars.
The guitar features a bolt-on maple neck with a smooth satin finish, ensuring maximum comfort and ease of play. The 21-fret rosewood fingerboard is adorned with dot inlays, making it easy for beginners to navigate the frets. The SX RST also comes with a standard tremolo bridge, giving players the ability to experiment with different types of vibrato techniques.
The build quality of the SX RST is impressive, especially considering its affordable price tag. The hardware, including the tuners and bridge, is sturdy and reliable, ensuring that the guitar stays in tune and performs consistently.
Playability
One of the most critical aspects of any beginner guitar is its playability. The SX RST does not disappoint in this area, with its comfortable C-shaped neck profile and well-finished frets. The action is set low out of the box, making it easy for beginners to press down on the strings and form chords without excessive hand strain.
The guitar's lightweight design also contributes to its playability, as it allows for extended practice sessions without causing fatigue. The double-cutaway body shape provides easy access to the higher frets, enabling players to experiment with lead guitar techniques as their skills improve.
Electronics and Sound Quality
The SX RST comes equipped with three single-coil pickups, a standard configuration for Stratocaster-style guitars. These pickups offer a versatile range of tones, from bright and twangy to warm and mellow, catering to various musical styles such as rock, blues, and pop.
The guitar features a 5-way pickup selector switch, allowing players to blend the pickups in different combinations to achieve their desired tone. Additionally, the volume and two-tone controls give players the ability to fine-tune their sound further.
For a beginner guitar, the SX RST delivers impressive sound quality. While it may not compete with more expensive models, it certainly holds its own and provides a satisfying playing experience for new musicians. The single-coil pickups can be a bit noisy at times, especially when using high levels of distortion or gain. However, this is a common issue with single-coil pickups and can be mitigated by using noise-cancelling pedals or opting for humbucker pickups in the future.
Accessories and Value
The SX RST electric guitar is often sold as part of a package deal, which typically includes a gig bag, strap, cable, picks, and even an amplifier. This makes it an excellent value for beginners who need all the essential gear to start playing right away. The included accessories are of decent quality, and while they may not be top-of-the-line, they are more than adequate for beginners.
Considering its price point, the SX RST offers incredible value for money. Its combination of solid build quality, comfortable playability, and versatile sound make it an ideal option for those just starting their musical journey.
Conclusion
The SX RST electric guitar is a fantastic choice for beginners looking for an affordable and reliable instrument to kickstart their passion for music. With its classic design, comfortable playability, and versatile sound, it has everything a new guitarist needs to develop their skills and explore various musical genres.
While it may not have all the bells and whistles of more expensive models, the SX RST delivers excellent value for money, making it a smart investment for those just starting out. Overall, the SX RST is a highly recommended option for any aspiring guitarist, offering a solid foundation upon which to build their musical future.