TOP Best Amps For Jazz Guitar
Jazz is a unique musical style that has been one of the most popular around the world for decades. However, in order to convey the distinctive features of this genre, you need to choose not only the right guitar, but also an amplifier that meets all the necessary characteristics. Whether you want to start playing jazz guitar or upgrade your gear, choosing the right amp can be a daunting task. That is why our top best jazz guitar amps will be a great option for you, as here you can find models that fit any budget and provide you with a unique jazz sound.
Should I Choose Tube Or Solid Jazz Guitar Amps?
Before moving on to our top best guitar amps for jazz, we would like to draw your attention to the various types of amplifiers in order to make it easier for you to choose the right option. Below you can learn basic information about what you need to know about the two main types:
Tube amps. These amps are also known as valve amps and they use vacuum tubes to amplify your guitar signal. Moreover, it is worth noting that they were the first type of amplifiers for electric guitars. Speaking about their sound, it should be noted that they have incredible warmth and are extremely sensitive to the dynamics of the game. Playing quieter gives you a cleaner sound, and turning up the volume will make your tone more aggressive. Tube amps are quite versatile and can deliver both warm rich tone and rich overdrive. However, it is important to pay attention to the disadvantages associated with tube amplifiers. First of all, they can be heavy, and the tubes need to be replaced once a year. It's also worth mentioning that they sound best at moderate volumes, so if you're planning on playing quietly, you probably won't get the best sound.
Solid state amps. These amplifiers use transistors to amplify your signal and are often much lighter and smaller than tube amplifiers. However, their distinguishing feature is that they can be surprisingly loud for their size. Speaking of sound, it is worth noting that they reproduce a crisp, clear and clean tone that will not saturate at higher volumes, as is the case with a tube amplifier. What's more, many solid-state amps have in-built digital effects and even digital modeling that can turn your amp into dozens of others at the touch of a button. Thus, solid-state amps are small, compact and powerful, and do not require regular maintenance.
Top Best Amps For Jazz Guitar
Now that you know the basic differences between amp types, it's time to take a look at the best guitar jazz amps and choose the best model for you.universal guitar amps under 500 top that will suit any aspiring musician.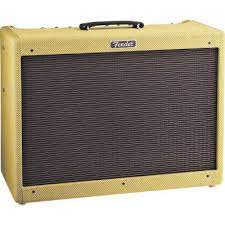 1) Fender Blues Deluxe
If you have ever read a jazz guitar amps review, you probably know that none of them can do without Fender, as this brand has established itself as one of the best on the market. Moreover, throughout the history of Fender, this brand has continued to produce the best jazz amps for guitar, and Fender Blues Deluxe is a direct confirmation.
This model is a 40 watt tube amp which has only one 1×12 speaker and a know to control the spring reverb. Don't underestimate it though, as the Fender Blues Deluxe will give you the tone and volume you need for jazz.
It is also worth mentioning that this amplifier has two channels, the classic and drive. As a jazz lover, you will most often use drive, but it's good to have options if you want to experiment with the sound or occasionally practice other genres.
The Fender Blues Deluxe is a versatile amp best suited for those who love vintage tones. It is also often referred to as the best small amps for jazz guitar as it is small and light, so transportation will not be a problem for you either.
Its power is 15 watts, which will be enough for both rehearsals at home and small gigs. Thus, if you wanted to purchase one of the fender amps for jazz guitar – Fender Blues Deluxe will be the most suitable.
2) VOX AC30C2
Almost no top practice jazz guitar amps is left without a brand like VOX, which is also one of the most famous amplifier manufacturers on the market.
The AC30 is a legendary model that has been on the market for decades and still remains popular. Over time, it has undergone changes, and today we will talk about one of the best jazz amps guitar – AC30C2.
The VOX AC30C2 is extremely versatile, so you can use it for both rock and jazz. This is a two channel 30-watt tube amp which has two of 12-inch Celestion Greenback speakers.
Speaking of jazz, you will most likely use the normal channel a lot and enjoy the warm sound, which makes this model one of the best guitar amps for smooth jazz. However, if you want a compact option, then you should probably look into other models, since the VOX AC30C2 weighs 70lbs.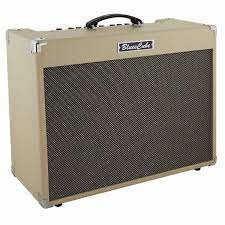 3) Roland Blues Cube Artist
If you're not a fan of tube amps but still want to get one of the best jazz guitar practice amps, you should definitely check out the Roland Blues Cube Artist – a solid-state amp that mimics vintage sounds perfectly and is perfect for jazz.
The Roland Blues Cube Artist has 80 watts of power and has a single 12-inch speaker, and also offers guitarists one of the smoothest and warmest tones on the market, which is why it often ranks in the top best jazz guitar amps ever.
This amp has been specifically designed for blues guitarists and is modeled after a tube. Thus, if you turn the volume up enough, you will get the famous overdrive.
Moreover, it should be noted that this amplifier belongs to good jazz guitar amps, as it has a crunch channel for those musicians who are more fond of dirty tone. Another great feature of the Roland Blues Cube Artist is that you can mix two channels using the Dual Tone button.
Thus, this model is perfect for those musicians who want to get more variety for experimentation.
4) Peavey Classic 50 410
If you are looking for a peavey solo series guitar amps for jazz, then we would like to recommend you another model that is ideal for jazz – the Peavey Classic 50 410. Although this brand is famous for its modeling amps, it also produces some of the best tube combo amps for jazz.
The feature of the Peavey Classic 50 410 that you should immediately pay attention to is the presence of 4 ten-inch speakers, which give a more dense sound, focused on dense frequencies. Also, this guitar amp for jazz has a power of 50 watts, which will be more than enough for live performances.
Peavey Classic 50 410 will also be your best option if you are looking for the best jazz guitar amps for clean sound, as its tone will not leave you indifferent.
It is warm, dense and clean, which is very important for jazz musicians. So, if you want to get a high-quality, reliable and powerful amplifier, then from our top best guitar jazz amps you should choose this particular model.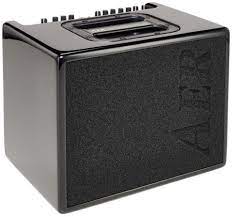 5) AER Compact 60
The last amp on our list is a great option if you are looking for the best small jazz guitar amps. AER is a brand that specializes in acoustic guitar amps that are also well suited to jazz. What's more, many reviews also list the AER Compact 60 as the best jazz guitar amps ever.
The AER Compact 60, as the name implies, has a power of 60 watts, so it is perfect not only for home rehearsals, but also for performances. And of course, if you're already playing on stage, then small guitar amps for jazz are the way to go, as they're lightweight and easy to transport.
Also this model has 4 effects – two types of reverb (short and long), chorus and delay. Among other things, the AER Compact 60 is equipped with an 8-inch speaker that is capable of handling both low and high frequencies at the same time.
The AER Compact 60 is a favorite among many jazz players as it offers a nice warm sound and plenty of volume. Would you like to buy the best small guitar amps for jazz? You have found it.