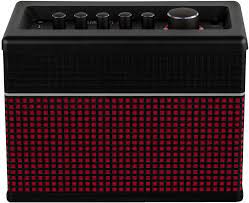 AMPLIFi Review: The Pros and Cons of this Innovative Amp

Are you a music enthusiast looking for an amazing amp that will take your musical performance to the next level? Look no further than the AMPLIFi amp. This innovative and versatile amp has been designed to integrate with your mobile devices, providing you with a seamless and hassle-free musical experience.

In this post, we'll take a detailed look at the pros and cons of the AMPLIFi amp, and highlight how it can help you elevate your music game. Read on to find out more about this amazing product.

Easy to use
One of the biggest advantages of the AMPLIFi amp is its ease of use. You can use it with your mobile device, and the controls are located right at your fingertips. With the AMPLIFi Remote app, you can adjust settings like effects, tones, and volumes without having to get up from your playing position. This makes it easy to switch between settings, and even allows you to store your favorite presets for easy access.

Versatile and customizable tones
AMPLIFi is designed for guitarists of all skill levels, and it offers a wide range of excellent amp models and guitar effects to suit all styles of music. Whether you're a blues guitarist, a metalhead, or a rock enthusiast, you'll find the perfect tone through its built-in speaker and over 200 available amps, pedals, and effects. Plus, with automatic tone matching, you can easily recreate any song's sound without a fuss.

Portable and stylish
The AMPLIFi amp is compact and lightweight, making it easy to take on the road. Its stylish and modern design gives it a sleek look that is perfect for any stage performance. With AMPLIFi, you can easily impress your audience with your music and your style.

Connectivity
The AMPLIFi amp takes connectivity to a whole new level. With the integration of Bluetooth connectivity, you can stream music directly from your mobile device directly to the amp's speakers. You can also connect a microphone and use the amp as a standalone PA system without the need for additional equipment.

Price
While the AMPLIFi amp is packed with features and offers exceptional sound quality, its price might be a bit steep for some beginning players. But keep in mind that quality amps and gear are investments that can pay off in the long run.

Conclusion:

Overall, the AMPLIFi amp is a great investment for any guitarist looking for a powerful, customizable, and versatile amp. With its impressive features, ease of use, and sleek design, it's a great choice for both beginners and seasoned musicians. However, it is also important to note that it comes with a hefty price tag, which might not be ideal for some players who are just starting out. Nevertheless, the AMPLIFi amp remains a top-quality choice for any musician looking for high-performance and amazing sound quality.