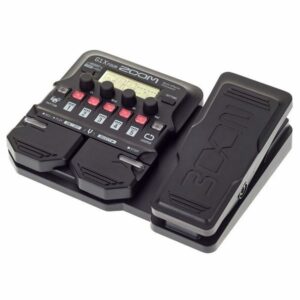 Zoom G1X Four: The Ultimate Multi-Effects Pedal for Guitarists
Introduction:
The Zoom G1X Four pedal is a powerful and versatile multi-effects unit that has become a go-to choice for guitarists looking to expand their sonic capabilities. With its extensive range of effects, amp models, rhythm patterns, and built-in expression pedal, the G1X Four offers a comprehensive package for musicians seeking to enhance their creativity and performance. Whether you're a beginner exploring different sounds or a seasoned guitarist looking for a compact and feature-packed solution, the G1X Four delivers professional-quality effects and flexibility at an affordable price point. In this article, we will delve into the features, sound quality, versatility, user experience, and historical significance of the Zoom G1X Four pedal, uncovering why it has earned its reputation as the ultimate multi-effects pedal for guitarists.
The Ultimate Multi-Effects Pedal: Zoom G1X Four
The Zoom G1X Four pedal is designed to provide guitarists with a vast array of effects, amp models, and additional features in a compact and user-friendly format. It combines cutting-edge technology with intuitive controls, allowing musicians to explore and create a wide range of sounds with ease.
Features and Controls
The G1X Four boasts an impressive set of features and controls that make it a powerful tool for guitarists. It offers over 70 different effects, including distortions, modulations, delays, reverbs, and more. These effects can be arranged in any order in the signal chain, providing endless possibilities for crafting your unique guitar tone.
The pedal also features 13 amp models, ranging from classic tube amps to modern high-gain stacks. This allows you to experiment with various amp sounds without the need for multiple amplifiers. Additionally, the G1X Four includes 68 built-in rhythm patterns, making it a versatile tool for practicing, jamming, and songwriting.
One of the standout features of the G1X Four is its built-in expression pedal. This pedal can be assigned to control various parameters, such as volume, wah, pitch, or any effect-specific parameter. It adds an extra dimension of expressiveness to your playing, allowing for real-time manipulation of your sound.
Sound Quality and Versatility
The sound quality of the Zoom G1X Four is exceptional, delivering professional-grade effects that rival standalone pedals. Whether you're seeking classic analog tones, modern digital textures, or experimental sounds, the G1X Four covers a wide range of sonic territories with accuracy and clarity.
The versatility of the G1X Four shines through in its ability to replicate a variety of iconic guitar tones. From vintage blues to heavy metal, the pedal's extensive collection of amp models and effects allows you to dial in the sound you desire. Whether you want to recreate the tone of your favorite guitarists or explore new sonic landscapes, the G1X Four has you covered.
User Experience
The Zoom G1X Four is designed with user experience in mind. Its compact size and durable construction make it suitable for both studio use and live performances. The pedal features a clear LCD display and intuitive interface, allowing for easy navigation and adjustment of settings.
The G1X Four can be powered by either four AA batteries or an optional AC adapter, providing flexibility for various performance scenarios. Additionally, the pedal features a built-in chromatic tuner, making it convenient for on-the-fly tuning without the need for an additional device.
Historical Significance
The Zoom G1X Four represents a significant milestone in the world of multi-effects pedals. While multi-effects units have been around for decades, they were often bulky, complex, and expensive. The G1X Four breaks this mold by offering a compact and affordable solution without compromising on sound quality or versatility. It has become a popular choice for guitarists of all levels, from beginners looking to experiment with different effects to professionals seeking a portable and reliable tool for live performances.
Conclusion
The Zoom G1X Four pedal is a game-changer for guitarists seeking the ultimate multi-effects solution. With its extensive range of effects, amp models, rhythm patterns, and built-in expression pedal, the G1X Four offers boundless possibilities for sonic exploration and creativity. Whether you're a beginner, intermediate player, or a seasoned professional, the G1X Four is a reliable and inspiring tool that will elevate your playing and expand your sonic horizons.