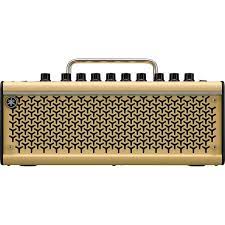 Yamaha THR30II Wireless Review – The Pros and Cons of This Amp
If you're looking for a versatile amplifier that can deliver a wide range of sounds and a convenient wireless experience, the Yamaha THR30II Wireless is a great option to consider. This amp is designed to be a one-stop solution for home practice, recording sessions and gigs, combining portability, performance and connectivity to provide musicians with an all-in-one experience. However, as with any product, it has its strengths and weaknesses. In this article, we'll dive into a comprehensive Yamaha THR30II Wireless review, sharing our thoughts and insights on everything from its features and sound to its build quality and user-friendliness.

Features and Connectivity
The Yamaha THR30II Wireless comes with a range of features that make it a versatile amplifier for electric and acoustic guitars, basses and even keyboards. It offers 15 guitar amp models, 3 bass amp models, 3 mic models, and a flat acoustic amp model, along with a variety of effects, including reverb, delay, chorus, phaser, flanger, and more. You can easily access these features through the THR Remote app, which allows you to tweak your settings, store and share sounds, and jam along to backing tracks using Bluetooth streaming.

In terms of connectivity, the Yamaha THR30II Wireless offers several options, including a USB audio interface, a headphone output, and an aux in, as well as wireless capabilities. You can connect the amp wirelessly to your phone, tablet, or computer via Bluetooth or WiFi, which allows you to control your settings and play along with your favorite tracks without any cables.

Sound Quality
The sound quality of the Yamaha THR30II Wireless is impressive, given its size and weight. The amp uses Yamaha's Virtual Circuitry Modeling (VCM) technology to recreate the sound and feel of classic analog amps, delivering a warm and authentic tone that responds well to playing dynamics. The THR Remote app also provides you with access to a range of mic models and mic positioning options, allowing you to fine-tune your sound to match your playing style and instrument.

Build Quality and Design
The design of the Yamaha THR30II Wireless is sleek and modern, with a compact and lightweight form factor that makes it easy to carry around and store. The amp has a sturdy metal casing and a high-quality speaker that can deliver up to 30 watts of power, providing you with enough volume and headroom for small gigs and jam sessions. The only downside of its design is that it doesn't have a battery pack, which means you'll need to connect it to a power source to use it.

User-Friendliness
One of the biggest advantages of the Yamaha THR30II Wireless is its user-friendliness. The THR Remote app is intuitive and easy to use, allowing you to get started quickly and configure your settings with ease. The app also provides you with access to a range of presets and amp settings that can help you to achieve different sounds and moods, without having to spend hours tweaking your settings. Moreover, the wireless capabilities of the amp make it a breeze to set up and play, without any hassle or cables.

Conclusion:

Overall, the Yamaha THR30II Wireless is a great amplifier that offers a range of features, connectivity options, and sound quality, making it a perfect choice for home practice, recording, and small gigs. Its main strengths include its versatility, portability, and ease of use, whereas its only weakness is its lack of battery power. However, given its affordable price and high-quality construction, we believe that the Yamaha THR30II Wireless represents a great value for money and a solid investment for any musician looking for a reliable and versatile amp.