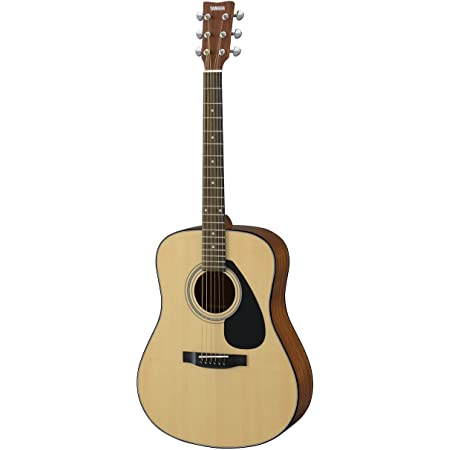 Out of the box, this is a very impressive-looking instrument. Its cutaway design gives you easy access to the upper frets. The lacquered spruce top boasts quite an intricate grain pattern, and it really does look good with the white binding around it. On closer inspection, there are some minor visual imperfections on both the back and front of the body though nothing too serious or unsightly. Moving down to the lower bout area, we see more beautiful wood adorning its edges while what looks like rosewood graces delicately carved bridge and fretboard that conceals the die-cast alloy tuners. On this model, Yamaha has opted for an all scratches and dings resistant gloss finish. Whilst it makes the guitar look attractive straight out of its packing box, I'm not sure how long it will stay looking this shiny. A plain satin matte finish might be more practical in prolonging its life.
On first impression, the FD01S feels pretty good too thanks to its slim neck profile with a rounded body edge so this should prove comfortable to play even if you need to do some serious shredding! Its smaller size is perfect for female players who are perhaps used to playing children-sized guitars or for anyone interested in travel acoustic guitars that can just as easily fit into an overhead luggage compartment.
I think what really impresses most people about this guitar is its fantastic sound. Yamaha has really got the tonal balance of the FD01S just right so it's not too 'bright' and jangly sounding like many cheap acoustic guitars can be, but will still give you a good degree of definition when strummed hard or played on its own without an amplifier.
All in all, this is a great quality entry-level guitar from Yamaha that would suit beginner to intermediate players looking for a high-quality acoustic guitar that looks and sounds beautiful! Although I can't think of any major faults with this model, some people might find the gloss finish too shiny or get annoyed by having to change batteries on its built-in tuner every now and again! Maybe one day Yamaha will include a rechargeable alternative that is more in keeping with this guitar's quality build.
But don't just take my word for it, why not check out the video below of this lovely instrument being played by one of our customers…
…or perhaps you'd like to see it being demoed in a live performance here or here. Or continue your search for facts on our search engine.