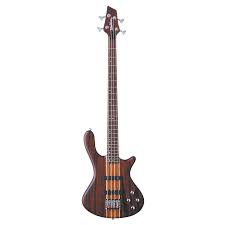 Washburn T24 Taurus Bass: An In-Depth Review
Introduction
The world of bass guitars is full of exceptional models, but the Washburn T24 Taurus Bass truly stands out among its counterparts. Renowned for its sleek design, excellent craftsmanship, and unbeatable sound quality, this instrument is a favorite among both novices and professionals alike. This comprehensive review will delve into the various aspects that make the Washburn T24 Taurus Bass an industry leader.
Appearance & Design
Right out of the box, the Washburn T24 Taurus Bass impresses with its stunning aesthetics. The guitar features a natural mahogany body, with a satin finish that gives it a polished and sophisticated look. The unique double cutaway design not only adds to the visual appeal but also improves upper fret access. It's clear that Washburn has gone the extra mile to ensure that the T24 is as pleasing to the eye as it is to the ear.
Build Quality & Durability
The Washburn T24 Taurus Bass is built to last. The neck-through-body construction ensures maximum sustain and impeccable tone. It's made from mahogany, a tonewood known for its durability and rich, warm sound. The rosewood fingerboard is smooth to touch, allowing for effortless playability. The sturdy die-cast tuners keep the bass in tune, even during the most rigorous performances. This instrument is clearly designed to withstand the test of time.
Sound Quality
When it comes to sound, the Washburn T24 Taurus Bass truly shines. Equipped with two P-style pickups, it produces a punchy and articulate tone that can easily cut through the mix. The bass has a broad tonal range, offering deep lows, clear mids, and bright highs. It's perfect for playing a variety of music genres, from jazz and blues to rock and metal.
Playability & Comfort
The Washburn T24 Taurus Bass is not just about looks and sound; it's also incredibly comfortable to play. The slim, ergonomic neck profile fits comfortably in the hand, making it easy to navigate the fretboard. The lightweight body reduces strain during long performances, while the balanced design prevents the bass from tipping forward when played standing up. Whether you're practicing at home or performing on stage, the T24 ensures a comfortable playing experience.
Features & Hardware
The T24 Taurus Bass comes packed with features that enhance its functionality. It features a 24-fret fingerboard, providing a wide range of notes to play. The dual-action truss rod allows for precise neck adjustments, ensuring optimal playability. The bass also comes with a gig bag, making it easy to transport and protect your investment.
The hardware on the T24 is equally impressive. The bridge is sturdy and reliable, maintaining intonation and tuning stability. The volume and tone controls are responsive and easy to use, allowing for quick and precise sound shaping.
Value for Money
Considering its high-quality build, excellent sound, and array of features, the Washburn T24 Taurus Bass offers exceptional value for money. It's an investment that will deliver returns in the form of countless hours of playing pleasure and musical exploration. Whether you're a beginner looking for your first bass or a seasoned professional seeking a reliable workhorse, the T24 is a worthy contender.
Final Thoughts
All in all, the Washburn T24 Taurus Bass is a remarkable instrument. It combines a beautiful design with superior craftsmanship, outstanding sound quality, and a host of useful features. It's comfortable to play, durable, and versatile, making it suitable for players of all levels and styles. With its affordable price tag, it's accessible to a wide range of musicians.
The Washburn T24 Taurus Bass is a testament to Washburn's commitment to excellence and innovation. It's a bass that not only meets the expectations of bassists but exceeds them. If you're in the market for a new bass guitar, the T24 is undoubtedly worth considering. Its blend of quality, performance, and value is hard to beat.