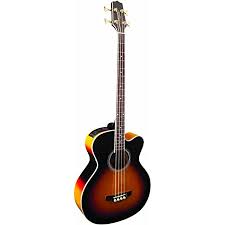 Takamine GB72CE Jumbo Acoustic Bass Guitar: A Comprehensive Review
The Takamine GB72CE Jumbo Acoustic Bass Guitar is a product that has been making waves in the music industry. The guitar is known for its rich and resonant sound, and its ability to cater to both beginner and professional musicians. This review will delve deep into the attributes, performance, design, and overall functionality of this instrument.
Overview
Takamine is a renowned brand in the music world, well-known for their high-quality guitars. The GB72CE Jumbo Acoustic Bass Guitar is no exception. It offers an impressive blend of professional-grade features and user-friendly characteristics. It's a versatile instrument that delivers an excellent sound output, whether plugged into an amp or played unplugged.
Design and Build Quality
The GB72CE is a jumbo acoustic-electric bass guitar with a beautiful design aesthetic. The body is made from flame maple, giving the guitar a unique and stylish look. Its solid spruce top is a testament to its build quality, ensuring durability while enhancing sound quality.
The guitar's neck is made from maple, and it features a 21-fret rosewood fingerboard adorned with dot inlays. The slim neck design makes it comfortable to hold and play, even for extended periods. The guitar's cutaway design not only adds to its aesthetic appeal but also allows easier access to the upper frets.
The GB72CE boasts a natural gloss finish, which gives it a sleek and sophisticated appearance. The guitar's overall build is sturdy and robust, promising longevity and resilience.
Sound Quality
When it comes to sound quality, the GB72CE leaves little to be desired. The combination of a solid spruce top and flame maple back and sides produces a rich and resonant sound. The bass tones are warm and punchy, while the treble notes are clear and bright. Unplugged, the guitar has a surprisingly loud and full sound for an acoustic bass.
Plugged in, the guitar's TK-40B preamp system comes into its own. With a built-in tuner, volume and tone controls, and a mid-shift control, it offers a wide range of tonal possibilities. The EQ adjustments allow you to shape your sound according to your preference, making it ideal for both studio recording and live performances.
Playability
The GB72CE's playability is another one of its strong suits. The slim neck and the Venetian-style cutaway make it easy to play, even for those with smaller hands. The action is also set quite low, minimizing finger fatigue and making it easier to play for extended periods.
The built-in tuner is a handy feature that ensures you're always playing in tune. Plus, the onboard electronics mean you can easily switch from playing acoustically to plugging into an amp, offering versatility in different performance settings.
Value for Money
Given its impressive features and superior sound quality, the GB72CE offers excellent value for money. While it might be a bit more expensive than some entry-level acoustic bass guitars, the price is justified by its professional-grade features, excellent build quality, and superb sound output.
Conclusion
The Takamine GB72CE Jumbo Acoustic Bass Guitar is a standout instrument that impresses on multiple fronts. Its beautiful design and high-quality construction ensure durability, while its sound quality and playability make it a pleasure to play. The versatility it offers, being equally adept at delivering both unplugged and amplified, sets it apart from many other bass guitars in its range.
Whether you're a beginner looking for a reliable and easy-to-play instrument or a professional musician seeking a guitar with superior sound quality, the GB72CE is worth considering. Its blend of aesthetics, functionality, and performance makes it a fantastic investment for any musician.