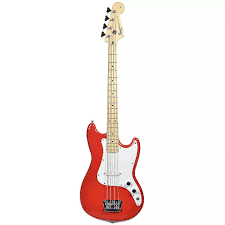 Squier by Fender Bronco Bass: A Comprehensive Review
The Squier by Fender Bronco Bass is an affordable and versatile instrument that has earned a solid reputation among both beginners and experienced players. This review will take an in-depth look at the Bronco Bass, examining its features, construction, sound quality, playability, and value for money. By the end of this article, you'll have a better understanding of what makes the Squier Bronco Bass a popular choice for musicians of all skill levels.
Introduction to the Squier Bronco Bass
The Squier Bronco Bass is a short-scale bass guitar produced by Squier, a subsidiary of Fender. It was first introduced in 1996 as part of Squier's Affinity Series, which aims to provide affordable instruments with Fender-inspired designs. Over the years, the Bronco Bass has become known for its simplicity, ease of play, and surprisingly good tone considering its price point.
Construction and Features
Body and Neck
The body of the Bronco Bass is made from agathis, a lightweight and resonant tonewood commonly used in affordable guitars. It features a double-cutaway design reminiscent of the classic Fender Mustang and Musicmaster guitars. The body is finished in either black or torino red with a white pickguard, giving it a sleek and attractive appearance.
The neck of the Bronco Bass is made from maple, a popular choice for its stability and bright tonal characteristics. It features a comfortable "C" shape profile and a 30-inch scale length, which is shorter than the standard 34-inch scale found on most bass guitars. This shorter scale length makes the Bronco Bass easier to play, especially for those with smaller hands or who are new to bass guitar.
The fingerboard is made from Indian laurel and has 19 medium jumbo frets, providing a smooth playing surface with good access to the higher frets. The fingerboard also features dot inlays for easy navigation.
Hardware and Electronics
The Bronco Bass is equipped with a single-coil pickup, which is a departure from the more common split-coil design found on many bass guitars. This single-coil pickup contributes to the Bronco Bass's distinctive tone, offering a bright and punchy sound with a hint of growl when pushed.
The pickup is controlled by a single volume knob and a single tone knob, allowing for a wide range of tonal options without overwhelming the player with too many controls. The simplicity of this setup makes the Bronco Bass particularly appealing to beginners.
The bridge on the Bronco Bass is a standard 4-saddle design, providing solid intonation and string stability. The tuners are die-cast and offer precise tuning with minimal slippage. Overall, the hardware on the Bronco Bass is reliable and functional, if not particularly flashy.
Sound Quality and Playability
One of the most important aspects of any musical instrument is its sound quality, and the Squier Bronco Bass does not disappoint in this regard. The single-coil pickup provides a bright and punchy tone that is well-suited to a variety of musical genres, from rock and pop to funk and jazz.
The shorter scale length and comfortable neck profile make the Bronco Bass very easy to play, even for those who are new to bass guitar. The lower string tension resulting from the short scale makes it easier to fret notes and play with a lighter touch, reducing hand fatigue and making it more accessible to players with smaller hands.
Some players may find the Bronco Bass's tone to be somewhat lacking in low-end depth compared to basses with split-coil pickups or longer scale lengths. However, this can be compensated for somewhat through EQ settings on your amplifier or pedalboard.
Modifications and Upgrades
One of the great things about the Squier Bronco Bass is its potential for customization and upgrades. Many players choose to replace the stock single-coil pickup with a more powerful or versatile option, such as a split-coil or humbucker.
Upgrading the tuners and bridge can also improve the instrument's tuning stability and intonation. Additionally, some players may opt to swap out the stock pickguard for a custom design to personalize their Bronco Bass.
Value for Money
The Squier by Fender Bronco Bass offers exceptional value for money, making it an excellent choice for beginners or experienced players looking for an affordable and reliable instrument. With its solid construction, comfortable playability, and surprisingly good tone, the Bronco Bass is a worthwhile investment that can serve as a primary instrument or a backup bass for gigging musicians.
Conclusion
In conclusion, the Squier by Fender Bronco Bass is a versatile and affordable instrument that is well-suited to players of all skill levels. Its short-scale design, comfortable neck profile, and simple electronics make it easy to play and provide a wide range of tonal options. While it may not offer the same depth of tone or high-end hardware as more expensive bass guitars, the Bronco Bass is an excellent value for the money and a worthy addition to any musician's collection.