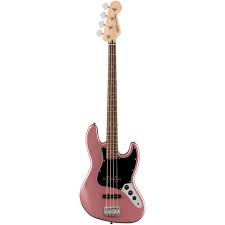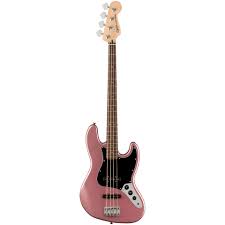 Squier Affinity Jazz Bass Review: Affordable Quality for the Aspiring Bassist
For aspiring bass players and those on a budget, finding a high-quality instrument that doesn't break the bank can be a challenging task. However, some brands have made it their mission to create affordable instruments that still deliver excellent performance and sound. One such brand is Squier, and their Affinity Jazz Bass is a prime example of their commitment to providing accessible and reliable instruments for all musicians. In this comprehensive review, we'll take an in-depth look at the features, sound, and overall value of the Squier Affinity Jazz Bass to help you decide if it's the right choice for your musical journey.
Squier: A Subsidiary of Fender with a Focus on Affordability
Squier was established as a subsidiary of Fender in 1982 with the goal of producing affordable yet high-quality versions of Fender's most iconic instruments, such as the Telecaster, Stratocaster, and Jazz Bass. Over the years, Squier has built a reputation for delivering excellent value for money, making it a popular choice among beginners and budget-conscious musicians alike.
Design and Features of the Squier Affinity Jazz Bass
The Squier Affinity Jazz Bass is a modern take on the classic Fender Jazz Bass design, featuring a comfortable body shape, a bolt-on neck, and a dual single-coil pickup configuration. The body is crafted from lightweight alder, which is known for its balanced tonal properties and resonance. The contoured body provides ergonomic comfort during long playing sessions, while the double-cutaway design ensures easy access to the upper frets.
The neck of the Affinity Jazz Bass is made from maple and features a choice of either a maple or laurel fingerboard. With a 34″ scale length and a slim "C" profile, this bass offers a fast and comfortable playing experience that caters to players of all styles and abilities. The neck is securely fastened to the body using a traditional four-bolt attachment system, ensuring stability and sustain.
The Affinity Jazz Bass comes equipped with two Squier Standard Single-Coil Jazz Bass pickups, which are designed to deliver a versatile range of classic bass tones. The electronics consist of separate volume controls for each pickup and a master tone control, providing you with a simple yet effective way to shape your sound.
One of the key features of the Affinity Jazz Bass is the vintage-style bridge, which features four individually adjustable saddles for precise string height and intonation adjustments. This allows you to achieve the perfect setup tailored to your playing style and preferences.
Performance and Sound
The Squier Affinity Jazz Bass delivers a versatile and classic sound that can easily adapt to a wide variety of musical genres. The combination of the lightweight alder body, maple neck, and dual single-coil pickups results in a well-balanced tone with plenty of clarity, warmth, and punch. The separate volume controls for each pickup allow you to blend their outputs, giving you the ability to dial in your ideal sound.
The vintage-style bridge plays a significant role in the overall tone and sustain of the bass, providing a solid and stable foundation for the strings. The individual saddle adjustments make it easy to achieve a comfortable and precise setup, ensuring optimal playability and intonation.
The Affinity Jazz Bass is suitable for a wide range of playing styles, from fingerstyle to slap bass, thanks to its smooth neck profile and well-balanced tonal characteristics. Whether you're playing jazz, rock, funk, or anything in between, this bass has the versatility and quality to deliver the sound and performance you need.
Conclusion
The Squier Affinity Jazz Bass is an affordable, high-quality, and versatile instrument that offers exceptional performance and value for money. Its modern take on the classic Fender Jazz Bass design, combined with reliable features such as the vintage-style bridge and Squier Standard Single-Coil Jazz Bass pickups, make it a worthy addition to any bass player's collection, especially for those just starting out or on a budget.
Whether you're a beginner looking for a reliable and easy-to-play instrument, or a seasoned professional seeking a backup or practice bass that doesn't compromise on quality, the Squier Affinity Jazz Bass is an excellent choice. With its blend of classic design, dependable features, and outstanding performance, it stands as a testament to the legacy of Fender and the Squier brand.