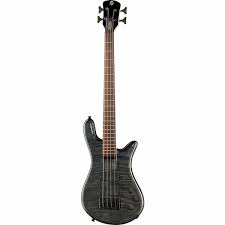 Spector Bantam 4 Electric Bass: A Comprehensive Review
The Spector Bantam 4 electric bass is a modern take on the classic Spector design, offering a compact and lightweight instrument that doesn't compromise on quality or sound. This comprehensive review will delve into the features, design, playability, and sound of the Bantam 4, helping you decide whether it's the right bass for you.
Overview
Spector has been a prominent name in the bass guitar world since its inception in 1977. The company has been known for its innovative designs and high-quality instruments, which have been played by some of the most respected bassists in the industry. The Bantam 4 is no exception; it is a short-scale bass that packs a punch with its powerful sound and sleek design.
Design and Construction
The Spector Bantam 4 features a chambered Alder body with a Quilted Maple top, providing a visually stunning look that is both classic and modern. The body is contoured for maximum comfort, with a deep cutaway for easy access to the upper frets. The instrument's compact size makes it perfect for players who prefer a smaller, more manageable bass.
The neck is a 3-piece Maple construction, with a 30-inch scale length and 22 frets. The shorter scale length makes for a more comfortable playing experience, particularly for those with smaller hands or who prefer a more relaxed string tension. The fingerboard is made from either Rosewood or Pau Ferro, depending on the model, and features Spector's signature Crown inlays.
The hardware on the Bantam 4 is equally impressive. It comes equipped with a brass Spector Locking Bridge, ensuring excellent sustain and intonation. The tuners are also solid, providing precise tuning stability.
Electronics
The Bantam 4 is powered by a pair of EMG 35DC active humbucking pickups. These pickups are known for their high output and clarity, providing a powerful sound that can cut through any mix. The active circuitry allows for a wide range of tonal possibilities, making the Bantam 4 suitable for various playing styles and genres.
The electronics also include a 2-band active EQ, with separate controls for bass and treble. This allows players to tweak their sound to their liking, with the ability to boost or cut frequencies for the perfect tone. There is also a master volume control and a balance control, which allows for blending between the two pickups.
Playability
One of the standout features of the Spector Bantam 4 is its playability. The shorter scale length, combined with the comfortable neck profile and contoured body, makes it a joy to play. The instrument's lightweight design ensures that players won't feel weighed down during long gigs or practice sessions.
The deep cutaway allows for easy access to the upper frets, making it suitable for bassists who enjoy playing more melodic lines or solos. Additionally, the string spacing is slightly narrower than on some other basses, which can make playing techniques like fingerstyle or slap bass easier for those with smaller hands.
Sound
The Spector Bantam 4 delivers a powerful and versatile sound, thanks to its combination of high-quality pickups and active electronics. The EMG 35DC pickups provide plenty of output, ensuring that your bass lines will be heard even in the most crowded mixes. The active EQ allows for a wide range of tonal options, making the Bantam 4 suitable for various styles of music.
The bass frequencies are tight and punchy, while the treble frequencies offer clarity and definition. The midrange is well balanced, ensuring that your bass lines will sit well in a mix. Overall, the Bantam 4 provides a modern and aggressive sound that is perfect for rock, metal, and other contemporary genres, while still being versatile enough for more traditional styles like jazz or blues.
Pros and Cons
Pros:
Compact and lightweight design
High-quality construction and materials
Powerful and versatile sound
Comfortable playability
Active electronics for tonal flexibility
Cons:
Shorter scale length may not be suitable for all players
Price may be a barrier for some
Conclusion
The Spector Bantam 4 electric bass is an impressive instrument that combines a compact design with powerful performance. Its high-quality construction, comfortable playability, and versatile sound make it an excellent choice for bassists of all skill levels and musical styles.
While the shorter scale length may not be ideal for everyone, it offers a unique playing experience that many players will find enjoyable. If you're in the market for a high-quality, short-scale bass that doesn't compromise on sound or performance, the Spector Bantam 4 should be at the top of your list.