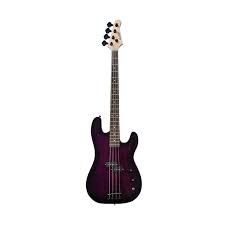 Title: Sawtooth EP ST-PB Left-Handed Electric Bass: A Comprehensive Review
Introduction
The world of electric bass guitars is vast and varied, with a plethora of options available for musicians of all skill levels. Among the many choices, the Sawtooth EP ST-PB left-handed electric bass stands out as an affordable and versatile option for left-handed bassists. In this article, we will delve into the features, design, sound quality, and overall value of this instrument to help you decide if it's the right choice for your needs.
Design and Construction
The Sawtooth EP ST-PB left-handed electric bass boasts a classic P-style design, featuring a solid basswood body and a maple neck with a rosewood fingerboard. The basswood used in the construction of the body offers a lightweight and comfortable playing experience without sacrificing tone or resonance. The combination of maple and rosewood for the neck and fingerboard provides a smooth and responsive playing surface, allowing for easy transitions between notes and chords.
The instrument comes in various finishes, including a sleek black, sunburst, and white, catering to a range of aesthetic preferences. The chrome hardware adds a touch of elegance to the overall appearance of the bass, and the vintage-style open-gear tuning machines ensure accurate tuning and stability during performances.
Electronics and Hardware
The Sawtooth EP ST-PB left-handed electric bass features a single split-coil pickup, delivering the classic P-bass tone that has become synonymous with countless genres of music. The split-coil design reduces hum and noise, resulting in a cleaner and more focused sound. The bass also includes master volume and tone controls, allowing players to dial in their preferred sound with ease.
The bridge on the Sawtooth EP ST-PB is a top-loading design, which makes string changes quick and easy. The adjustable saddles provide ample opportunity for fine-tuning the instrument's intonation and action, ensuring optimal playability for each player's preferences. The bass also features a synthetic bone nut, which contributes to the instrument's overall tone and sustain.
Playability and Sound
The Sawtooth EP ST-PB left-handed electric bass is designed with playability in mind. The 34-inch scale length is standard for most electric bass guitars and offers a comfortable balance between string tension and ease of playing. The medium jumbo frets are well-dressed and evenly spaced, ensuring accurate intonation and minimal buzzing.
The P-style split-coil pickup delivers a warm and punchy tone that can be adapted to various musical styles. The master volume and tone controls allow players to experiment with different tonal options, from a deep and smooth sound perfect for jazz and R&B to a more aggressive and cutting tone suitable for rock and punk. The basswood body provides a well-balanced frequency response, with a strong low-end presence and enough clarity in the midrange and treble frequencies to cut through the mix.
One of the standout features of the Sawtooth EP ST-PB left-handed electric bass is its versatility. The classic P-bass design lends itself well to a variety of playing techniques, allowing both fingerstyle and pick players to achieve their desired sound. Additionally, the instrument's lightweight construction and comfortable body shape make it an excellent choice for extended practice sessions and live performances.
Value and Conclusion
The Sawtooth EP ST-PB left-handed electric bass offers an impressive combination of affordability, playability, and sound quality. While it may not have all the bells and whistles of higher-end models, this instrument provides an excellent foundation for left-handed bassists looking to develop their skills and explore various musical styles.
In conclusion, the Sawtooth EP ST-PB left-handed electric bass is a fantastic option for left-handed players seeking a reliable and versatile instrument at an affordable price point. The classic P-bass design, quality construction, and adaptable sound make it a worthy addition to any bassist's collection.