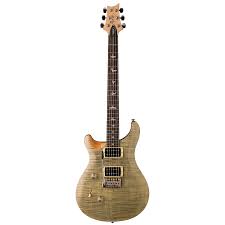 PRS SE Custom 24 'Lefty' Electric Guitar: A Comprehensive Review
The guitar world has long been a domain dominated by right-handed players, but there's good news for southpaws: the PRS SE Custom 24 'Lefty' electric guitar is here to level the playing field. This exceptional instrument is designed specifically for left-handed guitarists, and it's packed with features that make it a worthy addition to any guitarist's collection. In this detailed review, we'll dive into the specifications, design, playability, sound, and value of the PRS SE Custom 24 'Lefty' electric guitar, so you can decide if it's the perfect axe for you.
Specifications and Design
The PRS SE Custom 24 'Lefty' combines the classic PRS double-cutaway body shape with a 24-fret, 25-inch scale length neck. The mahogany body is topped with a beautiful maple veneer, which adds brightness and depth to the guitar's tone. The set-in maple neck features a rosewood fretboard adorned with the iconic PRS bird inlays, providing both visual appeal and ease of navigation on the fretboard.
The guitar is fitted with two PRS-designed 85/15 "S" humbuckers, which offer a versatile range of tones suitable for various genres. These pickups are controlled by a three-way blade switch and master volume and tone knobs. The tone knob also functions as a push-pull pot for coil splitting, allowing you to access single-coil sounds without sacrificing humbucker power.
The PRS SE Custom 24 'Lefty' features a PRS patented molded tremolo bridge, which provides stable tuning and excellent intonation. The guitar also comes with PRS-designed tuners that are not only reliable but also add a touch of elegance to the headstock.
Playability
One of the most important factors to consider when choosing a guitar is its playability. The PRS SE Custom 24 'Lefty' excels in this area, offering an incredibly comfortable playing experience. The slim-profile Wide Thin neck shape allows for fast and effortless playing, making it suitable for various playing styles, from intricate lead work to chord-heavy rhythm playing.
The 24-fret design provides two full octaves of range, giving you plenty of room to explore your creativity on the fretboard. The frets are expertly finished, providing smooth playability and excellent intonation. The PRS patented molded tremolo bridge not only offers stable tuning but also enables you to perform expressive bends and vibrato with ease.
Sound
The PRS SE Custom 24 'Lefty' is a versatile instrument capable of delivering a wide range of tones, thanks to its dual 85/15 "S" humbuckers. These pickups were designed to replicate the sound of the highly sought-after 1985 PRS humbuckers, and they deliver a balanced and articulate tone that works well for various genres.
The bridge pickup is powerful and punchy, with a tight low end and sparkling highs that cut through the mix. The neck pickup, on the other hand, offers a warm and smooth sound that's perfect for bluesy solos and jazz chords. The coil-splitting feature adds even more versatility to the guitar's tonal palette, giving you access to sharp single-coil tones for funk, country, and surf styles.
The mahogany body and maple top combination provide a balanced tonal foundation, with the warmth and resonance of mahogany complemented by the brightness and clarity of the maple. Overall, the PRS SE Custom 24 'Lefty' delivers a rich and dynamic sound that can easily adapt to any musical situation.
Value
Considering the high-quality materials, craftsmanship, and sound of the PRS SE Custom 24 'Lefty,' it's evident that this guitar offers excellent value for money. While it may not be the most affordable option on the market, the quality and features it provides make it worth the investment for left-handed players seeking a versatile and reliable instrument.
Not only does the PRS SE Custom 24 'Lefty' deliver on performance, but it also boasts an eye-catching aesthetic with its stunning maple veneer top and signature PRS bird inlays. This guitar is sure to turn heads both on stage and in the studio.
Conclusion
The PRS SE Custom 24 'Lefty' electric guitar is a fantastic option for left-handed players looking for a versatile, high-quality instrument. With its comfortable playability, wide range of tones, and beautiful design, this guitar is a testament to PRS's commitment to providing exceptional instruments for all types of players, regardless of their dominant hand. If you're a southpaw searching for a guitar that can handle any genre and playing style, the PRS SE Custom 24 'Lefty' is undoubtedly worth considering.