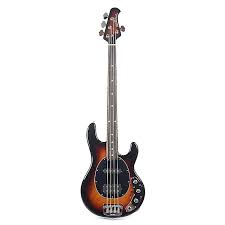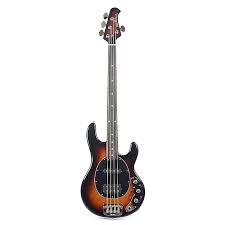 The MusicMan StingRay 4 NeckThrough Electric Bass: A Comprehensive Review
Introductory Overview
In the world of electric basses, the MusicMan StingRay 4 NeckThrough stands as a monument to innovative design and impeccable craftsmanship. Since its introduction in the late 70s, the StingRay has been a favorite of many professional bassists across different genres, thanks to its distinctive tone, robust build, and unparalleled playability. This review will delve into the features, sound quality, and overall performance of this magnificent instrument.
Design and Build Quality
The Stunning Craftsmanship
Aesthetically, the StingRay 4 NeckThrough is a sight to behold. Its sleek body contours, high gloss polyester finish, and chrome-plated hardware give it an aura of elegance and sophistication. The body is crafted from Ash, a tonewood renowned for its resonance and durability. It's sturdy yet lightweight, ensuring prolonged playing comfort.
The Neck-Through Design
The neck-through construction is one of the primary features that set the StingRay 4 apart. The neck extends through the body of the bass, resulting in increased sustain and resonance. The neck itself is made from select maple, offering a smooth, comfortable playing experience. The fingerboard, available in either maple or rosewood, features 21 high-profile wide frets that are easy to navigate.
The Electrics
The Humbucker Pickup
The StingRay 4 comes with a single humbucker pickup, a design element that has remained consistent since the bass's inception. This MusicMan-designed pickup delivers a punchy, full-bodied sound that can cut through any mix. It's versatile enough to handle everything from funk slap bass to rock and roll riffs, making the StingRay 4 a highly adaptable instrument.
The Active Preamp
Another key feature of the StingRay 4 is its active preamp. It comes with a 3-band EQ (bass, mid, treble) that lets you shape your sound to your liking. The preamp is powered by a 9V battery, and it offers up to 40dB of boost, allowing you to dial in a wide range of tones.
Sound Quality and Performance
The Unmistakable StingRay Tone
When it comes to sound, the StingRay 4 is nothing short of impressive. Its signature tone is characterized by a strong low end, clear mids, and brilliant highs. The humbucker pickup, combined with the active preamp, delivers a sound that is powerful yet articulate. Whether you're laying down a groove or playing a solo, the StingRay 4 ensures that every note is heard clearly.
Playability
The StingRay 4 shines in terms of playability. The neck-through design provides excellent balance, while the smooth neck and fingerboard make for fast, effortless playing. The adjustable truss rod and bridge allow for precise action and intonation adjustments, ensuring optimal playability.
Pros and Cons
Pros
Superior build quality and craftsmanship
Versatile sound with powerful output
Excellent playability
Impressive sustain and resonance due to the neck-through design
Cons
The price might be steep for some players
The single pickup design may limit tonal options for some styles
Conclusion
In conclusion, the MusicMan StingRay 4 NeckThrough Electric Bass is a top-tier instrument that combines stunning aesthetics, exceptional build quality, and versatile sound. Its unique features, such as the neck-through design and active preamp, set it apart from other basses on the market. While it comes at a premium price, the value it offers is undeniable. Whether you're a touring professional or a passionate hobbyist, the StingRay 4 is a worthy investment that will elevate your bass playing to new heights.