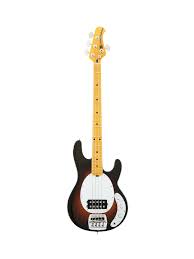 Unraveling the Magic of Musicman Old Smoothies Electric Bass
Introduction
When you think about electric bass guitars, one name that often comes to mind is Musicman. Their instruments have a unique appeal that attracts both beginners and seasoned pros alike. Among their line-ups, the Old Smoothie is a standout model that deserves a closer look. This article will delve into the features, sound quality, and overall performance of the Musicman Old Smoothie electric bass.
A Nostalgic Throwback
The Musicman Old Smoothie is a tribute to the original prototype bass designed by Leo Fender back in 1976. Named 'Old Smoothie' after its smooth, even tone, it was his final contribution to the Musicman StingRay series. The Old Smoothie's design is a nostalgic throwback to the vintage era, offering a classic look that never goes out of style.
Distinctive Design and Build
The Old Smoothie features a solid ash body, offering durability and resonance. It's equipped with a bolt-on maple neck, giving it a bright, clear tone. The fretboard is either rosewood or maple, depending on your preference. The rosewood provides a warmer tone with complex overtones, while the maple delivers a brighter, more focused sound.
One significant factor that sets the Old Smoothie apart is its unique 10-coil pickup, which was explicitly designed for this model. This design allows for a broader coil surface area, capturing more harmonic content than traditional designs. Additionally, the 34-inch scale length provides excellent string tension, facilitating fast playability and a well-defined low end.
Stellar Sound Quality
The Musicman Old Smoothie is renowned for its distinctive tonal character. It offers a rich, warm, and rounded tone with plenty of depth and clarity. The bass has a remarkable sustain, thanks to its through-body stringing and high-mass bridge.
The custom-made 10-coil pickup plays a significant role in shaping the Old Smoothie's sound. Combined with the 2-band active preamp, it delivers a wide range of tones, from punchy and aggressive to mellow and smooth. The pickup configuration also provides an excellent response to different playing techniques, making it a versatile instrument suitable for various music genres.
Playability
A smooth and comfortable playing experience is vital for any bassist, and the Old Smoothie does not disappoint. The bass features a satin-finished neck that feels great in the hand and allows for easy navigation across the fretboard. The 21 high-profile, wide frets offer a comfortable playing feel and excellent intonation.
The Old Smoothie's weight is well balanced, ensuring comfort during long playing sessions. The vintage-style tuners are reliable and easy to adjust, making tuning quick and straightforward.
Value for Money
While the Musicman Old Smoothie isn't the cheapest option on the market, it offers excellent value for money. The bass's build quality, sound, and playability are top-notch, justifying its price tag. It's a worthy investment for any serious bassist looking for a versatile instrument with a classic vibe.
Conclusion
In summary, the Musicman Old Smoothie electric bass is a superb instrument that combines vintage charm with modern functionality. Its unique features, such as the 10-coil pickup and 2-band active preamp, offer a wide array of tones, making it a versatile choice for bassists of all styles.
Whether you're a beginner or a seasoned pro, the Old Smoothie can deliver the sound and performance you're after. Its stellar build quality, exceptional sound, and comfortable playability make it a worthy addition to any bassist's collection.
Ultimately, the Musicman Old Smoothie is more than just an instrument; it's a piece of history. Playing it takes you back to the golden age of electric bass, while its modern features keep you firmly in the present. This blend of old and new is what makes the Old Smoothie a truly special bass.