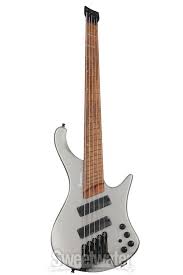 The Ibanez EHB1005SMS
The Ibanez EHB1005SMS bass guitar is a product of innovation and careful design, a testament to Ibanez's commitment to providing musicians with high-quality, ergonomic instruments. This 5-string electric bass guitar stands out in the crowded marketplace with its unique features and excellent craftsmanship.
At first glance, the Ibanez EHB1005SMS bass guitar catches the eye with its sleek, modern design. The absence of a headstock is a bold move that not only gives the instrument a distinctive look but also contributes to its balanced weight distribution. This headless construction is a nod to the future, embracing new possibilities in guitar design.
The body of the EHB1005SMS is made from American basswood, a material known for its lightweight yet sturdy properties. Basswood is a popular choice for guitar bodies due to its balanced tonality. It offers a strong midrange, good sustain, and smooth, rounded tones that work well for a wide range of music styles.
One of the standout features of the EHB1005SMS is its ergonomic design. The guitar's body is contoured and chambered, making it comfortable to hold and play for extended periods. The thoughtful design doesn't stop there; the fast, graphite-reinforced 5-piece roasted Maple/Walnut neck ensures stability and durability while offering a smooth playing experience.
The EHB1005SMS features a multi-scale design, which sets it apart from traditional bass guitars. In a multi-scale instrument, the length of the strings varies across the fretboard. This results in improved tension and intonation, particularly beneficial for a 5-string bass where the lower strings can often sound muddy on traditional, single-scale instruments.
The EHB1005SMS comes equipped with two humbucking pickups, known for their ability to cancel out noise and interference, delivering a clean, powerful sound. These pickups, combined with a 3-band EQ, offer a wide range of tonal possibilities, allowing the player to shape the sound to suit their musical style.
The finish options for the EHB1005SMS include Emerald Green Metallic and Metallic Gray Matte, both adding to the overall aesthetic appeal of the instrument. The metallic finish is modern and stylish, further enhancing the guitar's futuristic vibe.
This innovative bass guitar also comes with a gig bag, providing a practical solution for transporting the instrument. Despite its state-of-the-art design and premium features, the EHB1005SMS is priced competitively, making it an attractive option for both professional musicians and enthusiastic amateurs.
In conclusion, the Ibanez EHB1005SMS bass guitar represents a significant leap forward in instrument design. Its modern, headless construction, ergonomic design, and multi-scale fretboard make it a highly playable instrument that doesn't compromise on sound or aesthetics. Whether you're a seasoned pro looking for your next workhorse or a hobbyist wanting to up your game, the EHB1005SMS is a worthy contender. It encapsulates Ibanez's dedication to quality and innovation, offering players a unique combination of comfort, style, and exceptional sound.