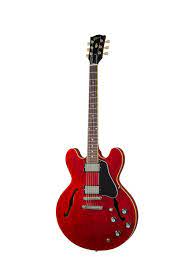 Gibson ES-335: The Perfect Blend of Style, Sound, and Versatility
The Gibson ES-335 is an iconic semi-hollow body electric guitar that has been captivating musicians and audiences alike since its introduction in 1958. With its distinctive look, versatile sound, and unmatched playability, the ES-335 has become a staple in the world of electric guitars, earning its place among the greats. In this review, we will take a deep dive into the history, features, and performance of the Gibson ES-335, exploring what makes it such a beloved instrument among guitarists of all genres.
A Brief History of the Gibson ES-335
The ES-335 was first introduced by Gibson in 1958 as a response to the growing demand for a guitar that could offer the warm, resonant tones of a hollow body while also providing the sustain and feedback resistance of a solid body. Designed by Ted McCarty and his team, the ES-335 was groundbreaking in its design, incorporating a solid center block of wood inside the otherwise hollow body. This innovative construction allowed the guitar to retain the tonal qualities of a hollow body while minimizing feedback issues commonly associated with them.
Over the years, the ES-335 has been embraced by countless professional guitarists across various musical genres, from blues and jazz to rock and pop. Icons such as B.B. King, Eric Clapton, Alvin Lee, and Larry Carlton have all relied on the ES-335's versatility and tone to create their signature sounds.
Key Features of the Gibson ES-335
The ES-335 is a visually striking instrument, with its double-cutaway body shape, f-holes, and elegant curves. The body is typically made from laminated maple, with a solid maple center block running through the middle. This combination of materials helps to strike a balance between the warmth and resonance of a hollow body and the sustain and feedback resistance of a solid body.
The neck of the ES-335 is typically made from mahogany, with a rosewood or ebony fingerboard. The scale length is 24.75 inches, and the neck profile is generally on the slimmer side, providing a comfortable playing experience for a wide range of hand sizes and styles.
One of the most notable features of the ES-335 is its use of humbucking pickups. Originally equipped with PAF (Patent Applied For) humbuckers, the ES-335's pickups have evolved over time to include various Gibson models such as the '57 Classic, Burstbucker, and MHS (Memphis Historic Spec) humbuckers. These pickups are known for their rich, warm tones and impressive versatility, allowing players to achieve everything from smooth jazz tones to gritty blues and rock sounds.
Other key features of the ES-335 include its Tune-o-Matic bridge and stop bar tailpiece, which provide excellent intonation and tuning stability, as well as its Grover tuners, ensuring that the guitar stays in tune even during aggressive playing.
Performance and Playability
The Gibson ES-335 is renowned for its exceptional playability. The slim neck profile and relatively flat fingerboard radius make it easy to navigate the frets, while the double-cutaway body design provides easy access to the upper frets. This combination of features makes the ES-335 an ideal choice for guitarists who require both comfort and performance in a single instrument.
Tonally, the ES-335 offers a wide range of sounds that can suit virtually any style of music. The semi-hollow body construction provides warmth and resonance, while the humbucking pickups deliver clarity and articulation. By adjusting the guitar's volume and tone controls, players can easily dial in their desired sound, from mellow jazz tones to biting rock leads.
One of the most impressive aspects of the ES-335's performance is its ability to handle high gain settings without succumbing to feedback issues. This is thanks to the solid center block, which effectively reduces the guitar's propensity for feedback while still allowing it to resonate and sustain like a hollow body instrument. This makes the ES-335 an excellent choice for guitarists who need a versatile instrument that can handle a variety of tones and performance situations.
Conclusion
The Gibson ES-335 is a true classic in the world of electric guitars, offering a unique blend of style, sound, and playability that has made it a favorite among countless musicians over the years. With its innovative semi-hollow body design, versatile humbucking pickups, and comfortable playability, the ES-335 is an excellent choice for guitarists who demand the best in both form and function.
Whether you're a seasoned professional or an aspiring player, the Gibson ES-335 is an instrument that is sure to inspire and delight. Its timeless design and exceptional performance make it a worthy addition to any guitarist's collection, and its versatility ensures that it will remain a go-to instrument for years to come.