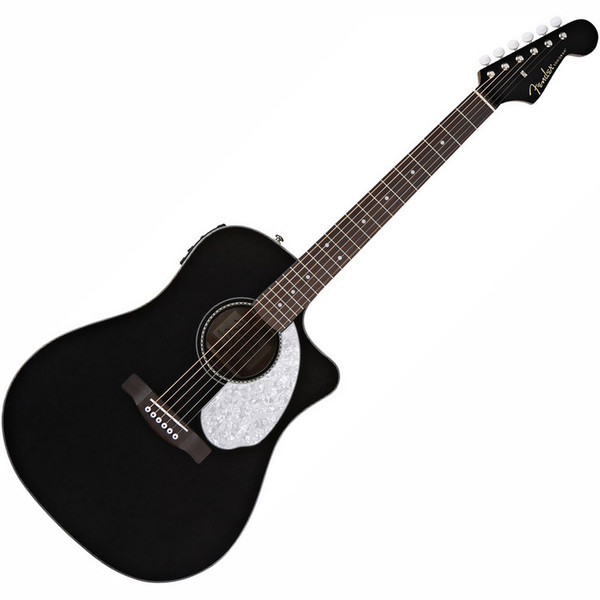 The Fender Sonoran SCE guitar is one of the company's best-selling acoustic guitars. It has a dreadnought cutaway body style, and its construction features include a solid spruce top, mahogany back and sides, and a rosewood bridge and fretboard. The Sonoran SCE also comes with onboard electronics, which include a Fishman Presys preamp system with an integrated tuner.
I had the opportunity to test out a Fender Sonoran SCE guitar, and I was really impressed with it. The guitar sounded great acoustically, with plenty of volume and projection. The onboard electronics were also very good, providing a clear and full-sounding signal through an amplifier or PA system. In addition, the built-in tuner was very accurate and easy to use.
The Sonoran SCE's mahogany neck had a comfortable profile that was fast enough for more advanced players, but not so thin or flat that it was uncomfortable for beginners. I also liked the way the guitar felt when I strapped it on and played standing up.
The smaller body style of this guitar made it a lot easier to hold, which helped me play better since my posture was better. My only very minor complaint about this guitar is that some of the high frets were a little more difficult to reach than they would have been on a dreadnought body style – but again, this is only a very minor issue with an otherwise excellent guitar.
Overall, I thought the Fender Sonoran SCE was an excellent guitar for any acoustic player, but especially beginners or players with smaller hands. Its smaller body style made it more comfortable and easier to play than a dreadnought cutaway model, and its electronics gave me all of the control I needed over my tone and volume in any playing situation.