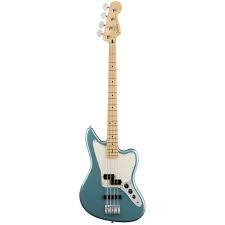 Fender Player Jaguar Electric Bass Guitar: A Comprehensive Review
Introduction
For decades, the name "Fender" has been synonymous with quality and innovation in the world of music. In this review, we delve into the specifics of one of their flagship products – the Fender Player Jaguar Electric Bass Guitar. We will explore it from the viewpoint of both beginners stepping into the world of bass guitars and seasoned professionals who know their instruments inside out.
Design and Build Quality
The Fender Player Jaguar Electric Bass Guitar is a beautiful piece of craftsmanship. Its sleek body contours to the player's form, making it a comfortable fit for beginners and experienced players alike. It features an alder body that is light yet durable, ensuring long-lasting performance and ease of mobility.
The neck is a modern "C"-shaped profile made of maple, offering a smooth and comfortable grip. The fretboard, available in either Pau Ferro or Maple depending on the finish, houses 20 medium jumbo frets that are easy to navigate for beginners and offer precise note control for professionals.
Sound Quality
When it comes to sound, the Fender Player Jaguar offers a rich tonal spectrum. This guitar is built with a Player Series Alnico 5 Split Single-Coil Precision Bass® middle pickup and a Player Series Alnico 5 Single-Coil Jazz Bass® bridge pickup. These provide a blend of vintage-style and modern tones, offering a wide range of sounds that can cater to any genre.
For beginners, this means they can experiment with different styles and find their unique sound. For professionals, the versatility of the Jaguar allows them to switch between tones seamlessly, making this bass suitable for studio recording and live performances alike.
Playability
The Jaguar excels when it comes to playability. The 9.5″ radius fretboard and the medium jumbo frets make it easy for beginners to learn scales and chords. The slim, modern "C"-shaped neck profile is comfortable for all hand sizes and playing styles, allowing for long hours of practice without fatigue.
Professionals will appreciate the smooth action and the precision that the Jaguar offers. The 4-saddle bridge provides excellent intonation, and the open-gear tuning machines ensure stable tuning, even during vigorous performances.
Versatility
One of the standout features of the Fender Player Jaguar Electric Bass Guitar is its versatility. With a simple flick of the switch, you can shift from punchy precision bass tones to growling jazz bass tones. This makes it an ideal choice for bassists who play across various genres.
For beginners, this versatility offers a great platform to explore and discover their musical preferences. Professionals, on the other hand, can leverage this adaptability to deliver dynamic performances, making the Jaguar a reliable workhorse on stage and in the studio.
Value for Money
While the Fender Player Jaguar Electric Bass Guitar might seem like a significant investment for beginners, its quality, versatility, and durability make it a worthwhile purchase. It's a guitar that grows with you, capable of supporting your journey from novice to professional.
Professionals looking for a reliable, versatile bass that delivers consistent performance will find the Jaguar offers excellent value for money. Its robust build and superior sound quality make it a worthy addition to any professional's arsenal.
Final Verdict
All in all, the Fender Player Jaguar Electric Bass Guitar is a top-notch instrument that caters to bassists of all levels. Its exceptional build quality, versatile sound options, and comfortable playability make it a standout choice for anyone looking to invest in a high-quality bass guitar.
Beginners will appreciate the user-friendly features and the opportunity to grow with the instrument. Professionals will value the Jaguar's reliability, precision, and the tonal variety it offers. Therefore, whether you're just starting your musical journey or you're a seasoned pro, the Fender Player Jaguar Electric Bass Guitar is a fantastic choice that won't disappoint