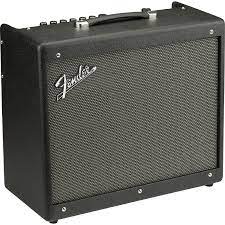 Fender Mustang GTX 100 Review: The Perfect Amp for Music Enthusiasts
Music enthusiasts always look for the perfect sound from their guitar. They want an amplifier that can do justice to their musical vision, producing a tone that is both smooth and powerful. Fender, a company with a rich history in the music industry, has come up with an elegant solution that delivers to all musicians with their all-new Fender Mustang GTX 100.

In this blog, we'll be taking a closer look at the Fender Mustang GTX 100. We'll go over all the pros and cons of this amplifier and see if it is the perfect fit for you.

Construction and Design:
The Mustang GTX 100 showcases a compact and elegant design that gives it a classic look and feel with an LCD screen that provides both detailed visualization and ease of use. The build is sturdy, and the control knobs have a nice, smooth turning action to them, making them easy to adjust.

Sound Quality
The Mustang GTX 100 is loaded with 21 classic amp models that can reproduce vintage tones with high accuracy. These include models based on Fender's ubiquitous Tweed Champ, Deluxe Reverb, and Bassman amps, and more. Impressive onboard effects like reverb, delay, and even chorus are provided, giving you a wide range of sonic possibilities. With its powerful 12-inch Celestion speaker, the Mustang GTX 100 is capable of producing a loud and clean tone that can cut through crowds with ease.

Connectivity:
There are three simultaneous effects that you can use in any pre-selected order, giving you endless options for tweaking your sound. The Bluetooth feature enables quick and straightforward connectivity, allowing you to play your music from any smartphone device. You can also stream any music application like Spotify, and Apple Music for practice purposes. Besides, Mustang GTX 100 comes with a USB slot for recording purposes and editing your sounds with the Fender Tone application.

Cons:
While the Fender Mustang GTX 100 is an excellent amplifier, it has a few drawbacks as well. First, you must use the LCD screen to navigate the software, which means that you have to be in view of the screen and keep going back and forth with the knobs to adjust the sound. Additionally, the vast list of presets will require you to spend significant time tweaking your settings.


Conclusion:

If you're looking for an all-in-one amplifier with a diverse range of features, exceptional sound quality, and ease of use, The Fender Mustang GTX 100 is a perfect choice. From its sleek design to the infinite tonal possibilities, this amplifier is guaranteed to satisfy every music enthusiast's needs. While it may have its disadvantages, the amp's overall value, connectivity, and flexibility make it a must-try for all serious musicians. Get yours today and blend your music with the perfect sound produced by the Fender Mustang GTX 100.