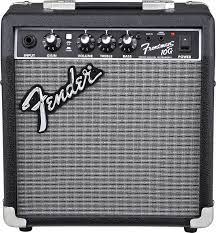 Fender Frontman 10G Review – The Perfect Amp for Beginners?
Every guitarist can remember their first amp – the one that they used to produce sound using their beloved instrument for the very first time. Of course, we don't expect you to choose a top-of-the-line, expensive amplifier as your first one. That's why in this blog post, we will introduce you to the Fender Frontman 10G – a beginner-friendly guitar amp that's affordable and delivers a great sound.

In this Fender Frontman 10G review, we'll break down the pros and cons of this popular choice among novice guitarists. So, whether you're a seasoned player or just starting on your music journey, this review might just have some valuable insights for you.

Design and Size
The Fender Frontman 10G is a portable, compact amplifier, designed for beginners who want something easy to move around. It features a vintage design with a silver grille cloth that looks great on stage or in your bedroom. With dimensions of 11″ x 10.25″ x 5.75″, it's definitely in the small category of guitar amps making it easy to bring to a friend's house or to your music lessons.

Sound Quality
With a 6″ speaker and 10 watts of power, the Fender Frontman 10G is strictly meant for practice sessions. It's not designed to blow the roof off or shake the walls of your room. However, it still delivers an impressive sound quality that will satisfy beginners and casual players. The clean channel sounds great, but where the Fender Frontman 10G really shines is with its overdrive channel. It allows you to crank up the gain while maintaining a decent amount of clarity in the sound.

Controls and Features
For a beginner's amp, the Fender Frontman 10G has a decent amount of control on the front panel. The controls include volume, gain, treble, bass, and overdrive functions. The headphone jack allows you to practice without disturbing others around you. Additionally, the auxiliary input enables you to jam along to your favorite tunes that play through your music player.
Price
Lastly, we must talk about the Fender Frontman 10G price point. This guitar amplifier costs less than $100, which is a good deal considering its vintage design, sound quality, and convenience. It's an affordable option that you could always upgrade from later on, once you have gained more guitar experience.

Pros and Cons:
The Fender Frontman 10G has plenty of upsides, including its vintage design, portability, price, and ease of use. However, some drawbacks could impact your decision – namely, its limited speaker size, lack of effects, and overall volume levels can only get so high.

Conclusion:

In summary, the Fender Frontman 10G is an excellent entry-level amplifier with a vintage aesthetic and an accurate sound quality. It's perfect for guitarists who are just starting out, casual players, or those who need a compact, portable amp for practice. We hope this Fender Frontman 10G review has been helpful, and you can now determine whether this amp is right for you. Overall, this amplifier is worth considering, especially if you want a good value for a low price in a minimalist guitar amplifier.