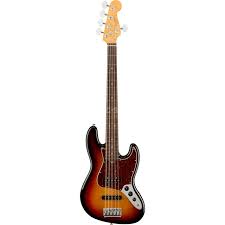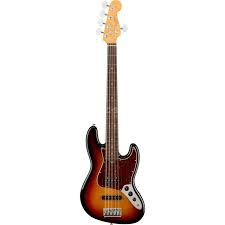 Fender American Professional II Jazz Bass V | Review by Guitar Lizard
The Fender American Professional II Jazz Bass V is a guitar that has been garnering attention for its stellar performance and unparalleled quality. This comprehensive review will delve deep into the features, pros, cons, and overall user experience of this highly sought-after instrument.
Starting with the familiar, the American Professional II Jazz Bass V retains the classic aesthetic appeal that has been a hallmark of Fender instruments. It embodies a seamless blend of tradition and innovation. The design is instantly recognizable, exuding that Fender charm that captivates both seasoned musicians and beginners alike. However, the magic truly begins when you pick it up.
One of the first things you'll notice about the Jazz Bass V is its super-fast neck. A common praise amongst users is the ease of playability, with the well-balanced construction contributing to a comfortable playing experience. The neck joint could be tighter, a minor issue raised by some users, but this does not significantly impact the overall performance of the instrument.
This bass guitar delivers an exceptional tonal range, thanks to its simple yet versatile controls. The punchy, growling, and zingy JB tone is unmistakable and provides the kind of sonic versatility that caters to a wide array of musical styles. The Jazz Bass V's low B is particularly noteworthy, delivering as good a sound as can be expected from a bass of this scale.
The American Professional II Jazz Bass V also comes equipped with two individual pickups, one at the fretboard and another at the bridge. This allows for a broad spectrum of tonal possibilities, making it a highly adaptable instrument for various genres and playing styles.
As for its construction, the materials used are top-notch, reflecting Fender's commitment to quality. This is a well-made instrument that holds its tune up the fretboard, a testament to its excellent craftsmanship. Despite being a bit neck heavy while sitting down, which seems to be a common trait among Jazz basses, it's lighter than expected body makes it a joy to play even during long sessions.
Priced at $1,599.99, the Fender American Professional Jazz Bass V is a worthy investment for any serious musician. It's a well-priced, American-made, Fender classic, subtly updated with modern features to enhance its performance without compromising its vintage appeal.
In conclusion, the Fender American Professional II Jazz Bass V is an instrument that lives up to its name. It offers professional quality, superb playability, and a rich, versatile tone that can cater to a broad range of musical styles. While it does have minor areas for improvement, like the neck joint, these do not significantly detract from the overall user experience. It's clear that Fender has once again lived up to its reputation for producing top-tier instruments, making the American Professional II Jazz Bass V a standout choice for both professional musicians and aspiring bassists.