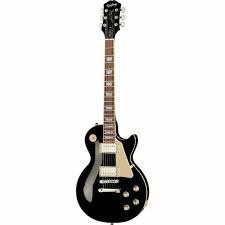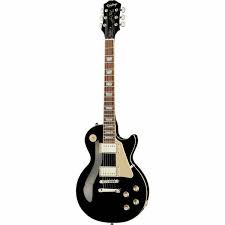 Epiphone Les Paul Standard Electric Guitar Review
The Epiphone Les Paul Standard is a highly regarded and affordable electric guitar, offering musicians an excellent instrument with classic design, playability, and sound. This review will take an in-depth look at the features, performance, and value of the Epiphone Les Paul Standard, helping potential buyers make an informed decision.
Introduction
Gibson's Les Paul series has long been considered one of the most iconic and enduring electric guitar designs in the world. However, the brand's high price tag can be prohibitive for many aspiring musicians. Enter the Epiphone Les Paul Standard – a more budget-friendly alternative that offers much of the same quality and craftsmanship as its more expensive sibling.
Epiphone, a subsidiary of Gibson, has been producing guitars since the early 20th century and has become known for making affordable versions of Gibson's popular models. With the Les Paul Standard, Epiphone has successfully captured the essence of the legendary Gibson Les Paul, making it accessible to a wider audience.
Design and Construction
The Epiphone Les Paul Standard features a mahogany body and neck, providing a warm, resonant tone that serves as the foundation for its sound. The body is topped with a maple veneer, which adds brightness and clarity to the overall tone. The neck is set into the body with a mortise and tenon joint, giving the guitar excellent sustain and resonance.
The guitar's rosewood fingerboard has 22 medium jumbo frets, adorned with trapezoid inlays that give the instrument a classic look. The slim taper "D" profile neck is comfortable and easy to play, making it suitable for players of all skill levels.
Epiphone has equipped the Les Paul Standard with Alnico Classic humbucker pickups, which provide a versatile sound that ranges from warm, smooth jazz tones to aggressive rock growls. The pickups are controlled by a three-way toggle switch, two volume knobs, and two tone knobs, allowing for a wide range of sonic possibilities.
The hardware on the Epiphone Les Paul Standard is chrome-plated, giving the guitar a sleek and polished appearance. The LockTone Tune-o-Matic bridge and stopbar tailpiece provide excellent tuning stability and intonation, while the Grover tuners ensure precise tuning adjustments.
Playability
One of the most important aspects of any guitar is its playability, and the Epiphone Les Paul Standard does not disappoint. The slim taper neck profile is comfortable in the hand and allows for easy chording and soloing. The medium jumbo frets are well-dressed and smooth, ensuring that bends and vibrato are executed with ease.
The guitar's weight and balance are also noteworthy. While some players may find the Les Paul design to be on the heavier side, the Epiphone Les Paul Standard is well-balanced, making it comfortable to play for extended periods.
Sound
The sound of the Epiphone Les Paul Standard is impressive, especially considering its price point. The Alnico Classic humbuckers deliver a versatile range of tones that can accommodate various styles of music. The mahogany body and maple top contribute to a warm, resonant sound that is characteristic of Les Paul guitars.
The guitar's clean tones are rich and full, making it an excellent choice for jazz or blues players. With the gain turned up, the Epiphone Les Paul Standard delivers a powerful rock sound that can cut through the mix in a live setting.
While the pickups may not be as dynamic or expressive as those found on a high-end Gibson Les Paul, they are more than capable of delivering an authentic Les Paul sound that will satisfy most players.
Value
When considering the overall value of the Epiphone Les Paul Standard, it's hard to find fault with this guitar. It offers an excellent combination of quality craftsmanship, playability, and sound at a price that is accessible to many musicians.
While there are more expensive guitars on the market that may offer higher quality components or more refined sound, the Epiphone Les Paul Standard is a fantastic option for those looking to get their hands on a quality Les Paul without breaking the bank.
Conclusion
In conclusion, the Epiphone Les Paul Standard is a well-crafted and affordable electric guitar that captures the essence of the legendary Gibson Les Paul. With its beautiful design, comfortable playability, and versatile sound, it's an excellent choice for players of all skill levels and styles.
Whether you're a beginner looking for your first electric guitar or a seasoned musician seeking a backup instrument, the Epiphone Les Paul Standard is a solid investment that won't disappoint.