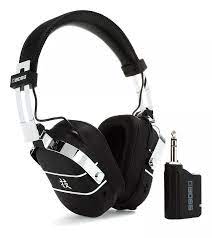 Boss Waza-Air: A Comprehensive Review
As a guitarist, finding the right amp is essential for bringing out the best in your playing. Have you ever considered a wireless, headphones amplifier? If not, let me introduce you to the Boss Waza-Air. This amp is revolutionizing how guitarists practice and perform, without disturbing anyone in the vicinity. With its cutting- edge technology, the Waza-Air is a compact and convenient solution for musicians who want to experience the essence of playing without the hassle of cables and heavy equipment. This article is an in-depth review of the Boss Waza-Air, complete with its pros and cons.

Design and Features
The Boss Waza-Air boasts a contemporary and sleek design, with a comfortable fit and secure grip around the ears. The headphones have a spring headband and rubber pad at the top, which provides extra comfort and flexibility. The buttons are located at the side of the headphones, and the amplifier can also be controlled by using the "Boss Tone Studio" app. The app allows you to access a variety of presets, effects, and customization options, making it easy to tailor your sound. However, some users might find the touchpad slightly fiddly, while others might prefer a more traditional button setup.

Sound Quality
The sound quality of the Waza-Air is exceptional, and it reproduces a full-range, realistic, and immersive sound. The amp comes equipped with advanced digital signal processing, which allows the user to simulate different room sizes, speaker types, and microphone positions. This feature is particularly useful when recording or practicing, as it provides a natural and organic sound. The Waza-Air has also an inbuilt noise-cancellation system, which reduces any external noise. However, some users report a slight buzz noise when the amp is muted.

Wireless Connectivity
The Boss Waza-Air connects wirelessly to both Bluetooth and Wi-Fi networks. You can easily stream audio files from your smartphone or tablet or record your playing using the "Boss Tone Studio" app. The headphones also have an impressive battery life of up to 5 hours for continuous use. This feature makes it ideal for musicians who are always on the go or who want to practice in silence, without being tethered to a power outlet. However, some users report connectivity issues when using the amp outdoors or in areas with weak signal strength.
Price
The Boss Waza-Air is priced at a premium, and it is not the cheapest option on the market. However, the amp's innovative qualities and unparalleled sound experience justify its price tag. The Waza-Air is a high-end amp that is well worth the investment for any serious musician. Moreover, the Waza-Air's portability, convenience, and versatility make it a valuable asset for both live performances and home practice. However, some users might find the amp's price too steep, especially if they are looking for a more affordable alternative.

Conclusion:

In conclusion, the Blackstar HT-1R MKII is an excellent amplifier that provides great sound quality, affordability and versatility. Its lightweight design makes it an ideal choice for home practice, small gigs and for those who need a portable amp. Despite the lack of a built-in reverb and limited sound shaping compared to larger amps, the Blackstar HT-1R MKII is an excellent choice and certainly worth the investment. We hope this review has helped you make your decision and that you enjoy using this fantastic amplifier as much as we do. Happy playing!