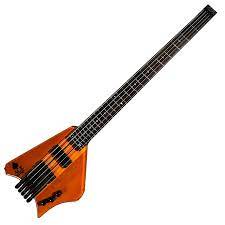 Bootlegger Ace Electric Bass Guitar: A Comprehensive Review
The world of electric bass guitars is vast and varied, but few stand out as much as the Bootlegger Ace Electric Bass Guitar. This unique instrument has garnered attention from both professionals and beginners for its remarkable features and unparalleled performance. This article will delve into the details of this extraordinary guitar, shedding light on why it's a worthy contender in the music industry.
The Bootlegger Ace: An Overview
Bootlegger Guitar, a renowned name in the music world, brings us the Ace 4 and 5 string headless bass guitars. These full-scale, compact, and lighter instruments are designed to deliver a high-quality sound without compromising on portability. The Ace comes with a custom case, making it an ideal choice for musicians always on the go.
The Ace series features a five-piece maple neck-through with a Jatoba fingerboard. It boasts 24 nicely dressed, level, and polished frets that contribute to its elegant aesthetic and smooth sound production. The Ace series stands out for its headless design, which not only adds to its unique appearance but also enhances its playability.
Performance and Sound Quality
The Bootlegger Ace Electric Bass Guitar is known for its impressive sound quality. Its construction plays a significant role in this area. The five-piece maple neck-through design ensures a warm, rich tone that resonates beautifully. The Jatoba fingerboard further contributes to this distinct sound, known for its bright and clear tones.
Moreover, the Ace series offers both 4-string and 5-string versions, providing flexibility for different musical styles and preferences. Whether you're a professional seeking a versatile instrument or a beginner looking to explore various genres, the Ace can accommodate your needs.
Professional Perspective
Professionals have praised the Bootlegger Ace for its excellent build quality and sound. The five-piece maple neck-through construction is a standout feature, offering superior sustain and resonance. The Ace's 24-fret design offers a wide range of notes, allowing for more diverse playing styles.
The Ace's headless design is another highlight for professionals. Not only does it make the guitar more compact and easier to transport, but it also provides a balanced weight distribution, reducing fatigue during long playing sessions. Moreover, the headless design eliminates the need for a headstock, reducing the risk of damage during transport.
Beginner's Viewpoint
For beginners, the Ace offers an inviting introduction to the world of bass guitars. Its compact size and lighter weight make it less intimidating and more manageable for those new to the instrument. Despite its smaller size, the Ace does not compromise on sound quality, offering a rich and full tone that can inspire any budding musician.
The Ace's 4-string version is particularly suitable for beginners. With fewer strings to manage, new players can focus on mastering the basics before moving on to more complex 5-string arrangements.
Pricing and Availability
The Ace Electric Bass Guitar is priced competitively, offering excellent value for money given its outstanding features and performance. It's available for purchase directly from Bootlegger Guitar and other online platforms such as Amazon and Guitar Center.
Final Thoughts
In conclusion, the Bootlegger Ace Electric Bass Guitar is a fantastic instrument that caters to a wide range of musicians. Its unique headless design, combined with high-quality materials and craftsmanship, results in an instrument that sounds as good as it looks. Whether you're a seasoned professional or just starting your musical journey, the Ace is a worthy addition to your collection.