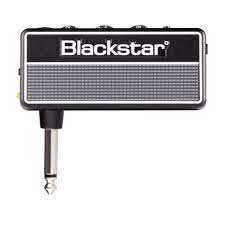 Blackstar amPlug 2 Review: Pros and Cons
As a musician, it's important to have a reliable and portable amp that delivers great sound. The Blackstar amPlug 2 is a popular choice among music enthusiasts worldwide. But what makes this tiny amp so special? In this article, we'll go through a comprehensive review of the Blackstar amPlug 2, including all of its pros and cons. Whether you're a beginner or an experienced player, you'll find everything you need to know about this remarkable amp.

Design and Build Quality
First off, the Blackstar amPlug 2 has a sleek and compact design. It's small enough to fit in your pocket, making it perfect for musicians on the go. The build quality is top-notch, with a solid construction that ensures durability. It also has a flexible jack that can be bent in any direction, offering more adaptability when it comes to using the amp with different guitars.

Sound Quality
One of the standout features of the Blackstar amPlug 2 is its sound quality. Despite its small size, it can deliver an impressive range of tones and effects. Whether you're looking for clean, crunchy, or distorted sounds, this amp has got you covered. It features a set of four different channels: Clean, Crunch, Lead, and Overdrive, each with its unique character and tone.

Battery Life
The Blackstar amPlug 2 has a long battery life that can last up to 17 hours, providing plenty of time to practice or perform without worrying about the amp running out of power. It also has an auto power-off function that switches off the amp after 30 minutes of inactivity, prolonging the battery life.

Cons:
While the Blackstar amPlug 2 has many advantages, there are some downsides to consider. One of the primary concerns is the lack of built-in effects. Unlike some amps that come with built-in effects like reverb, delay, or chorus, the Blackstar amPlug 2 relies on external pedals for these functionalities. It also has a limited range of controls, which may not be enough to satisfy those who like to tinker with their sound.


Conclusion:

The Blackstar amPlug 2 is an excellent choice for guitarists who value portability and good sound quality. It's easy to use, durable, and delivers great tone. Its four different channels offer a wide range of sounds, from clean to overdriven tones. The long battery life is another plus, providing enough juice for extended playing sessions. However, the lack of built-in effects could be a downside for some, and the limited range of controls may not satisfy those who like more in-depth control of their sound. Overall, the Blackstar amPlug 2 is an excellent portable amp that can deliver great tones, making it worth considering for musicians who value convenience and practicality.