Top Best Ibanez Electric Guitars
If you are looking to buy a new guitar and have looked at at least a couple of articles on this topic, then you have probably seen the Ibanez brand at least once, which is one of the most recognizable and popular in the whole world. The company was founded in 1957 and is still one of the first Japanese brands to gain popularity in the US. It has won the love of guitarists as it offers a large variety of classical, acoustic and electric guitars that will appeal to both beginners and professionals.
Ibanez gained quite a lot of popularity in the 80s because it provided the market with unique models of guitars, innovative for that time. Until now, the brand produces a huge number of different models of guitars, as well as effect pedals. However, how do you choose the right guitar for you among the many models offered by Ibanez?
If you don't know which instrument to choose, then this top of the very best electric ibanez guitars is what you need. You will be able to explore the best options at an affordable price and find exactly the tool that suits your desires and needs. What are the best Ibanez electric guitars? Keep reading to find out!
Top Best Ibanez Electric Guitars
Here are our top picks: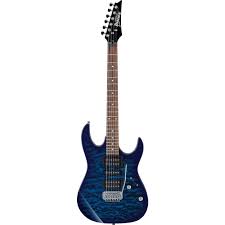 1)Ibanez Gio GRX70QA
We decided to start our list with the best budget guitar from Ibanez and settled on the Gio GRX70QA, which costs only $199.99 and is affordable for any musician.
Despite its price, this model is still a fairly high-quality instrument worthy of your attention. She has a full-scale basswood body and 3 pickups in the HSH configuration. It should be noted that Piwersound pickups allow you to get a fairly wide range of tones.
Also check out the ceramic-magnet humbuckers that are high-output and the Alnico single-coil with nice clarity and unique vintage tone.
Among other things, the Ibanez Gio GRX70QA has several distinctive features, such as the Gino's FAT 6 tremolo. The presence of such composure on an inexpensive guitar is truly something unique.
Also, this model has a maple neck with medium size frets, which makes it comfortable enough for fast playing.
If you're just getting started with guitar and want to get a model from Ibanez, then the Gio GRX70QA is your best bet.
It has a fairly comfortable design, a wide range of tones and tremolo, which is more than enough to play at a decent level.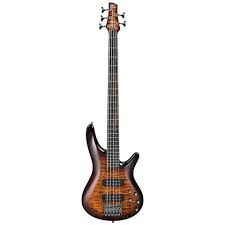 2)Ibanez SR405EQM
If you're dreaming of a bass guitar with good sound, then you can't pass up the Ibanez SR405EQM. Mahogany body with a quality maple top not only looks impressive, but also produces good quality sound.
If you are considering this guitar, you should pay attention to the hardware which is absolutely outstanding. The bridge is an Accu Cast B305 which has a set of adjustable saddles. Although its appearance is not so different from others, you should know that it is much better handles sustain.
It's also important to mention the tuning pegs which are solid enough to hold a lot of sustain. Speaking of hardware, this model has a set of Power Span dual coil pickups which are wired into a circuit that includes a Power Tap switch and three band EQ.
Thus, the Ibanez SR405EQM not only looks affordable, but also reproduces a decent sound. You can choose any tone you like and understand that this instrument will not let you down.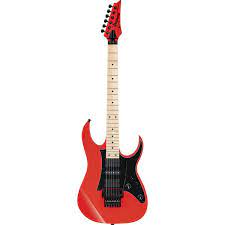 3)Ibanez RG550 Genesis Collection
If you are an experienced guitar player and are thinking about changing your musical instrument, then the Ibanez RG550 Genesis Collection will be one of the best options for you. This model is a high quality guitar which is a classic design first introduced in 1987. However, unlike the previous model, Genesis has some interesting additions.
First of all, it is worth mentioning that the body is made of basswood, so the guitar is ideal for warm tones. Moreover, the body is made in a special way, which makes playing the instrument as comfortable as possible.
One of the best features of this instrument is the ultra fast Wizard neck with the 24-fret fingerboard. If you are a fan of guitar solos, then this guitar is just a godsend for you. In addition, the Ibanez RG550 Genesis Collection also has a classic tilt neck joint and features an Edge locking tremolo and Gotoh locking machine heads.
Also worth paying attention to are pickups which are HSH design with a pair of humbuckers that surround a single coil in the middle. They are ideal for genres of music such as metal and rock, but are still versatile enough for any genre. Priced at $999.99, this guitar might be your best bet.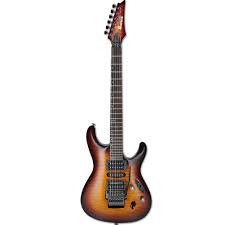 4)Ibanez S Prestige Series S5570Q
If you are a metal music lover and are looking for a suitable model, then the Ibanez S Prestige Series S5570Q is exactly what you need. What's more, you can't help but hear that Ibanez is known for making the best guitars for metal.
First of all, Ibanez guitars have smooth necks, making them very comfortable and easy to play. What's more, the neck is quite thin, which is an added advantage, but at the same time, it has enough girth to make difficult chords easy to play.
The body is made of mahogany, which produces a high resonance sound that is ideal for metal or rock. The fingerboard has 24 jumbo-sized frets which are quite good quality and don't have any distortion.
The Ibanez S Prestige Series S5570Q has excellent pickups – a single coil Short Tracer 2, high output Hot Grinder 2, and a Hot Grinder 1.
It is thanks to them that the guitar is able to create completely unique effects. Thus, this model will be a universal choice, suitable for almost any guitar genre.
5)Ibanez Paul Stanley Signature PS120SP
If you want to buy a guitar that looks aggressive or draws attention to its appearance, then this model is what you need. Her unusual body gives her a rock and roll look due to her shape and silver finish.
The body itself is made of a mahogany and has a maple top. It should also be noted that the neck is thin, which allows guitarists to play quickly enough on this model.
The Ibanez Paul Stanley Signature PS120SP also features six chrome tuners on the head stock of the guitar. It is they who allow us to provide a stable and decent tuning.
What's more, this model also features a Quick Change III tail piece which provides excellent stability and makes string changes as easy and smooth as possible. If we talk about hardware, then this model has 2 Seymour Duncan passive covered humbuckers that provide the guitar with a beautiful rock sound.
Among other things, it has three types of controls – a master tone, 3 responsive top hat tuners and two volume controls. So, if you are looking for a rock instrument from Ibanez, this guitar will be the right choice for you.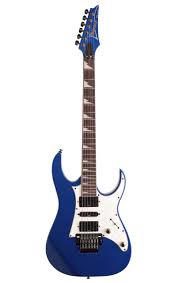 6) Ibanez RG450DX
If you already have some guitar playing experience and want to take it to the next level, then you should definitely check out the Ibanez RG450DX.
The design of this model is classic since it became popular back in the 80s. This guitar features the popular Wizard III fast neck with 24 jumbo frets.
The body is made of mahogany and its key feature is that it is well balanced and resonant. What's more, it's thin enough that most guitarists really like it. In addition, a beautiful and comfortable cutaway provides access to all frets.
This guitar has a huge amount of tonal options thanks to it's Classic HSH pickup configuration and 5-way switch. On top of that, there are 2 high-output humbuckers that are perfect for rock.
If you're thinking about getting an Ibanez RG450DX, then you should definitely check out the a DL tuning bridge, which provides excellent tuning stability.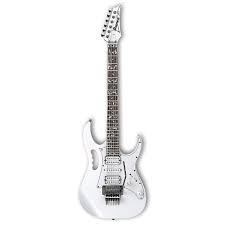 7)Ibanez Steve Vai Signature JEMJR
Our top will be closed by an inexpensive, but at the same time not inferior in quality to other guitars, the Steve Vai Signature JEMJR model. Ibanez created this model with legendary guitarist Steve Vai, which already makes it unique. Another notable fact is that it only costs $500!
The look of this model is amazing as it still has the acrylic Tree of Life (Vai's signature) on it. In addition, it has a unique handle that allows you to carry the guitar with one hand. The guitar's body is made of meranti and has the previously named Ibanez Wizard III neck with 24 frets. This neck is ideal for fast and virtuoso playing, so professionals will be pleased with the construction of this guitar.
The Ibanez Steve Vai Signature JEMJR is also equipped with high-output Quantum pickups for excellent articulation (two humbuckers and one single coil). Worth noting is a 5-way switch which gives you multiple combinations of pickups. Another distinctive feature of this instrument is a double locking tremolo bridge for peak tuning stability. In other words, the guitar is of the highest quality, offers good sound and can safely enter the top best ibanez electric guitars for cheap.