Top Best Gibson Bass Guitars
Most likely you have heard of such a brand as Gibson at least once in your life. He has been legendary for many years and has attracted millions of guitarists around the world. However, at the same time, this company causes a lot of controversy. Our opinion is that Gibson basses are clearly underestimated. Many of the greatest musicians of all time have used Gibson, so it has been, and will continue to be, a popular brand to look out for.
Gibson makes very special and unique basses, but there are several reasons why this brand has been and will continue to be controversial. While the Gibson is famous for its beautiful design, comfortable body, deep tone and completely unique sound, it still isn't for every musician or style. Let's take a closer look at the brand and figure out who Gibson basses are the perfect fit for.
Are Gibson Basses Popular?
Of course, Fender is undoubtedly the market leader in bass guitars, but this does not mean at all that this is the only company that produces good quality basses. In recent years, Gibson has also released a number of great basses that are definitely worth checking out, especially if you're a fan of the brand. It should also be noted that many famous bass players have also helped build Gibson's reputation for making incredible basses and have used the brand's instruments themselves.
So the Gibson may not be as popular in the bass market as the Fender, but it was, and still is, popular for its incredible curvature design and absolutely unique sound.
What About Gibson Bass Sound?
Of course, you can't jump to the top of the best Gibson guitars without paying attention to the sound they produce. First of all, we would like to point out that the popular Gibson bass guitars most often have big humbucker pickups, which give the players a heavy and tight sound. Fender, unlike this brand, specializes in pure and bright colors, so you can already understand what suits you best.
Top Best Gibson Bass Guitars
Here are our top picks:
1)Gibson USA SG Standard Bass
The first Gibson we'd like to introduce you to has the classic SG bass design that most bass players love. The Gibson USA SG Standard Bass is a model that stands out for its classic yet somewhat aggressive look and incredible sound that won't leave you indifferent.
First of all, we would like to point out that SG's are famous for their lightweight instruments, and this also applies to bass guitars. The body of this model is made of mahogany, which provides incredible resonance, but at the same time remains light enough to practice for a long period of time.
Speaking of this model, it should also be noted that her neck has an extremely manageable 30.5-inch scale length. Like the body, it's made of a smooth mahogany for incredible comfort while playing.
Apart from that, we also wanted to mention the Rosewood fretboard with a slightly curved profile, as well as the 20 frets, which provide durability and less wear.
The sound of this model is also unique and will not leave you indifferent, thanks in large part to its exclusively-designed Rhythm and Lead pickups. This way you can get the great vintage growl that metalheads are looking for.
Another feature of the Gibson USA SG Standard Bass is its versatility. You get two independent volume knobs and a master tone, so you can customize the sound the way you want.
Speaking of hardware, we first of all wanted to draw your attention to the 3-point adjustable bridge. It is he who provides excellent sound transmission through the body. Thus, the Gibson USA SG Standard Bass is an incredible model that will charm even those people who are skeptical of Gibson.
2)Gibson USA Thunderbird Bass
Gibson lovers know that there is no more legendary model than the Gibson Thunderbird. If you have never heard of this bass guitar, then this model will amaze you with its amazing style and incredible sound. It has a unique design and a 34" scale length that attracts the attention of bassists all over the world.
The first thing we would like to draw your attention to is the classic neck-through-body that is the hallmark of the Thunderbird. It is thanks to the design of the body that you can get incredibly convenient access to all the upper frets.
We should also note that it is made of a smooth nine-ply Mahogany and Walnut mix. You will get incredible solid tuning stability due in large part to the fact that these types of wood are dense.
A Rosewood fretboard with a rounded profile will allow you to play this musical instrument with the greatest comfort. Even if you are an aspiring musician and have never played bass before, the Gibson Thunderbird will pleasantly surprise you.
The appearance of this model can mislead you about the sound, as the bass looks as vintage as possible. However, the tone of this instrument is extremely powerful, thanks in large part to the pair of high-output T-Bird pickups.
We also want to draw your attention to the fact that you can customize the output with its two independent volume knobs and a master tone. The last feature of this model that we want to draw your attention to is the 3-point adjustable bridge.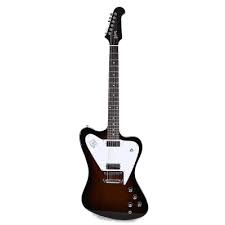 3)Gibson Non Reverse Thunderbird
Gibson fans know that the Non-Reverse Thunderbird Bass was first introduced to the world back in 1965 and was based on the iconic style of American cars. the Non-Reverse Thunderbird is a model that features an incredibly sleek, futuristic design that is sure to grab attention, especially if you're performing on stage.
In addition, this model is also known for its powerful sound, which made it very popular among musicians who wanted to stand out from the crowd.
In 2021, the company introduced a new version of the Non Reverse Thunderbird which features a Mahogany body, neck and Rosewood Fretboard. Beyond that, we also wanted to give special attention to a pair of Thunderbird Rhythm and Lead pickups, each with independent volume control.
Thus, you can experiment with the sound as you wish and get a huge variety of tones. We also want to note the master tone control, which allows you to further customize the sound.
In addition, this model is distinguished by its 3-point adjustable bridge, which will allow you to fine-tune the action and intonation. At the same time, a set of Hipshot Ultralite tuners will also offer you the most stable tuning possible.
The Gibson Non-Reverse Thunderbird is available in Inverness Green, Faded Pelham Blue, and Sparkling Burgundy, so you can pick your favorite.
4)Gibson Gene Simmons G2 Thunderbird Bass Guitar
If you're a rock and roll fan, you won't find anything better than the Gibson Gene Simmons G2 Thunderbird Bass Guitar. Moreover, most likely you know Gene Simmons – a co-founder of rock band Kiss and also an incredible bass player.
He has played various Gibson guitars but is most associated of course with the Thunderbird. Thus, in this model you can find everything that this rock legend needed to achieve an incredible sound.
First of all, we'd like to draw your attention to the offset reverse -Thunderbird Mahogany body, which has an Ebony finish and a mirror plex pickguard.
Also noteworthy is a rounded Mahogany neck with a sleek 12″ radius bound Ebony fingerboard and Pearloid reverse split diamond inlays. Also, this model is equipped with a pair of T-Bird pickups, each of which has individual volume controls and a master tone control .
The Kitaro keeps in tune incredibly well, thanks in large part to the Graph Tech nut and Hipshot Mini-Clover tuners. Also check out the Hipshot Bass bridge at the other end, which ensures accurate intonation and maximum transfer of sound energy to the pickups.
So if you're looking for a legendary model that pays tribute to a legendary bassist and you're a Kiss fan, look no further than the Gibson Gene Simmons G2 Thunderbird Bass Guitar.
Conclusion
Gibson is exactly the music brand that does not leave any musician indifferent. While some bass players don't see the features they need in it, many musicians still consider this company legendary and pay tribute to what great instruments they produce.
If you love Gibson and wanted to find the right musical instrument that suits your desires and needs, then our guide is the best solution. We hope you were able to find the bass you were dreaming about.