Top Best Affordable Guitar Amps
If you are an aspiring musician and looking for the right electric guitar amplifier, then finding a good deal can be quite difficult. The situation will become even more difficult if your budget is limited and you do not know which models to pay attention to. However, fortunately now the market has a huge number of models that not only reproduce good sound, but also serve you for a long time.
When people hear the word "cheap", they think that this or that amplifier is likely to be inferior in many ways. Of course, it will be somewhat weaker than more expensive models, but there are still a large number of options that reproduce good sound and look good for a small price. So, if you are looking for a model suitable for yourself or your loved ones, then our top best cheap amps for guitar is exactly what you need. Consider the various options and choose the one that best suits your wants and needs.
Here are our top picks:
Top Best Affordable Guitar Amps
Before jumping into our top cheap guitar amps, you need to understand that different amps are suitable for different needs. In other words, depending on the style of music you prefer, you should pay attention to different amplifiers. Moreover, it also matters whether you want to play at home, on stage, in a rehearsal room, and so on. However, in our top you can find an amplifier for any need. So let's get started.
1)Fender Mini 65 Twin Amp
We decided to start our top small budget guitar amps with one of the most famous brands of today. Fender has long been famous not only for good quality guitars, but also for decent amplifiers that will last you a long time.
Fender is a mark of excellence, so you should definitely check out the Fender Mini 65 Twin Amp. First and foremost, it's worth noting that this amp takes classic Fender style and combines it with superb sound.
This portable practice amp has a power of 1 watt and has two speakers. Thus, it is well suited for rehearsing in a normal room at any time you like, even at night, as it has a headphone jack.
In addition, the Fender Mini 65 Twin Amp can also be plugged-in via 9v power supply. It also has gain controls such as volume and tone, so you can shape the sound you want, as well as add distortion for heavier music styles.
So, if you're looking for a small yet quality beginner amp that can help you rehearse whenever you want and has a decent sound, then the Fender Mini 65 Twin Amp is the one for you.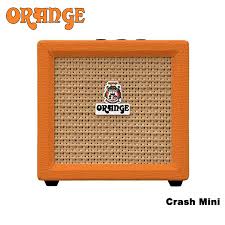 2)Orange Crush Mini Combo
Another one of the fairly famous good cheap guitar amps is the Orange Crush Mini Combo, which will not leave you indifferent due to its good sound and impressive appearance.
It made it to our top best cheap amps for electric guitar because it's a compact powered amp that's perfect for on-the-go guitarists. Moreover, this model is also perfect for rehearsals and small performances.
Moreover, it will allow you to express yourself in most musical styles and will be a good travel companion. Although the amp is small, it still exhibits the authentic Orange style and has 3 watts of power.
Orange Crush Mini Combo has three controls – gain, shape and volume, thanks to which you can access a wide range of sounds, from pure to distortion. Among other things, this model can be attributed to the best low priced guitar amps, since you can use the Orange Crush Mini Combo as a speaker as well.
What's more, as with the previous model, this amp has a headphone jack, so you can rehearse at any time with peace of mind. It should also be noted that this amplifier includes a convenient built-in tuner, and also has an additional input so that you can play your favorite song. You can also connect to a range of full-size speaker cabinets.
Not to mention the tonal versatility of the Orange Crush Mini Combo, as with this amp you can get a wide range of sounds from clean to rich. So if you're looking for an amp to rehearse at home, at the rehearsal space, or for small outdoor gigs, the Orange Crush Mini Combo is the one to go for. It has portability, good sound and impressive looks, which is why it takes an honorable second place in our top good inexpensive guitar amps.
3) VOX Pathfinder IOW Combo Amplifier
VOX Pathfinder 10 can truly be called one of the best great sounding inexpensive guitar amps, as it not only has an affordable price for every cent, but also a good powerful sound.
That's what makes it so popular, as its price and simplicity make it an ideal model for beginners, but VOX's signature quality sound won't leave anyone indifferent. Thus, professionals who are looking for an inexpensive amplifier can also turn their attention to the VOX Pathfinder 10.
This amp has 2 band EQ, independent gain and master controls and also headphone jacks so you can practice whenever you want. It is also worth paying attention to the fact that this amplifier has a power of 10 watts and a 6.5 " speaker, so this model will be enough for you to perform at small concerts or rehearse in a rehearsal room.
The VOX Pathfinder 10 is one of the best cheap amazing guitar amps for its incredible looks, great sound and VOX reliability.
4)Marshall MG 10W Guitar Combo
Our list of best inexpensive guitar amps would not be complete without at least one amplifier from Marshall – a brand that has earned recognition and fame among world-class guitarists.
Marshall MG 10W Guitar Combo is not just one of the good affordable guitar amps, it is a model that will amaze you with both its sound and appearance at an affordable price.
First of all, we would like to note that the Marshall MG amplifier is distinguished by its iconic gold design and provides high-quality 10 watt Marshall sound. This model will be ideal for rehearsals as it has a 6.5" custom speaker and compact size.
It should also be noted that Marshall MG has two channels, so you can easily switch from clean to overdriven sound. Thus, this model will help you play any musical style from pop music to rock and metal.
Like all the previous models from our list of cheap good quality guitar amps, this combo amp has a headphone jack, which will allow you to practice at any time convenient for you, and the AUX-in will give you the opportunity to practice to your favorite tracks.
The MG10G is an excellent model that is suitable for both the beginner and the professional who needs a portable rehearsal amplifier.
5) Blackstar Fly 3 Vintage Mini Amp
Another option that can be safely attributed to high quality low price electric guitar amps is the Blackstar Fly 3 Vintage Mini Amp, which is a pocket powerhouse with 3 watt sound and a battery-powered tone through 3" speaker.
This model can be attributed only to the most affordable guitar amps, but also to the smallest, but this does not affect its performance. It is important to note that it has two channels for pure sound and overdrive, as well as Infinite Shape Feature technology, which helps to create the perfect combination of American and British tone.
In addition, the Blackstar Fly 3 Vintage Mini Amp has a built-in tape delay effect that will not only improve your tone, but also help you play more punchy guitar tones even at low volumes.
Speaking about Blackstar Fly 3 Vintage Mini Amp as one of the best high quality guitar amps for low price, it is also worth mentioning that it has an aux-in which will help you connect your device to play music and play with your favorite artists.
A line-out is compatible with both headphones and other devices, so you can also connect this amplifier to a recording device or a separate speaker system.
As already mentioned, the Blackstar Fly 3 Vintage Mini Amp is battery powered, which means you can take it with you wherever you go.
Thus, no matter where you go, this amplifier will provide you with high-quality sound and good tone, because thanks to two channels you can create both clean sound and overdrive.
In today's guide, we reviewed cheap guitar amps that sound great, which are suitable for both home rehearsals and travel, and even performances. In order to choose good cheap amps for guitar, be guided by your own desires and needs. We hope this article was useful to you, and you were able to find an amplifier that will become a springboard for your musical activity.