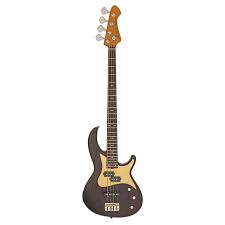 The 313-BB-Detroit Electric Bass Guitar: A Harmonious Blend of Aesthetics and Performance
Introduction
The 313-BB-Detroit Electric Bass Guitar is an instrument that has garnered attention and praise from both professionals and beginners alike. It's a product that expertly blends aesthetics with functionality, proving that good design doesn't have to compromise performance.
The Unique Appeal of the 313-BB-Detroit
The first thing you notice about the 313-BB-Detroit is its distinctive appearance. Unlike other bass guitars, the 313-BB-Detroit boasts an open-pore satin finish, giving it a textured feel that adds character. This unique finish not only enhances the guitar's aesthetic appeal but also enhances the player's tactile experience, making each strum a joy.
Moreover, the 313-BB-Detroit is versatile in sound. It can produce smooth Motown soul tones just as easily as it can belt out loud, gritty Detroit rock & roll sounds. This wide range of tonal possibilities makes it an excellent choice for musicians who play different styles of music.
Specifications and Features
The 313-BB-Detroit Electric Bass Guitar is equipped with alnico-5 pickups. Alnico-5 pickups are known for their tonal versatility, which is why they're favored by many bass players.
The body of the guitar is crafted from Ash, a type of wood known for its resonant qualities. The neck of the guitar is made from Roasted Maple, contributing to its overall durability and stability. The neck joint is a heel-less bolt-on, a design feature that provides easy access to the higher frets.
The fingerboard of the 313-BB-Detroit is made from Rosewood, a material that is not only visually appealing but also produces a warm tone. The guitar has 24 frets, offering a broad range for musical exploration. The scale length is 864mm, a standard length for bass guitars.
Professional Viewpoint
From a professional standpoint, the 313-BB-Detroit Electric Bass Guitar is a high-quality instrument that offers excellent value for its price. Its tonal versatility is one of its most significant selling points. Whether you're playing jazz, blues, rock, or any other genre, this bass can adapt to your needs.
Its construction is also commendable. The use of Ash for the body and Roasted Maple for the neck ensures that the guitar will last for years and withstand the rigors of constant use. Moreover, the heel-less bolt-on neck joint design is a thoughtful touch that many professionals appreciate because it allows for easier access to the upper frets.
Beginner's Perspective
For beginners, the 313-BB-Detroit is a great starting point. Its versatile tone range allows new players to experiment with different styles without needing to switch instruments. The textured finish also provides a unique tactile experience that can enhance the learning process.
Though it may be more expensive than some beginner models, the 313-BB-Detroit is an investment worth considering. Its durable construction ensures that it can withstand the learning curve of a beginner player. Plus, its professional-grade features mean that beginners won't quickly outgrow this guitar.
Conclusion
In conclusion, the 313-BB-Detroit Electric Bass Guitar is a well-rounded instrument that caters to both professionals and beginners. Its unique blend of aesthetic appeal and functional versatility set it apart from other bass guitars on the market. Whether you're a seasoned professional looking for a reliable workhorse or a beginner searching for a quality first instrument, the 313-BB-Detroit Electric Bass Guitar is a worthy contender.