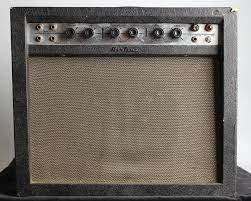 Let's talk about the Airline 9013 amp – A Review
If you're a music enthusiast, you will understand the struggle of finding the perfect amplifier. The Airline 9013 is a unique and popular option among guitarists and musicians. You may have heard about it or seen it in stores or online. But, is it really worth the hype? In this blog post, we will take a closer look at the Airline 9013 amp, discussing its pros and cons, and helping you decide whether it's worth your investment.

Design and Features
The Airline 9013 has a vintage and sleek design that catches the eye. The outer body is made up of a solid and sturdy leather covering, which gives it additional protection while on the move. The amp has a clean interface, with a power switch, volume knob, and a master tone control switch. The amp also comes with a port that allows you to plug in an external speaker if you want to.
One of the unique features of the Airline 9013 is its portability. The amp is lightweight, which makes it easy to carry around. The external speaker port also allows you to connect a different speaker if you wish to, giving it additional versatility. It does not come with in-built effects, but its focus on delivering a vintage sound is exceptional.
Sound Quality
Sound is the most important factor when it comes to amplifiers. The Airline 9013 delivers an excellent vintage sound that you'll instantly fall in love with. It can handle all kinds of music genres, such as blues, rock, and jazz. The amp delivers a solid low range and mids with a sparkling high range. The only downside is that the volume/power is not as high as other amps, and it may not be ideal for large gigs or performances.

Pros:
– Great vintage sound quality
– Lightweight and easy to carry around
– Sleek and sturdy design
– A versatile external speaker port

Cons:
– Not powerful enough
– No in-built effects


Conclusion:

Overall, the Airline 9013 is a great investment for anyone looking for an amplifier that delivers excellent vintage sound quality. It's lightweight, durable, and has a sleek design that will make your gigs even more delightful. However, it's not the ideal option if you're looking for a loud amplifier or one with in-built effects. We hope this review has helped you make an informed decision on whether the Airline 9013 amp is perfect for your musical needs.