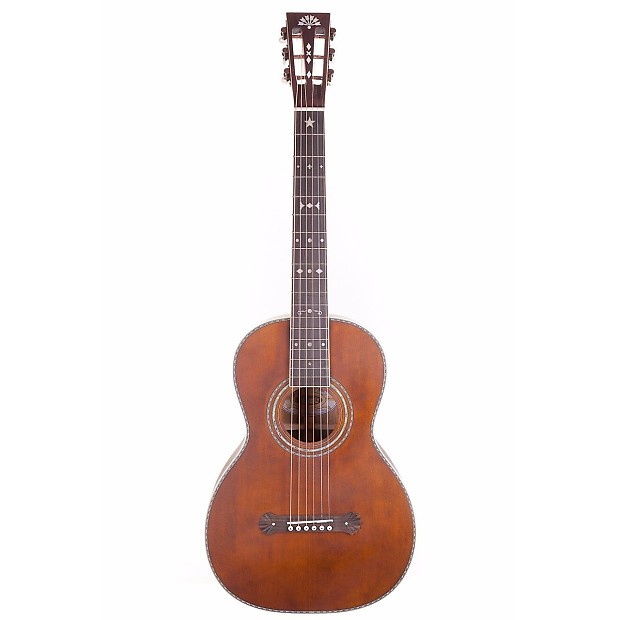 When searching for a guitar, people usually go after the specs on paper before they play it – but there is more to it! The first time I saw my guitar was in some youtube video where some dude ranted about his new Washburn R314KK. I wanted to try it immediately without knowing anything about the model or brand – I just fell in love with how it looked and played. After that, everytime I checked out guitars on Youtube/Google Images etc., my eyes searched for Washburn guitars. A few months later, I found myself playing the same model of wood at several music stores – with slight differences among them (which caused me buying troubles). That's why this review came to be. If you are also in the search of a guitar with great features, superb quality and at an affordable price range then Washburn Vintage Series R314KK is for you! So let's take a deep look into this beauty.
The body size of this guitar is parlor – if you're not aware of what it means, please read my previous review on Martin Backpacker (which is also a parlor guitar). Although the description doesn't mention if it's solid or laminate top, there are pictures on official Washburn website which point towards to solid spruce top (more about this later). The neck is made out of Mahogany (which helps to keep the guitar lightweight) and finished with rosewood fingerboard. The guitar has a total of 20 frets, 14 of which are accessible without the need of a capo (the remaining 6 frets are located at the higher register). Now, let's move on to hardware.
The guitar is fitted with a set of vintage-style open-gear tuners and a rosewood bridge. It also comes with a tortoise pickguard and binding around the body, neck and headstock – giving it that beautiful old-school look. And lastly, the strings that come with it are .012-.052 phosphor bronze strings which gives bright, articulate sound.
Well, after playing this guitar for a while I can say that it's definitely a great choice for both beginner and experienced guitarists. The body size is perfect for people with smaller hands or those who want a more compact guitar to take on the go, and the build quality is superb! The sound is bright and articulate which makes it perfect for fingerstyle playing or recording. I also like how easy it is to change strings on this guitar – something that can be a hassle on some other models.
Now, I know what you're thinking… But how much does the Vintage Series R314KK cost? Well, as of this moment, it can be bought from Musician's Friend for a pretty reasonable price of around $219-$329 which includes a gigbag and lifetime warranty! This price range is perfect because there are many great guitars out there that come with a pretty high price tag – yet they don't deliver the performance that the Washburn delivers for this cheap! So if you're looking to buy your first guitar or your next budget guitar – definitely consider buying this one from Washburn.
As for me, I absolutely love mine and I will keep rocking on with it whenever possible! Cheers!