Top Best Guitar Distortion Pedals
When we think about guitars and many different ways they present their sound, one of the first effects that come to mind is distortion. Taking those clean, untouched tunes and turning them into a heavier, distorted tune gives us excitement, unlike anything. Lucky for us, guitar enthusiasts, nowadays there are many ways we can go about getting this joy from our distortion pedals, from small boutique manufacturers to industry staples like MXR and Boss the options are endless.
Top 6 Guitar Distortion Pedals: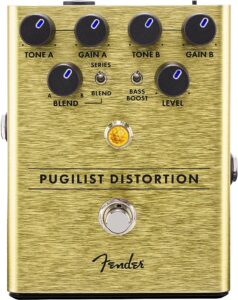 1) Fender Pugilist Distortion Pedal
Specifications
Controls: tone A, gain A, tone B, gain B, blend, blend on/off, bass boost, level
Sockets: input, output, power
Bypass: true bypass
Power requirements: 9V power supply, 9V battery
This is a beautifully designed distortion pedal from Fender's new line. It is also quite versatile, having two gain stages that have their own set of tone and volume dials. These two stages can be run in series or can be blended together with the blend dial, offering plenty of customization for your desired tone.
The controls don't end here, there is also a bass boost switch that sounds great even with an already distorted amp. It is quite beneficial for single coil guitars to give them more roar. The rotary dials or backlit with LEDs, helping you to see your settings even if you are on a dark stage. This whole operation can be powered with a 9V battery or a 9V pedal power supply as desired. When we consider the feature set, the built quality, the tone it provides, and its price point it is not a surprise the Fender Pugilist is on this list.
2) Walrus Audio Iron Horse LM308 V2
Specifications
Controls: level, tone, distortion, three-way mode toggle
Sockets: input, output, power
Bypass: true bypass
Power requirements: 9V power supply, 9V battery
Covered with the fantastic artwork from illustrator Adam Forester, this is another great distortion pedal that uses the LM308 chip that got its fame thanks to the ProCo Rat. This pedal adds up to its already great-sounding predecessor. With the improved distortion circuit, it has a better presence and less-mid range.
It features three dials up top for adjusting level, tone, and distortion. The tone control can be used to adjust the treble by cutting or boosting the frequencies. One of its distinguishing features is the three-way switch that can change the tone to slightly compressed, more compressed, or totally open. It can be powered by a 9V battery or a 9V power supply just like many other pedals. But unlike many pedals, this one offers switchable treble clipping and has excellent gain structure.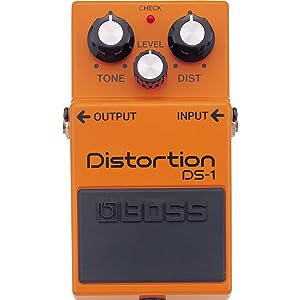 3) Boss DS-1 Distortion Pedal
Specifications
Controls: level, tone, distortion
Sockets: input, output, power
Bypass: buffered
Power requirements: 9V DC power supply or battery
A true classic, the BOSS DS-1. Talking about the best guitar distortion pedals without mentioning this staple would be impossible. This is the first-ever distortion pedal from BOSS, released all the way back in 1978. It has a simple setup, the usual three dials for level tone and distortion, and a foot pedal turning it on and off.
The pedal is still quite versatile, the tone knob can take you from harmonics that cut through the track to heavy riffs that even make single coils sound fat. All of this is under $50 dollars too! It might be old but it still to this day gets the job done and is also mod friendly. What is there to not like?
4) ProCo Rat 2
Specifications
Controls: Distortion, Filter, Volume, Mode Sockets: Input, Output, Power
Bypass: True
Power requirements: 9V DC power supply or battery
It is possible to say this is the one that started it all. The ProCo RAT is one of the first mass-produced distortion pedals that started its journey back in 1979. The aggressive hard-hitting sound with the tight clipping it provided became a blueprint for how distortion sounds to this day.
It has a really simple build with distortion, filter (tone), and volume dials that are housed in a strong metal enclosure. The power delivery can be done with a 9V battery or a power supply with the same voltage.
The only downside to the current version of the RAT is that it no longer uses the legendary LM308 circuit. The difference this makes is quite marginal compared to what the spec sheet might say. If you wanna experience some guitar history while playing some punch tunes then this is the pedal for you.
5) Earthquaker Devices Acapulco Gold
Specifications
Controls: Volume Sockets: input, output, power
Bypass: true bypass
Power requirements: 9V power supply, 9V battery
This one, just by the way it looks speaks for itself. The giant volume output knob that the Acapulco Gold has shown that this thing is about power. It has a simple, compact build, the big volume knob, a true bypass, and top-mounted jacks are all it has. What is on the inside though, is a circuit that takes inspiration from the legendary Model T amplifier. The volume knob really does wonders, it can provide a little overdrive to add some flavor to the tune when it's turned down but as we keep dialing up it starts to flex its muscles. A thick, gnarly distortion with a little fuzz is what we get when we turn it all the way up.
Although it is more powerful than many of its siblings it still uses the standard 9V battery or a 9V power supply to gain all its energy. One more thing to consider is that since this only has a volume knob you will mostly be relying on your guitar's tone knob to get different sounds from the pedal.
If you are looking for a distortion pedal that is more focused on getting a lot of gain and does an excellent job at it, then look no further. You might wanna think about wearing earplugs considering how much output this thing has.
6) MXR M104 Distortion +
Specifications
Controls: Output (Volume), Distortion
Sockets: input, output, power
Bypass: Buffered Bypass
Power requirements: 9V power supply, 9V battery
If you like pedals with a heritage twist, try the MXR M104. Designed to capture the classic hard rock vibes of the 70s and early 80s, this soft distortion box is sure to take you on a retro journey with every beat. However, the device also uses modern tonal values, which means you can still create fresh-sounding music with it.
It has a pretty basic build that features two control knobs, a single red led and a switch for turning on or off. The knobs are responsible for controlling the output volume and the amount of distortion you get. It can be powered with a 9V battery or power supply just like many others. Overall the main downside is the lack of controls but we are not complaining because this pedal does everything it wants to to the fullest. If rock and roll is your thing and you wanna try the same pedal artists like Ozzy Osbourne, Grateful Dead, Iron Maiden, and Radiohead used then you can not go wrong with this one.
When used correctly, the sounds coming out of an amp getting shredded with a distortion pedal are unlike anything else, which is why it defined genres such as metalcore, hard-rock, and punk. The hard-clipping effect distortion pedals provide has been loved by many, from a guitar lover shredding in the bedroom to a gig blasting the amps on stage.
Choosing a distortion pedal can be a bit tricky cause there are a lot of brands and models, different price categories, and different features. Where to even start? We are here to help. In today's article we provide you with a comprehensive list of the best guitar distortion effect pedals out in the market. Whether you are taking your first steps into the world of effect pedals or looking to add another fine piece to your pedalboard we got something for you.
Conclusion
Just like many other things in life, we can not say that there is a single best distortion pedal out there. There is a best for everyone, depending on what tonal needs they have, their budget, and personal preferences. We should start with the tune we want to achieve. Then consider the build quality and components of a pedal to ensure it will stand the test of time. There might be some features we want so keeping an eye on the set of features we want is also really important.
Another thing to focus on is that cheaper pedals may cost you more in the long run. Pedals that use lower-quality components might not last a long time or might not work as intended. These pedals do not hold much resale value too, meanwhile pedals from well-known brands tend to retain their values better.
Choosing what guitar distortion pedal to get in today's market is definitely not easy. We are hoping this guide helped you with all the question marks you had about choosing which guitar distortion pedal you should get as an enthusiast.