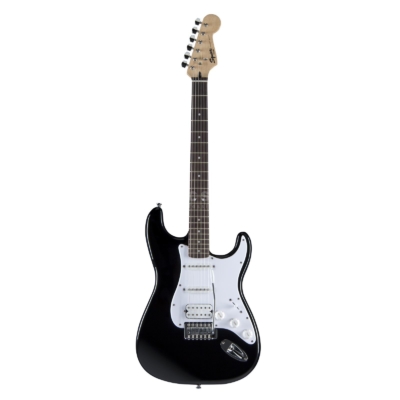 Fender Squier Bullet Stratocaster
The Fender Stratocaster design has been around since 1954 and remains one of the most popular and copied guitar styles of all time.
For those who don't have several hundred or even thousands of dollars to spend on a new guitar, however, you must consider other options. If you've been doing your research, that means you've run across guitars like the Squier Stratocaster or the Squier Bullet Strat.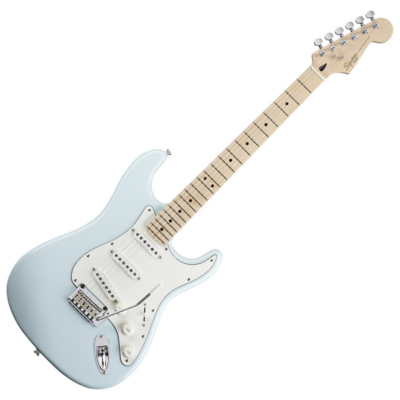 Squier by Fender Deluxe Stratocaster
The Squier Deluxe Stratocaster brings you the tone, feel, and looks of a legendary solidbody electric guitar at an unbelievably low price.
Now you can play the same guitar design that's rocked the world for decades! The satin-finished maple neck is fast and comfortable while the Deluxe Stratocaster's basswood body houses three great-sounding Seymour Duncan-designed single-coil pickups.
A twin-pivot tremolo bridge, chrome hardware, a parchment pickguard, and a 5-way pickup selector round out the cool and classy features you'll find on the Squier Deluxe Stratocaster.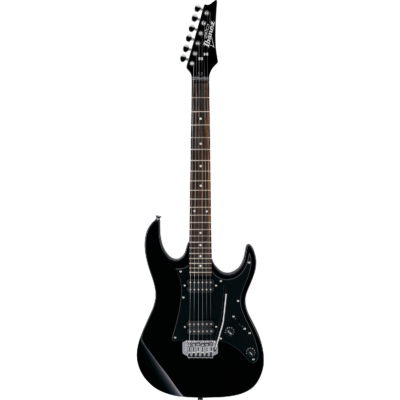 Ibanez GRX20ZBKN
The Ibanez GRX20 Electric Guitar has a sleek neck and fast action. Two howling humbuckers-a Powersound 1 at the neck and a Powersound 2 at the bridge-crank out grinding, gritty tone by the busload. Standard rocking tremolo lets you dive bomb your way to musical bliss.
A guitar doesn't have to cost a bundle to sound good. The GIO series was developed for players who want Ibanez quality in a more affordable package. Not only do they look and play better than everything else in their price range, but their rigorous inspection, set-up and warranty is the same as Ibanez's more expensive models.
Squier by Fender Vintage Modified Jaguar
An authentically styled Jaguar now joins the Vintage Modified family, with present-day touches including sharp, clear Duncan Designed pickups and a modern Fingerboard radius.
Squier's new Vintage Modified Jaguar rocks the model's distinctive hallmarks, too – such as the 24 scale, dual-circuit switching and controls, floating-vibrato bridge and classically colorful Surf Green, Candy Apple Red, Olympic White and Three-color Sunburst finishes.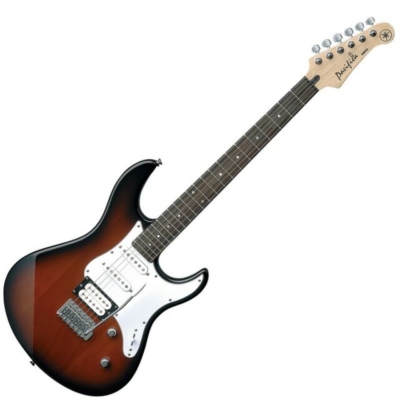 Yamaha Pacifica Series PAC112V
From the Pacifica Series, this Yamaha PAC112V Electric Guitar really steps it up, offering a solid alder body with pro-level hardware and electronics – an amazing value in its price range.
It comes with a classic comfort-contoured body, bolt-on maple neck with rosewood fingerboard, vintage-style vibrato, and 5-way switching of the H-S-S pickup configuration. Other standout features include an Alnico V humbucker with coil-splitting, block saddles, upgraded chrome hardware, and knurled master tone and volume knobs.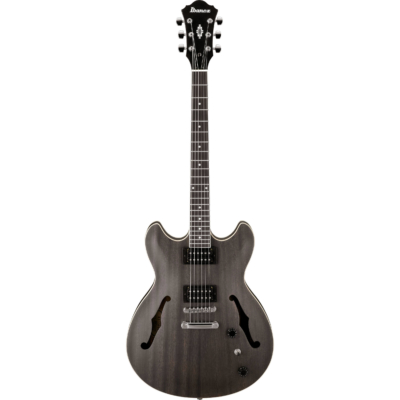 Ibanez Artcore AS53
With its classic design the Ibanez AS53 semi-hollowbody electric guitar gives you the comfort of a smaller body and modern sound for an amazing low price.
The sapele top, back, and sides offer plenty of warmth and punch, and the mahogany neck is fast and comfy. The AS53's body is about the size of a traditional solidbody guitar, making this guitar extremely comfortable to play.
A pair of humbuckers can take your amplifier from sparkle to snarl in the blink of an eye. When you're on a budget and need a whole lotta bang for the buck, you won't be disappointed with the Ibanez AS53 semi-hollowbody electric guitar.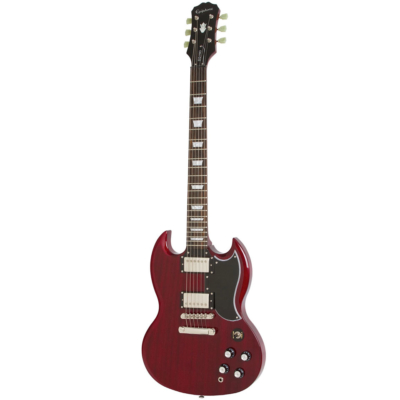 Epiphone SG G-400
The Epiphone G-400 is truly one of the best guitar values you will find today. Every serious player wants an SG and here's the real thing that sounds as good as it looks. The original SG not only rivaled guitars of its own era for sonic variety but also proved to be a sign of things to come.
Hard rock, metal and scores of rockers embraced the original SG and made it a classic. Now, the G-400 gives you the sound and look of a real SG without the vintage price tag.