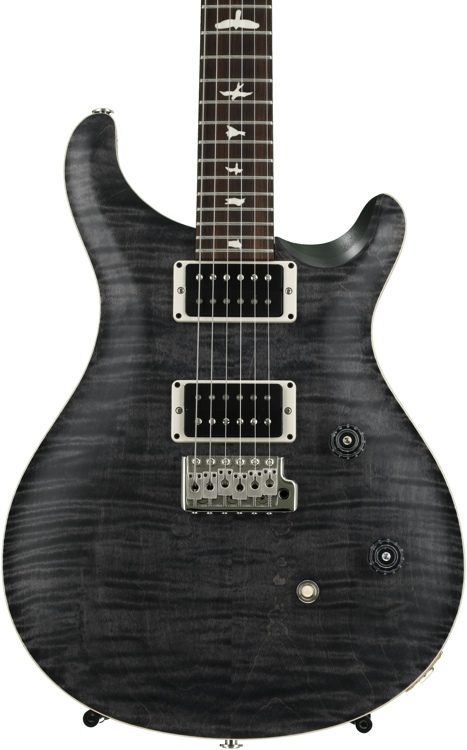 PRS CE 24 – Satin Blackout
This PRS CE 24 solidbody electric guitar sports an unforgettable look and extraordinary tone. Its Sweetwater-exclusive all-black satin finish is guaranteed to garner jealous glances every time you open your guitar case. A bolt-on maple neck delivers truckloads of snappy attack, woody tones, and American twang. Blaze through everything from hard-rock humbucker overdrive to sensuous single-coil leads, thanks to 85/15 pickups and an updated switching system. A comfortable Pattern Thin-carved neck is topped with a fast-playing rosewood fingerboard. The PRS CE 24 solidbody electric guitar provides a playing experience that you're sure to love.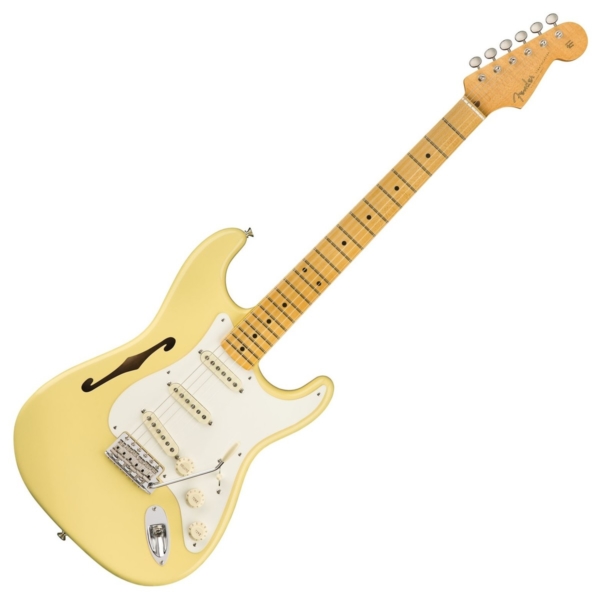 Fender Eric Johnson Stratocaster
After years of painstaking research and design, the Fender Eric Johnson Stratocaster Electric Guitar has finally arrived. Designed with Eric by Custom Shop guru Michael Frank-Braun, this beauty is based on a '57, and combines the best of vintage design with modern electronics technology.
The '57-style, 2-piece alder body has an ultrathin, Custom Shop-quality nitrocellulose lacquer finish that results in better resonance. Johnson opted for a one-piece, quartersawn maple neck with a 12″ radius that's finished with a thin-skinned glossy lacquer and vintage tint. 19 prototype pickups were created before Johnson found the tone he was looking for. The Custom Shop-modified single coils use a new wire material and winding technique for the magnets giving them a unique, Eric Johnson-approved sound. Johnson and Braun also included one of Eric's most famous Strat modifications by wiring the tone controls to the neck and bridge pickups, instead of the standard neck/middle tone configuration of most Strats.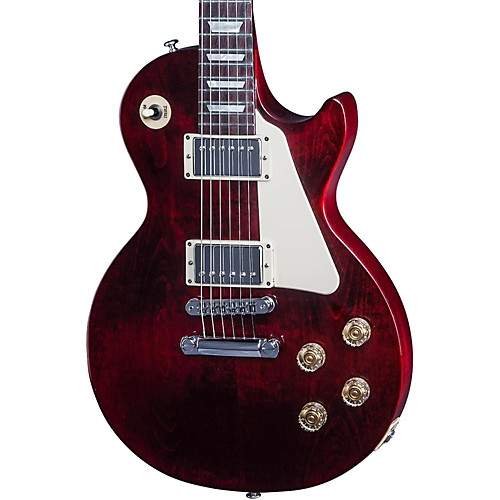 Gibson 2016 Les Paul Studio HP
The 2016 Les Paul Studio HP is the supercharged counterpart of the traditional Les Paul Studio, and introduces an advanced set of premium, high-performance features to the format, including a new and exclusive fast-access heel, developed specifically for the Gibson USA High Performance lineup, to allow unprecedented access to the high notes – which, combined with the new soloist neck width, provides the fastest and most comfortable Les Paul Studio neck you've ever played. 
Titanium metal for the saddles and the adjustable zero-fret nut delivers a bright, crisp tone, while being virtually indestructible and ensuring total, personalized control over the action. A pair of 490R and 498T humbuckers delivers true Gibson Les Paul tones, while genuine mother of pearl inlays add to the guitar's premium level of quality. Includes hardshell case.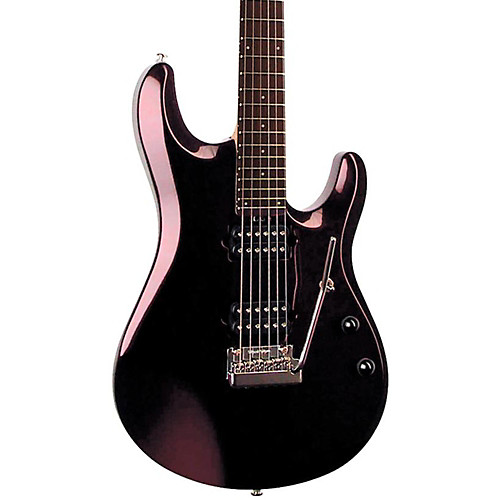 Ernie Ball Music Man John Petrucci
Introducing the Monarchy Series John Petrucci Majesty guitars. New for 2017 the Monarchy series feature a highly flamed maple shield seated in an African Mahogany body. While previous models have featured a completely matte finish, the Monarchy series features a glossy finish on the front and a matte finish on the back for a luxurious look and feel. Equipped with DiMarzio Sonic Ecstasy pickups and a piezo bridge, the Monarchy series offer a versatile palette of tones. Includes hardshell case.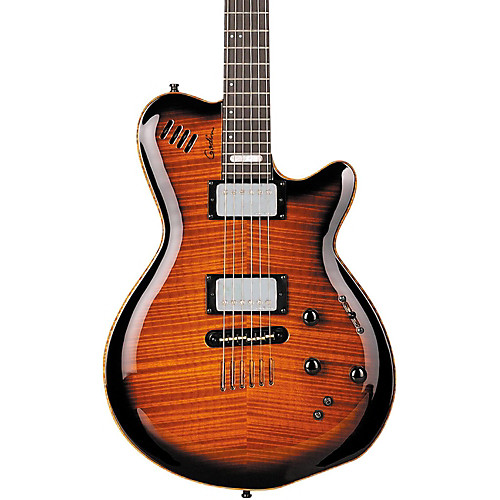 Godin LGX-SA AAA Flamed Maple Top Electric Guitar Cognac Burst
This 3-voice guitar features electric and acoustic guitar sounds, plus the infinite tonal possibilities created by synth access. It has a gorgeous mahogany body with a AAA-grade figured maple top. The mahogany neck with an ebony fingerboard plays fast and sweet. The custom RMC system provides acoustic guitar sounds from a bridge transducer, while Seymour Duncan custom humbuckers drive the electric tone. Synth access comes courtesy of the 13-pin connector for direct control of Roland GR Series and Axon AX100 guitar synths. Acoustic and electric outputs can be used alone or in tandem to further expand the tonal array.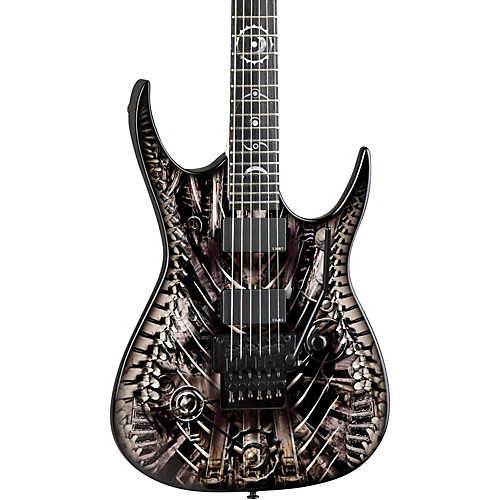 Dean Signature Series Rusty Cooley RC6 Electric Guitar Xenocide
The Dean Rusty Cooley Electric Guitar features several design developments that put it ahead of its class. One of the most significant advancements is its super-thin neck, adding an ease of playability and comfort level. It also has an extra-deep body cutaway for extreme access to the high frets. And it comes with a recessed, original Floyd Rose tremolo system that sits flush with the body of the guitar, allowing easier pick access to the strings. Case sold separately.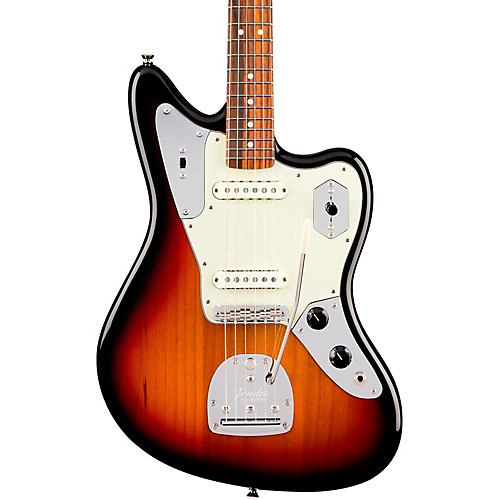 Fender Johnny Marr Jaguar
Specialized features of the Fender Johnny Marr Jaguar Electric Guitar include custom-wound, Bare Knuckle Johnny Marr single-coil neck and bridge pickups; custom-shaped maple neck with rosewood fingerboard based on Marr's 1965 Jaguar; vintage-style truss rod; lacquer finish; and Marr's signature on the front of the headstock.
The 4-position blade-style pickup switch is mounted to the lower-horn chrome plate (bridge; bridge and neck in parallel; neck, bridge, and neck in series) while 2 upper-horn slide switches control pickup brightness. Other distinctive features include a Jaguar bridge with Mustang saddles and nylon bridge post inserts for improved stability; vintage-style, floating tremolo tailpiece with chrome cover; and "taller" tremolo arm with arm-sleeve nylon insert to prevent arm swing.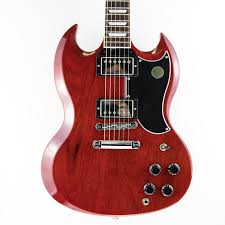 Gibson SG Standard 2018 – Heritage Cherry
Immortalized by Santana at Woodstock and smashed onstage by Townsend, the Gibson SG is a rock icon. Gibson's Nashville-made SG Standard 2018 is the real deal, arming you with a pair of toneful humbuckers, a slim-profile neck, and a silky Plek'd rosewood fretboard with action that's almost non-existent. The SG's lightweight mahogany body delivers great sustain and no pain, even if you play all night. And the nitro finish looks and feels luscious while enhancing the tone of this legendary solidbody electric guitar. Own your piece of rock history: the Gibson SG Standard 2018.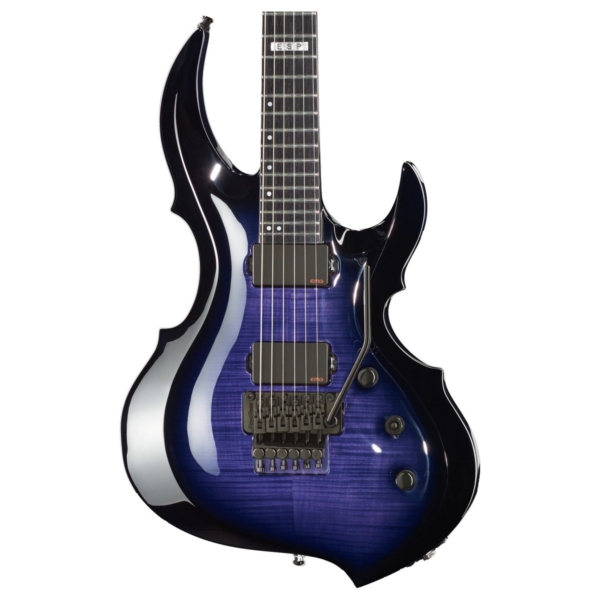 ESP E-II FRX Electric Guitar
The ESP E-II FRX is a very bold design that is made in our Japan-based factory, like all E-II models. The E-II FRX combines curves, points, and bevels to create a totally unique guitar shape that will stand out from all the others. This guitar offers set-thru construction, with the three-piece maple neck extending into the body to create a super smooth heel for fast access to the highest frets. The E-II FRX offers a mahogany body with flamed maple top, a comfortable thin-U neck shape, and an ebony fingerboard with 24 extra-jumbo frets. High-quality components on the E-II FRX include a Schaller straplock, Gotoh locking tuners, and a Floyd Rose Original bridge. Its sound is powered by a set of amazing active pickups: EMG 89R (neck) and EMG 89 (bridge). Available in ESP's exclusive Reindeer Blue finish. Includes hardshell case.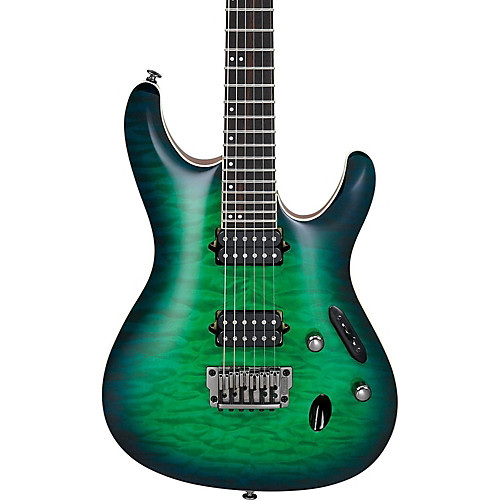 Ibanez S Prestige S6521Q Surreal Blue Burst Gloss
As the crown jewel of Ibanez, the Prestige line represents the passion and pride of Japanese luthiery. These guitars, produced exclusively in Japan, have earned worldwide acclaim and respect throughout the industry for their craftsmanship, quality, and innovation. Combine this with the legendary Ibanez S body style, and you have an instrument that defines the Ibanez mission of quality, innovation and design.
The S6521Q features a handsomely contoured Mahogany body with a richly Quilted Maple cap and revered Super Wizard High Performance neck—constructed of five, glued, solid pieces of Maple/ Walnut—for absolute rock solid stability and fast, smooth, high-performance playing. 
Electronics include a pair of high-output DiMarzio Air Norton and The Tone Zone pickups for a huge sound with a broad dynamic range and infinite sustain, plus a 5-way selector switch for maximum tonal versatility.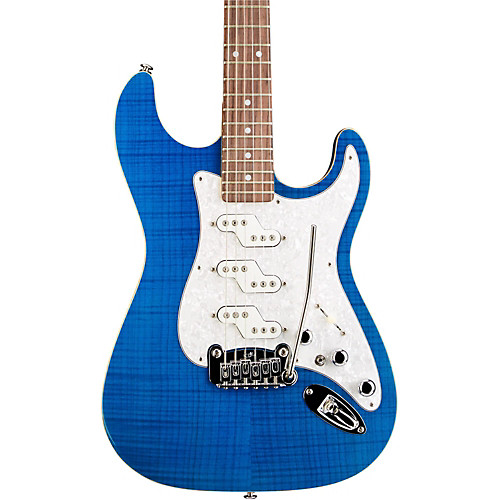 G&L Comanche Electric Guitar
The G&L Comanche is Leo's final word on the traditional double-cutaway bolt-on axe. Fact is, the first thing you'll notice about the Comanche is the distinctive shape of the Magnetic Field Design Z-Coil pickups designed by Leo Fender himself. These pickups deliver a bright and sparkly top end while offering a robust bottom end, all without any 60-cycle hum.
You'll find plenty of power in the Z-coil pickups, but what's surprising is how glassy and detailed they become as you roll back the volume and bass controls, the latter a part of the Comanche's PTB (Passive Treble and Bass) system. What's more, the Tribute Series Comanche includes an expander switch on the treble pot to allow neck+bridge or all three pickups together. In a pinch, the neck+bridge combo does a convincing faux ASAT Special.