Top BASS GUITARS UNDER $200
Finding the right bass guitar can be difficult and tiring, especially if you are a beginner and have never held this musical instrument in your hands. It is usually much more difficult for beginner musicians to choose the right model, as they simply do not know what to look for. Things get even more complicated if you're on a tight budget and planning to find one of the good bass guitars under 200 or even cool bass guitars for $150. However, nothing is impossible!
At the moment, the market is replete with a huge number of options for any budget, but which models should you pay attention to? What features are worth considering? What are the best brands for producing inexpensive musical instruments? Our guide will help you pay attention to the best bass guitars under 200 and choose the instrument that suits you in all respects.
Top BASS GUITARS UNDER $200
Here are our top picks: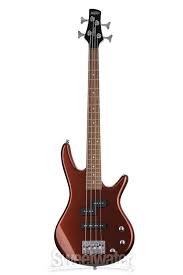 1)Ibanez miKro GSRM20
If you're even a little bit interested in guitar brands, you've probably heard of a company like Ibanez at least once. It is this company that is one of the best guitar manufacturers in the world, and also offers good and high-quality bass guitars for any budget.
The Ibanez miKro GSRM20 is a compact model that will amaze you with its strong and powerful sound. What's more, it is one of the best bass guitars under 200, which will offer you a heavy tone and great design.
Speaking of construction, the Ibanez miKro GSRM20 is made with poplar with Walnut Flat finish. Also noteworthy is its neck, made from maple with Jatoba fretboard.
In addition, the model has a satin polyurethane finish, and the fretboard has white dot inlays. The distinguishing feature of the guitar is that it comes with a flatter neck with 12-inch fretboard radius and 22 medium-sized frets.
You should also note that this bass is shorter than the other models (only 28.6-inch scale length), which is why it's great for kids or smaller players. However, despite their size, the pickups still offer tight, powerful sound and full tonal diversity.
Among other things, the guitar is quite durable, so if you travel often or prefer to take your guitar everywhere with you, then the Ibanez miKro GSRM20 model will also be a great option.
So, if you are looking for one of the best bass guitars for under $200 from a well-known brand, then without hesitation, get the Ibanez miKro GSRM20.
2)Squier Bronco Bass Guitar (by Fender)
In case you didn't know, Squier is a subsidiary of Fender, which has been known for years for making quality yet affordable musical instruments. So when looking at good bass guitars under $200, check out the Squier Bronco Bass Guitar.
It's a short-scale 30-inch bass guitar which has an Agathis body and C-shaped maple neck with a polyurethane finish. Speaking of the neck, it also has a 9.5-inch maple fretboard with 19 medium jumbo frets. We really liked the fretboard which is decorated with black dot inlays
Other features of the Squier Bronco are chrome hardware along with the 2-saddle chrome bridge. Other than that, check out the single-coil pickup that reproduces a rich full sound, while the Standard Covered Mini-Tuners make tuning as quick, easy and convenient as possible.
Also note the two knurled chrome dome control knobs (for the volume and tone control). So, Squier Bronco is one of the best bass guitars under 200 dollars in terms of price-quality ratio.
3)Dean E09M Edge
Another great $200 bass guitar worthy of your attention is the Dean E09M Edge. This model is undoubtedly special thanks to its contoured body with a sleek maple neck, designed for comfortable, easy and fast play. In addition, this model also features the asymmetrical 4-bolt pattern so you can easily access all 22 frets.
Speaking of configuration, this bass has a standard 34-inch scale length and a rosewood fretboard, as well as Dean die-cast tuners. In addition, you should definitely pay attention to the Dean vintage-style bridge with four adjustable saddles.
Also you will get a single soapbar with volume and treble controls. Dean E09M Edge is often included in the top 10 bass guitars under 200, so if you need a quality musical instrument with a decent powerful sound, then this model will suit your taste.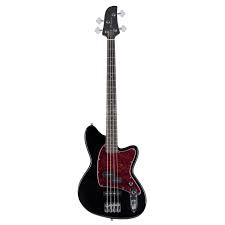 4)Paranormal Jazz Bass '54
We could not help but draw your attention to another model from Ibanez, which is distinguished by its retro appearance and unique sound that will not leave you indifferent.
Ibanez Talman TMB100 has a Poplar body and wide maple neck. In addition, this model features a curvy double-cutaway so you can easily access all 22 medium frets on the rosewood fretboard.
The Ibanez Talman TMB100 has a standard scale length of 34-inch and also includes a 2+2 headstock configuration with chrome tuners. You'll also notice a fixed chrome bridge at the other end, so the strings will always be in place.
Another distinctive feature of this guitar is the Dynamix P neck pickup and the Dynamix J bridge pickup, so you get a good quality sound. Also the Ibanez Talman TMB100 has a tone and volume control with a custom 2-band Active EQ to give you a great amount of tonal variety.
So, if you are looking for one of the new bass guitars under $150, then this model will be a little pricey for you, but we strongly recommend that you consider the Ibanez Talman TMB100. By purchasing it, you will not regret it!
5) Yamaha TRBX174
We decided to finish our top best under 200 bass guitars with a model that also offers great value for money – the Yamaha TRBX174. Yamaha is another brand that is known for its quality musical instruments around the world, so it certainly deserves your attention.
Unfortunately, it does not belong to the best bass guitars under 150 dollars, since its price is $239.99, but it is still the highest quality and affordable musical instrument. Yamaha TRBX174 is a guarantee of quality, like other models of this brand.
With this guitar, you won't have to worry about your musical instrument breaking in a week, as Yamaha is known for its durability. This model has a mahogany body with Flamed Mango top, which is sure to be a good option for musicians who like to draw attention to themselves.
The Yamaha TRBX174 also has a maple neck and gloss polyurethane finish, which makes it look incredible, which is very surprising given its price.
This model comes with a standard 34-inch scale length and 24 total frets, and features a vintage-style bridge. In addition, we paid attention to the matching headstock and the covered tuners, which also give a special charm to this model.
On top of that you also get two pickups (a ceramic split-coil at the neck and a single-coil at the bridge) with volume and a master tone.
How to Choose the Best Bass Guitars Under $200?
Let's start with the fact that this question cannot be answered unambiguously. The choice of a guitar depends largely on your personal preferences, so even the most experienced guitarist could not tell you what to do. Of course, you can study the options, view the market, also pay attention to the tops and guides, but the decision will still have to be made by yourself.
Keep in mind the characteristics that are important to you as well as features, for example if you are left-handed and you need a left-handed bass guitar. Also, if you're buying a guitar for a child or a short person, you'll probably want to pick up a compact bass instead of a full-sized one. Thus, by paying attention to such nuances, you will be able to find the perfect musical instrument for you.
However, at the same time, you still have to remember that $200 is a small amount and you probably won't get all the features you want. For $200, you can only get a decent beginner bass to help you practice your skills. However, if you already have some experience or are even a good bass player, we would recommend that you look into the more expensive versions in order to get the full quality bass experience.
Conclusion
If your budget is limited, but at the same time you want to find a good bass guitar to practice with, then the market still has a huge number of options for you. However, do not buy the first model that comes across, as most likely it will fall apart in your hands in a month. Instead, take a look at our top picks for the best basses under $200 and choose the best deal for you.