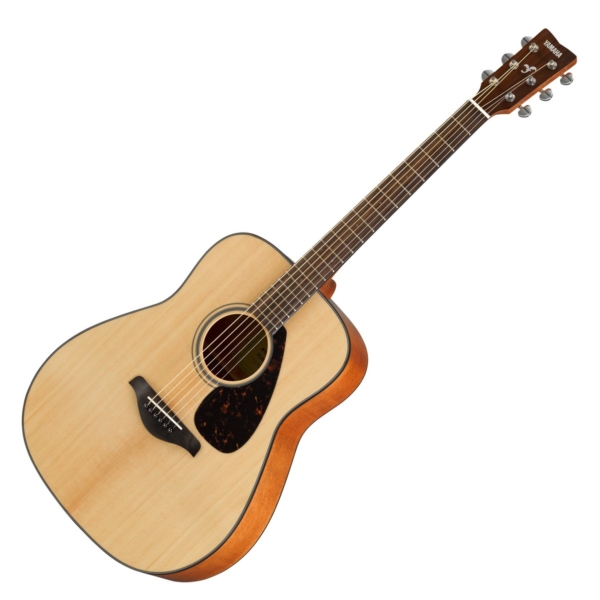 Yamaha FG800
The entry-level Yamaha FG700 rocked the guitar-building world with its craftsmanship and smart use of tonewoods.
The FG800 takes this design several steps further with scalloped bracing for a punchier tone and better stage projection, and a slimmer, more comfortable tapered neck with gently rounded fingerboard edges.
Acoustic players have been fans of the Yamaha FG series for years, and for the price, consider it one of the better values on the market.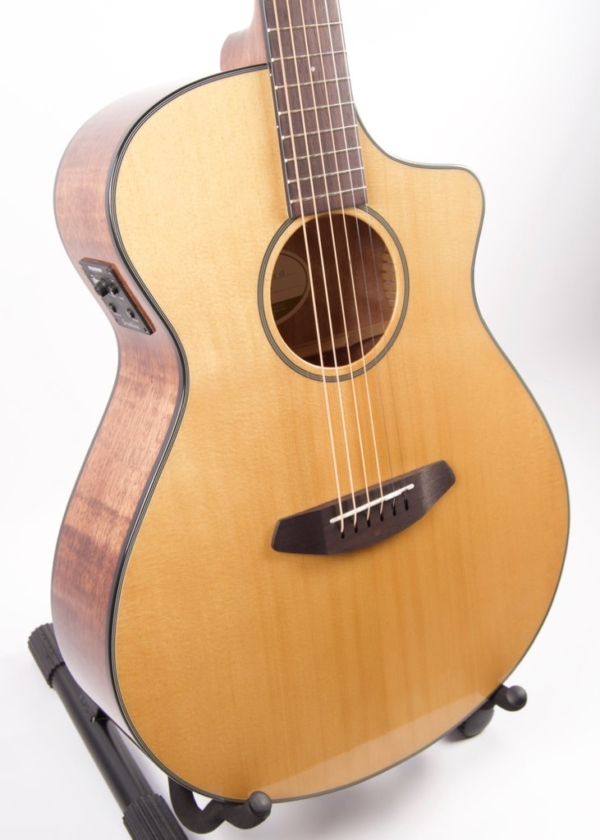 Breedlove Discovery Concert
Delivering well-balanced tone when played fingerstyle, as vocal accompaniment, or at a full strum, the Discovery Concert is the launching point for Distinctively Crafted Sound in Breedlove's best-selling body shape.
This easy-toplay instrument is ideal for entry-level players who want access to the renowned balance, clarity, and sustain of a Breedlove guitar.
Alvarez Artist Series AF30
The Alvarez Artist Series AF30 Folk Acoustic Guitar is an entry point for the Artist Series. This is a well-made instrument, delivering real value. The Folk body shape has impressive projection for its size. Its tone is enhanced with advanced scalloped bracing and other premium components such as bone saddles and nuts and a bi-level rosewood bridge.
The term "solid top" of course refers to the soundboard of an acoustic guitar being made of solid wood, rather than being laminated. However, just because the top is solid, it does not necessarily mean the sound automatically benefits from this feature. The tone of the instrument only improves significantly when the whole guitar is built correctly to really release the energy a solid soundboard can generate. The Artist Series is built to do exactly this.
Each model is designed to get the best out if its components, and for them to work together to produce a tone and player experience, rarely found in affordable instruments.
The sound is warm, open and powerful, and both the treble and bass registers are clearly present and balanced in relation to each other. These guitars feel right and are exciting to play and responsive. Dig in and they shout right back at you, treat them gently and they whisper warmly and respond instantly to the lightest strum or pick.
The solid ˜A' grade Sitka spruce tops are hand-selected from quarter-sawn wood. This ensures consistent quality, and its no secret better guitars are made from better wood. These tops not only look great but they are stiff and strong and finely grained. This allows them to be cut just that tiny bit thinner, which lets them dance a little more and produce a lot more vibration, and ultimately a richer tone.
All of the components are made of natural materials such as mother of pearl and abalone inlays, real bone saddles and nuts and rosewood appointments.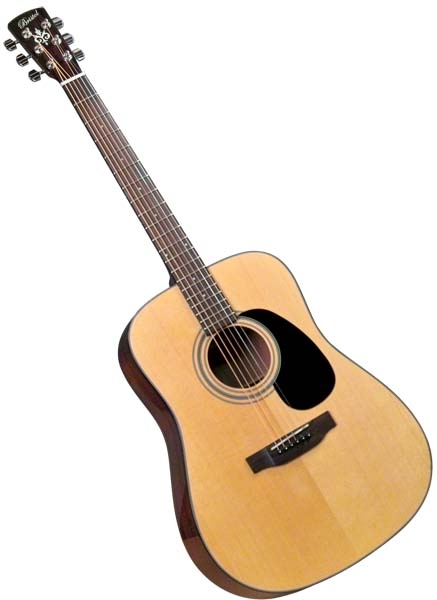 Blueridge BD-16
Introducing the Bristol BD-16 Dreadnaught by Blueridge.
Successfully created to bring the traditional sound of the mountains and quality guitar construction to even the most budget-conscious player at any level.
Even at this price-point, the finest spruce and mahogany tonewoods are carefully handcrafted by skilled artisans with years of experience.
The vintage designed forward-x top bracing is lightweight but strong enough to ensure great carrying power and resonance.
The slim mahogany neck features a fully adjustable truss rod to guarantee perfect alignment at all times.
The result is a traditionally styled dreadnaught guitar with a big, full-bodied and rich tone that won't break the bank.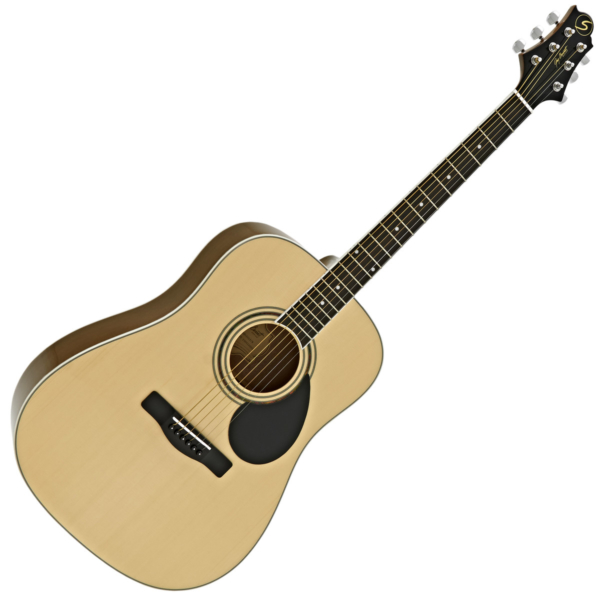 Samick Greg Bennett GD100S
The GD100 S is a full size acoustic guitar specifically engineered for the serious player.
Carefully selected tone woods of mahogany and spruce create a sound that is well balanced and articulate, especially for finger pickers.
It features a gloss finish and upgraded features traditionally found on guitars costing much more.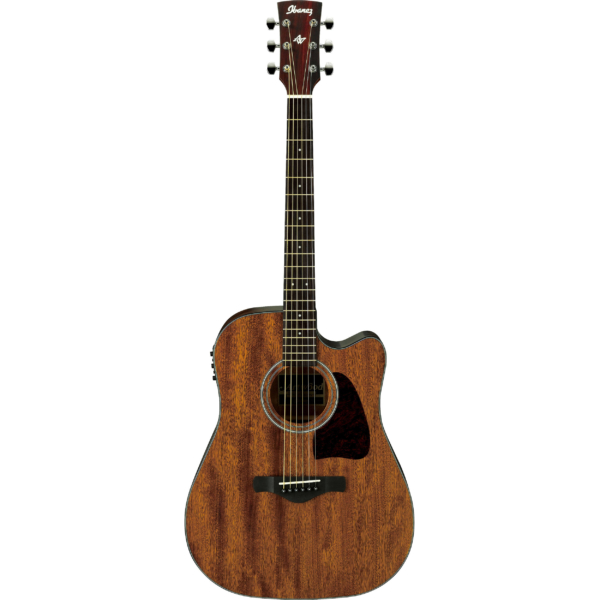 Ibanez AW54CE
The Ibanez Artwood AW54CE acoustic-electric guitar hits all the right notes.
Acoustically, the AW54CE delivers big dreadnought tone that's nicely balanced by the internal X bracing. The solid mahogany construction gives you a great-looking instrument with a big, balanced sound that's ideal whether you're strumming or fingerpicking.
With a Fishman under-saddle pickup and an Ibanez AEQ210TF preamp, you get natural-sounding amplification that's plug-n-play simple. You even get an onboard tuner.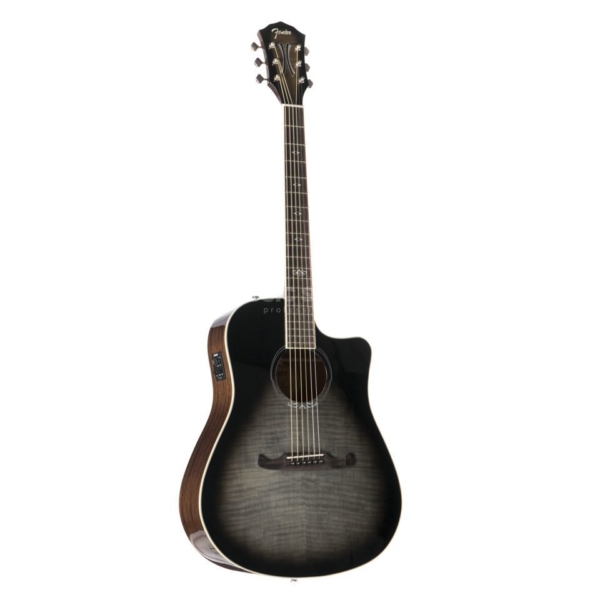 Fender T-Bucket 300CE
The California Series T-Bucket 300CE Cutaway Dreadnought Acoustic-Electric Guitar is a bold acoustic-electric guitar for today's player. This cutaway dreadnought is ready to hit the stage and make a sonic and visual statement with its slick contemporary style and robust onboard active electronics. Rich and full-sounding, this is the ideal guitar for those who need an instrument as unique as themselves. 
The heart and soul of an acoustic guitar is the top, which must be able to resonate freely for natural sounding, dynamic tone. This guitar incorporates quartersawn scalloped bracing, artfully arranged to reinforce the crisp-sounding laminated maple top while allowing it to vibrate freely for greater projection and responsiveness. The laminated mahogany back balances the maple top's sound, working together to create a detailed voice that brings out the best of every note and chord.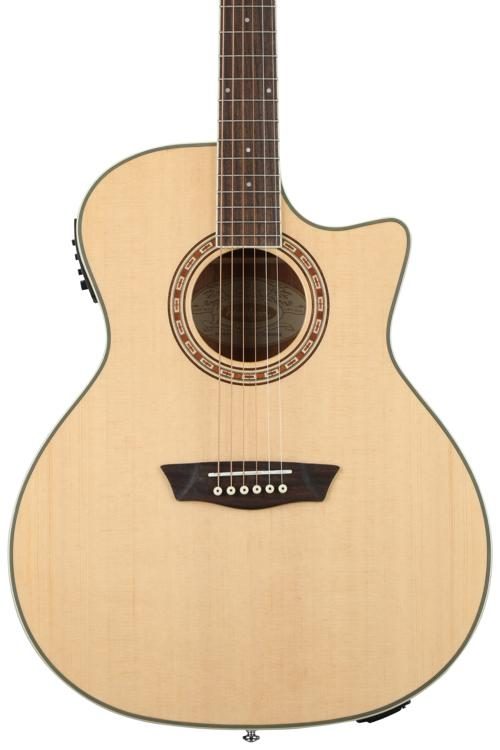 Washburn WG7SCE
The Harvest Series G7SCE is the acoustic-electric companion to our G7S and features the same Solid Spruce top and Select Mahogany back and side pairing.  The solid top and quarter sawn, scalloped Sitka Spruce bracing help define note clarity throughout the entire register of the instrument, making it unparalleled in it's price range.
The satin finished mahogany neck feels great in the hands and makes for ease while playing. The cutaway body design allows for easy upper fret access.  Our attractive "Washburn Heritage" rosette, gloss finish Grand Auditorium body and choice Ovangkol for the bridge and fingerboard material add to the pleasing aesthetics of the overall instrument. The Barcus-Berry EQ4T preamp allows for instrument amplification and features a 4-band EQ, built-in tuner and notch dial for refined tone while plugged in.
Whether at the living room jam, the campfire singalong or the stage; the Washburn Harvest G7SCE will be the perfect companion.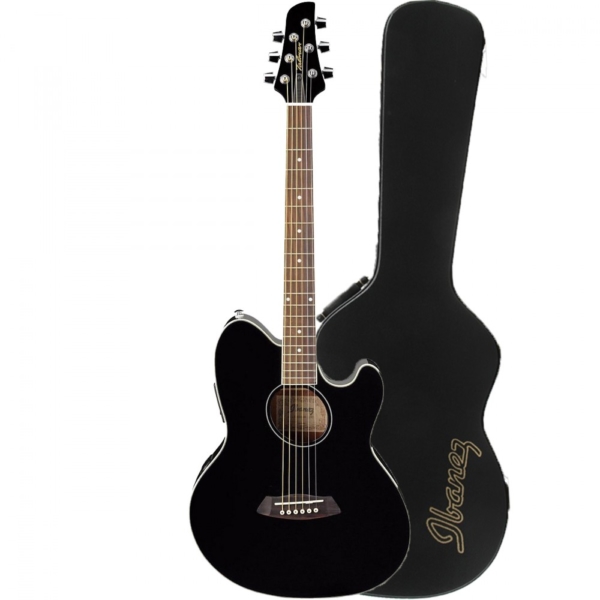 Ibanez Talman TCY10
Ibanez's double-cutaway Talman TCY10 is perfect for the electric guitarist who wants to gain the full tones of an acoustic guitar without losing the comfort and playability of an electric.
This Ibanez guitar features the clarity of a bridge pickup combined with a spruce top and mahogany back and sides.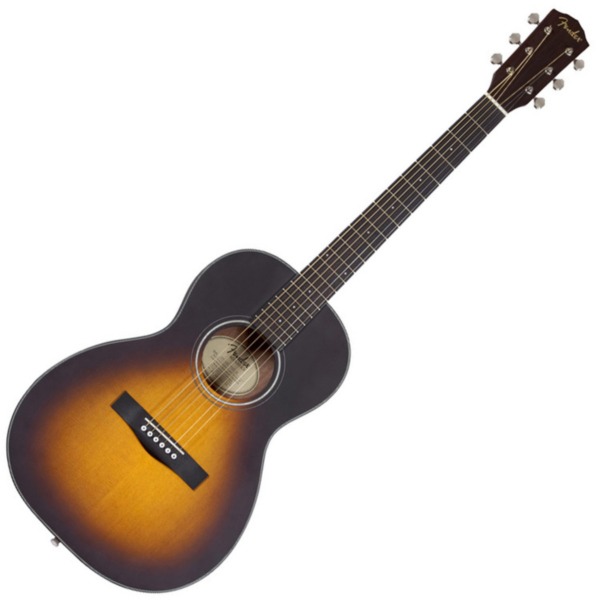 Fender CP-100 Parlor Small Body
Evoking the bygone days of the front-room sing-along, Fender's CP-100 Parlor acoustic is a small-body beauty with a rich voice and a wealth of vintage-style appointments.
Features include a bound mahogany parlor-style body, elegant sunburst-finish top with quartersawn scalloped X bracing and pearl acrylic rosette, mahogany neck with dual-action truss rod, 20-fret rosewood fingerboard with smaller dot inlays (3 mm), rosewood bridge with compensated saddle and white pins, rosewood headstock veneer, open-gear chrome tuners and smooth satin finish.